CARTOON PICKS – MEME WEEK
on
October 17, 2022
at
12:01 am
HELL YEAH FOLKS HOPE YOU ARE READY BECAUSE I GOT BASICALLY EVERY GAME WRONG
This week was wild. All kinds of dumb shit happened. All kinds of fraudulent teams got exposed and some continued to defy the odds. Let's give these good teams some awards!
CHOKER OF THE YEAR
The Baltimore Ravens. They are now 3-3 and in all 3 losses gave up double-digit leads. The first collapse against the Dolphins in the comeback of the year. Then they lost to the Bills in a painful stumble marked by a bad coaching decision late, but the Bills are good. They almost gave it up against the Bengals last week. But this week? They had the Giants down 20-10 in the 4th quarter with 6 minutes left to go. Then the Giants scored. Then Lamar took a bad snap and chucked it straight to a defender. Then the Giants scored again to go up by 4. Then Lamar got strip-sacked and the game was over. Another blown lead. The Ravens cannot be trusted with a lead.
CLUTCH PLAYER OF THE YEAR
I honestly want to give this to Burrow/Chase. The Bengals are not doing anything spectacular this year but it feels like in every game with under two minutes to go, Burrow and Chase are going to connect and do something cool as shit. This past week featured an amazing catch and fight for a first down that kept the drive alive and helped the Bengals win it. It feels inevitable that Chase is going to do something great, and I love watching it.
PAPER TIGER OF THE YEAR
Torn between the Rams, Bucs, Cardinals, and Packers, but I think I have to go Packers. The Bucs are old and are indeed disappointing us, and the Cardinals should absolutely be better than they are but we already kind of knew they'd be frauds, just not so early. The Rams lost a lot of line talent and are suffering for it. The Packers? The #1 seed of the NFC may have lost Davante Adams but what has happened? The Packers lost to both teams from New Jersey in back-to-back weeks, got taken to the wire by Bailey Zappe and the fraud Bucs, and got shellshocked by the Vikings, who are probably the biggest frauds in the league. The Packers kinda suck. There is obviously plenty of time for Rodgers and co. to turn the spite machine back on but so far the Packers are worth writing off.
FRAUD OF THE YEAR
The Vikings are 5-1. I've come around to having some faith in the Giants lately, but I absolutely believe the Vikings are frauds. They struggle every week to get out of holes they themselves dug. They seemed legitimately at risk this past Sunday against 3rd string Dolphins players. They still have some kicking issues. They look frequently lost. I do not trust the Vikings but I also want my two precious fraud teams to run all the way
BEST TEAM WITH A SHIT RECORD
The Raiders are absolutely better than 1-4. It's a huge hole, but they've taken each game to the wire. This is a competitive squad that with a couple small breaks could legitimately be 4-1.
FUNNIEST FALL FROM GRACE
Russell Wilson has been a pile of hilarity this year. The cringe around BRONCOS COUNTRY, LETS RIDE. The abysmal accuracy and decision-making. The former teammates throwing shade. The Seahawks succeeding wildly offensively without him. Russ has spent his season being absolutely cooked on all sides. The more that comes out about him as a person (Marshawn and Sherman alluded that not even his close teammates can contact him without going through his agent first), the funnier it gets. Being a cringe dork is one thing, and is honestly endearing. Russ is being exposed as an egotistical cringe dork, and that's worse.
COACHING OF THE YEAR
I think the Giants entire staff deserves this award. People like Dan Campbell got all sorts of attention for being cool and fun, yet Brian Daboll, Wink Martindale, and Mike Kafka have absolutely turned this squad from a joke into a tough-as-nails scrapper. Daboll has a great attitude and is managing game decisions well. Wink is making this defense never give up and even with minimal turnovers they are keeping offenses down. Kafka I think is the most underrated. The Giants are severely depleted in offensive talent and yet they keep trying literally everything they can to get the most of what they have. Jones has kept turnovers down and is scrambling more. Barkley is electric. It's not great, but it's working. They are doing just enough. This is why this team is winning.
SURPRISE OF THE YEAR
I could put the Giants here but I actually pick The Jets. The Jets are turning out to be pretty good! Some excellent drafting has paid off. Breece Hall rules. Wilson is doing alright! Sauce is probably the defensive rookie of the year.
FEEL GOOD STORY OF THE YEAR
It's hard not to be really happy for Geno Smith. I don't know if anyone ever really took Geno seriously, watching him ball out in Seattle is heartwarming.
WORST NAME OF THE YEAR
I'm sorry, but Bailey Zappe is a terrible name. I don't hold any belief in the Good Football Name theory that you can't succeed without a fitting name, but Bailey Zappe is a mouthful of garbage. Mac Jones? That's a good football name. Zappe needs a nickname because I can't help but giggle every time I say it.
DAVES BRAGGING CORNER
THE NEW YORK FOOTBALL GIANTS ARE 5-1
Let's look at all my failures this week: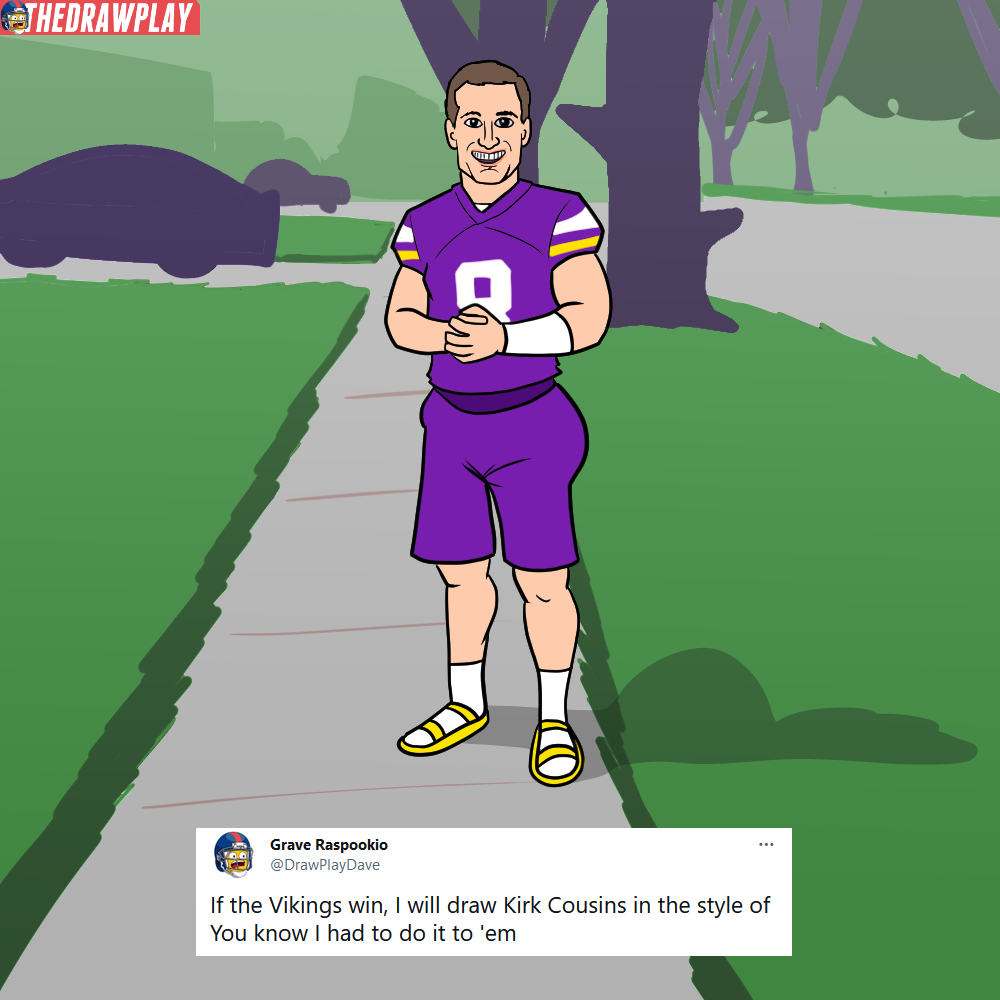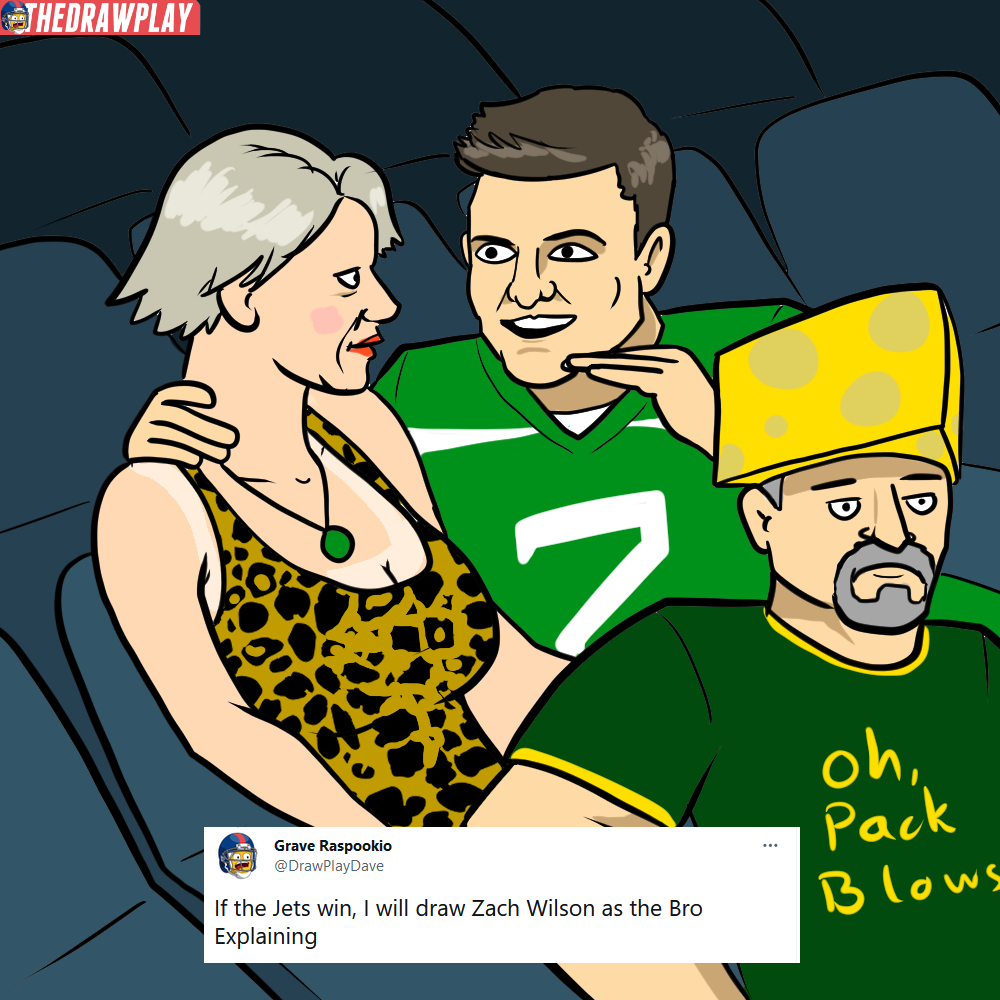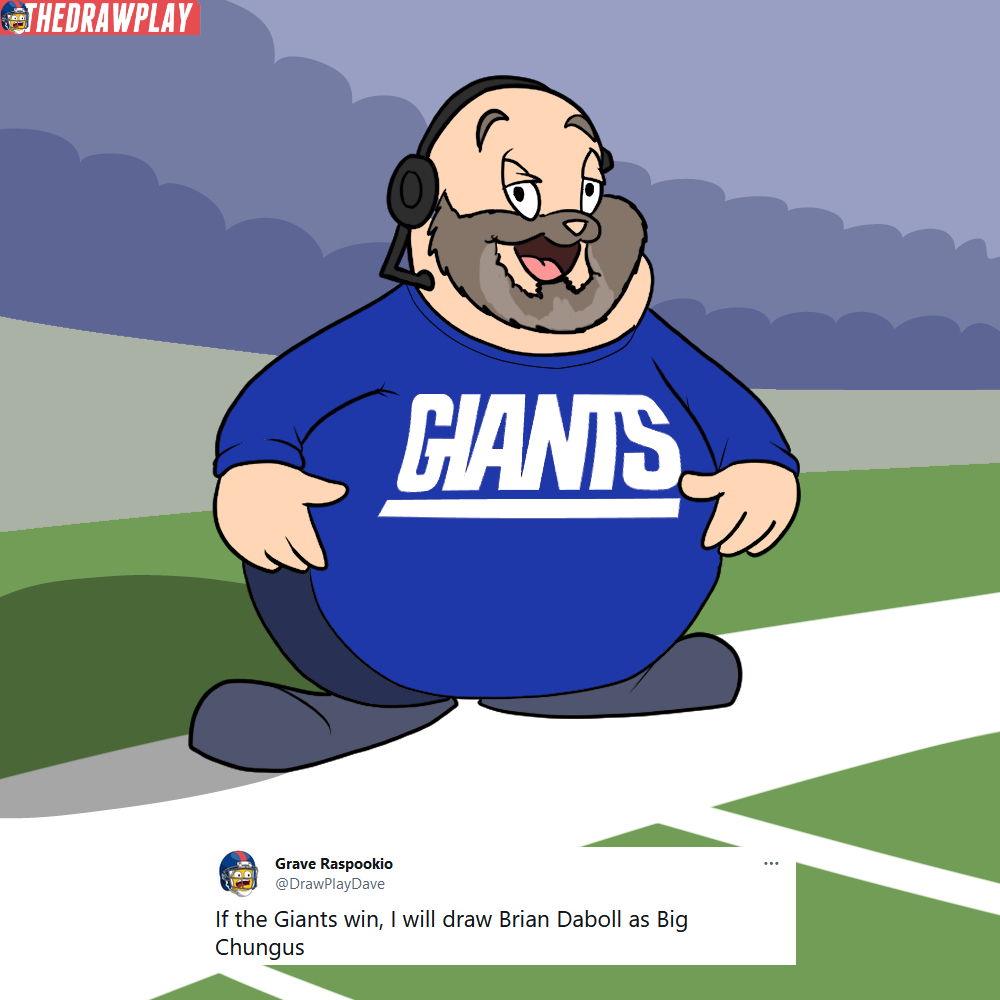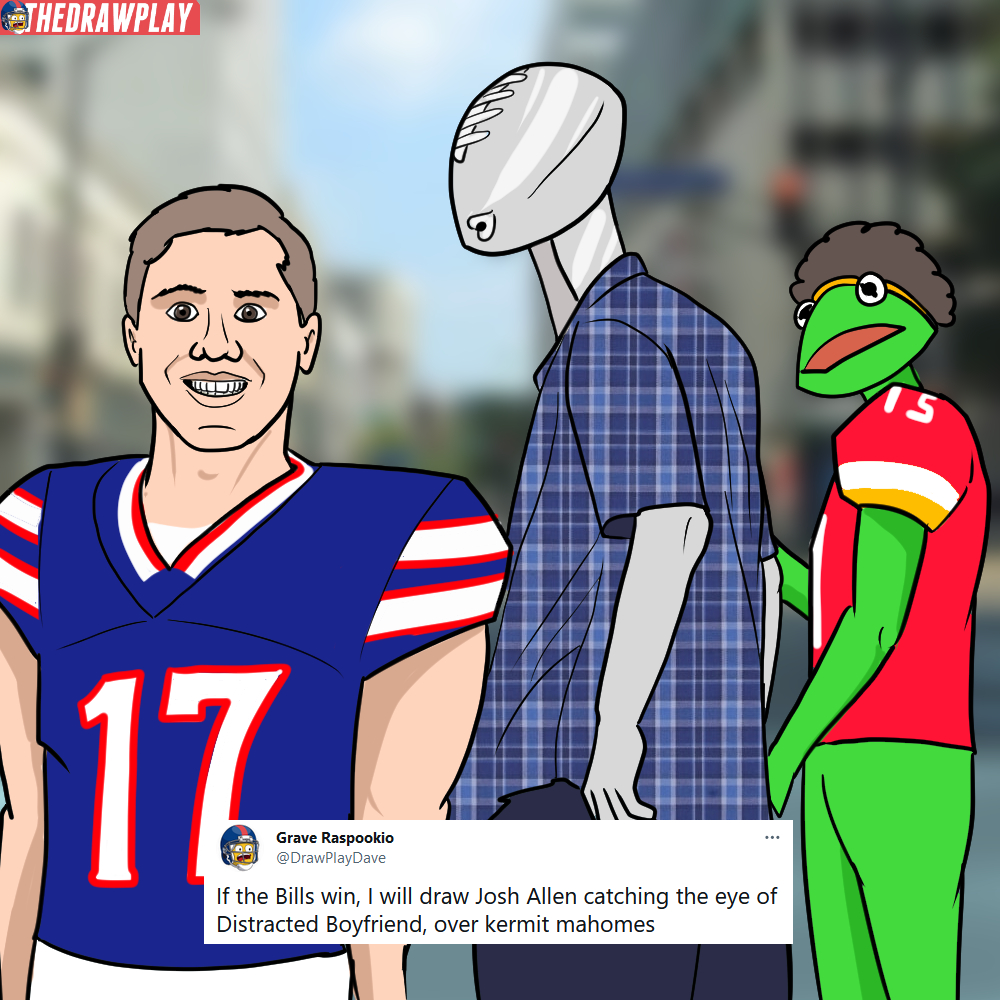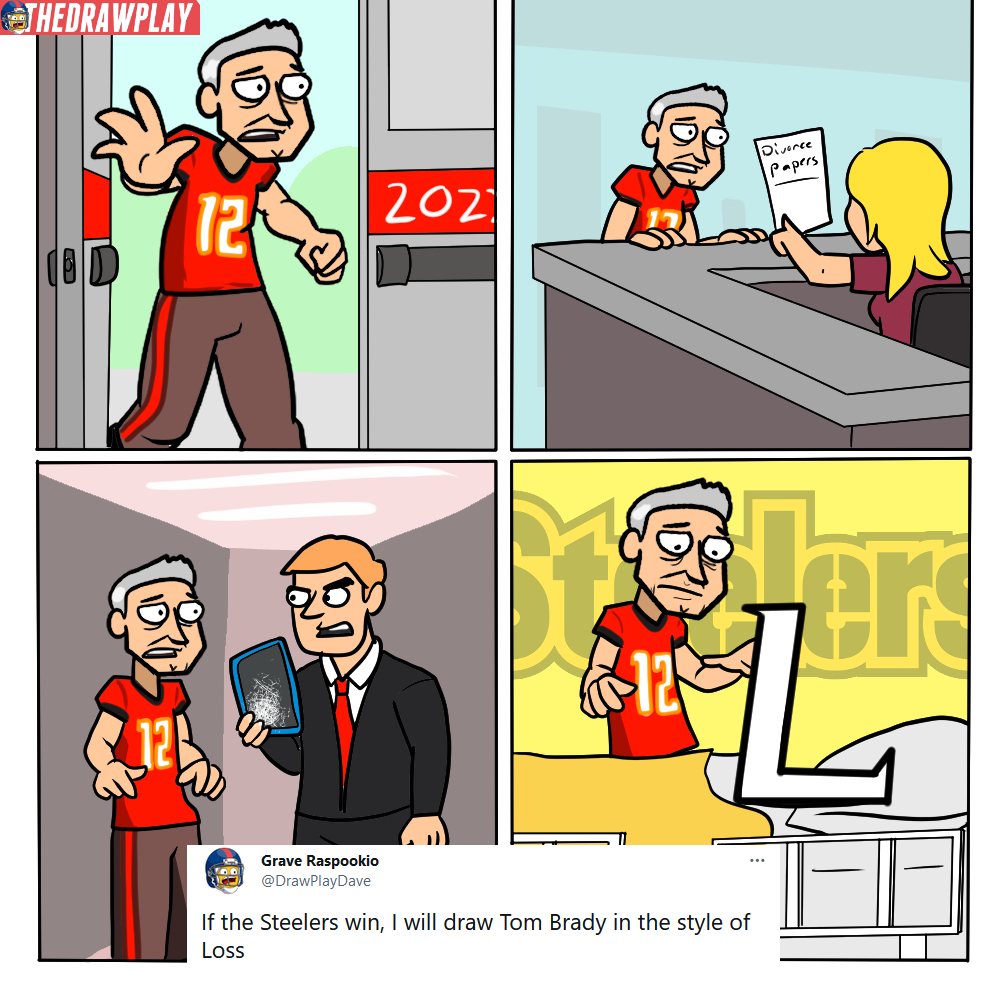 Brady Loss is in my top 10, maybe top 5. I've decided that after this season for March Madness, I'm going to make a bracket of all my cartoon picks and we are going to figure out which are the best, voted on by YOU.
Week 7! Going for another theme, because Meme Week turned out extremely well. POKEMON WEEK!
SAINTS @ CARDINALS
I'm done giving the Cardinals the benefit of the doubt. The Saints aren't anything special this year but they are trying. The Cardinals are just wasting our time. They are reaching hot seat territory for how our expectations of them have panned out.
If the Cardinals win, I will draw Kyler Murray as Torchic
PACKERS @ COMMANDERS
Wentz now has a broken finger, so it's time to see if Heiney really was the best option all along. This team sucks, so if the Packers lose to them, I think we can throw the Packers in the trash.
If the Commanders win, I will draw Terry McLaurin as Mr Mime

BROWNS @ RAVENS
The Browns started this season with a bit of spunk under Brissett but I feel the magic has run out and now they are just The Browns again until further notice.
If the Browns win, I will draw Miles Garrett as Granbull

BUCS @ PANTHERS
The Panthers are not going to do anything of note the rest of the year except trade players to load up on picks.
If the Panthers win, I will draw CMC as Meowth

FALCONS @ BENGALS
Bengals, changing this back to Bengals
If the Falcons win, I will draw Mariota as Zapdos

LIONS @ COWBOYS
The Cowboys probably get Dak back. The Lions are probably fucked.
If the Lions win, I will draw Dan Campbell as Machamp

GIANTS @ JAGUARS
The Jaguars hype ended up being a big false flag and the team is in fact, not good. The Giants have had to scramble for every win they've gotten, and Dougy P knows how to beat the Giants, but It's hard to have faith in the Jaguars now.
If the Jaguars win, I will draw Trevor Lawrence as Alakazam

COLTS @ TITANS
I feel like the Colts have quietly figured things out. Especially on offense. The Titans have barely been squeaking out wins and feel distinctly mediocre.
If the Titans win, I will draw Derrick Henry as NidoKing Henry

TEXANS @ RAIDERS
The Raiders should finally be able to grab another W
If the Texans win, I will draw Davis Mills as Aloha Exeggutor

JETS @ BRONCOS
It's funny to look at this matchup and think back to what we would have expected from this before the season started. I feel fairly confident in the Jets having the better Wilson right now.
If the Broncos win, I will draw Russ as Ponyta

CHIEFS @ 49ERS
The entire NFC West has been an injured disappointment outside the Hawks, who we expected to suck. The 49ers lost about half the roster already (a common occurrence for this team honestly) so I don't expect this to end well for Jimmy and the boys.
If the 49ers win, I will draw Jimmy as Slowappalo, and Ditto Samuel

SEAHAWKS @ CHARGERS
The Chargers are probably going to score a lot of points.
If the Seahawks win, I will draw Geno as Farfetch'd

STEELERS @ DOLPHINS
The Steelers came back alive vs the Bucs, but now Tua is back. I don't trust the Steelers yet, and I want to see how things improve with Tua back under center. Banking on you, Tua, prove those early weeks weren't a fluke.
If the Steelers win, I will draw Trubisky/Pickett as Steelix

BEARS @ PATRIOTS
The Bears are ruining Justin Fields and it is just painful to watch. The Patriots are doing the opposite. They have a limited backup QB and limited offensive talent, and yet they are finding ways to work around it. That's what good teams do. Justin Fields deserves better.
If the Bears win, I will draw Justin Fields as Usaring

A TIE
Both QBs as Weezing