CARTOON PICS WEEK 10 – Introducing The Chaometer
on
November 15, 2022
at
12:01 am
Hello friends. Sorry about the slight delay. See, since I started doing these weekly recaps/bets, I've tried desperately to find a sort of ongoing steady format. Lots of sports sites have their weekly "winners and losers" type articles, power rankings, etc but I could never quite figure out what to do with this top part. MY angle. Do I list things that I found interesting? Do I just spout anecdotes? What am I doing? Well, after the Colts went full chaos mode last week I finally figured out my angle. Chaos. It was always chaos. It's the only thing I care about. So from here on out, we are going to discuss the week in terms of the nonsense that entertains us all. Introducing THE CHAOMETER

NOTES
The top C meter is simply a reflection on the current state of the league. Are we having a normal season? Is stuff weird? Right now, I think the NFL is pretty chaotic. Two of the best teams in football (Vikings and Giants) are still seen by many as frauds. So many teams have 3-4 wins. The undefeated Eagles just got upset by the Commies. If the NFL is acting all weird, the meter goes up. If we are getting more or less what we expect during the week, the meter goes down.
The middle 3 bars are chaos rankings for each team as they currently stand for the season. Low-chaos teams are teams that are generally doing what we expect of them. If they are bad teams and they look bad, and are losing games (Texans!), or good teams winning games they should win, here they go. Mid chaos are teams that are maybe bad but just pulled an upset, or a good team that suffered a surprising loss, or teams that are just kind of hard to figure out, like the Browns. High chaos is the good stuff. The teams that are defying the odds weekly, that are doing weird shit that doesn't make sense, either on the football field (Vikings) or off of it (Colts). Where the team is located in the square indicates their current trend. Are they near the top of the block? Trending chaotic. Near the bottom? Cooling off. Chaos will be judged by their current place in the NFL landscape, their most recent game, and any off-field drama.
Chaos of the week is the nonsense I wish to highlight most. This was a tough choice between the Raiders losing to Jeff Saturday and the Vikings/Bills game, but I have to hand it to the Vikings. I've never seen anything like that game. The Justin Jefferson catch on 4th and 18. The Stephon Diggs grab. Kirk Cousins failing to sneak it in. The fumble in the endzone when the game was supposed to end. The fact that it went into overtime anyway. Vikings/Bills is probably the game of the year.
HIGH CHAOS
Falcons – Falcons have been pretty highly chaotic all year. They are winning games, but also still very much Falcons'ing them away. You never know what you are going to get out of a Falcons drive.
Panthers – Panthers should be terrible, but they look better under Wilks after trading away players than they did before. Wacko shit.
Bills – The Bills went from low chaos to high chaos very fast these past two weeks. They can't score in the second half. Allen is making rookie mistakes again. I have no idea what is going on with them.
Bears – Bears look like a completely different team. Extremely fun on offense and yet they won't win anything. Entertaining as hell.
Lions – The Lions pulled off the win against Chicago and remain high chaos. They can score with anyone but can't beat anyone.
Giants – A bad roster being coached to max potential, winning by the skin of their teeth every week. I'm not sure how sustainable it is, but it's hilarious
Raiders – What the ever living fuck. How do you lose to a guy who was basically an armchair QB on ESPN.
Colts – what the fuck, how do you hire the armchair QB from ESPN, and then WIN
Vikings – The most entertaining nonsense team in football right now.
MID CHAOS
Cardinals – look better since Nuk came back, but injured and poorly run, so they are stupid.
Cowboys – well, they were low chaos, then they go and lose to the stupid Packers somehow, which is also still somehow on-brand
Browns – I don't know what the Browns are. Are they good? Sometimes. Are they bad? Other times. The team has no real identity.
Packers – We thought they would be good but instead they are bad. But good on them for upsetting Dallas.
Chargers – Chargers are sort of inherently chaotic to the point that they aren't anymore. Almost predictably chaotic. True Neutral.
Seahawks – Got their fun slowed down in Germany, but this is still a wacky bunch we don't know what to expect from.
Dolphins – Tua is back and they seem to have found their pre-concussion Tua energy
Patriots – Bad offense, good defense, boring again
Jets – A good team held back by a bad QB
Commies – A mediocre team that nonetheless has some fight
Titans – Derrick Henry and company are staying the course. You can't trust them, but they aren't bad.
Bucs – They were surprising us with how bad they were, but maybe they righted the ship.
LOW CHAOS
Broncos – They just aren't good. They have the worst offense paired with the best defense, making them almost unwatchable.
Eagles – they were bound to lose sometime, it was a rough game, but this is still a good team.
Bengals – They either get their shit pushed in or win and you can tell which will happen by the end of the first quarter
Ravens – After some early season choke jobs the Baltimore Boys have settled in and started to hold on.
Rams – They aren't very good. Stafford is banged up. This isn't a super bowl caliber team anymore.
Saints – They occasionally win out of nowhere, but this is a bad team, poorly coached. What does Dennis Allen bring to the table?
49ers – Solid defense, functional offense that sputters at times because Jimmy is dumb. Same thing every week.
Steelers – Not a great team at all, no real expectations at this point with Pickett getting his first-year reps.
Chiefs – They are the Chiefs. No Chaos at all, we know the Chiefs.
Jags – They suck, but there is mild hope for the future I guess.
Texans – They suck in a way that is just depressing.
SO LET'S GET TO THE PICS! BOOTY WEEK WAS AN AROUSING SUCCESS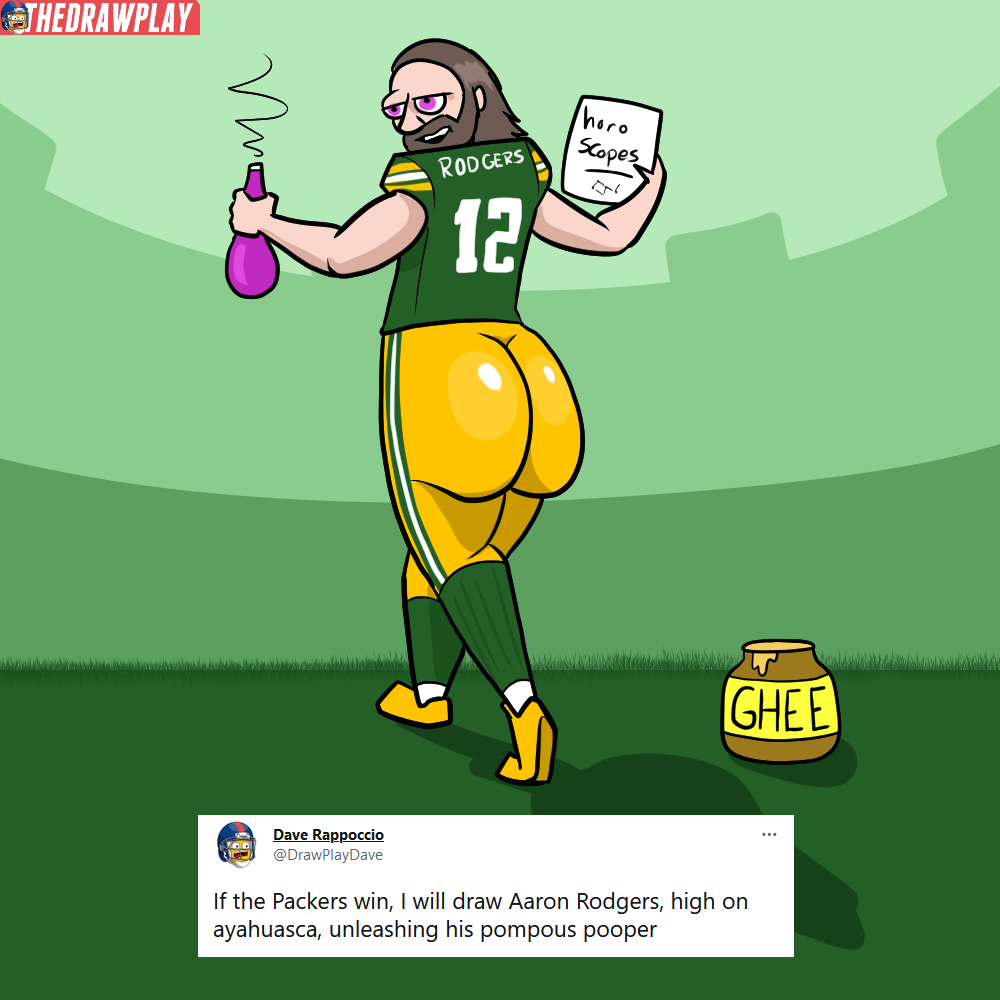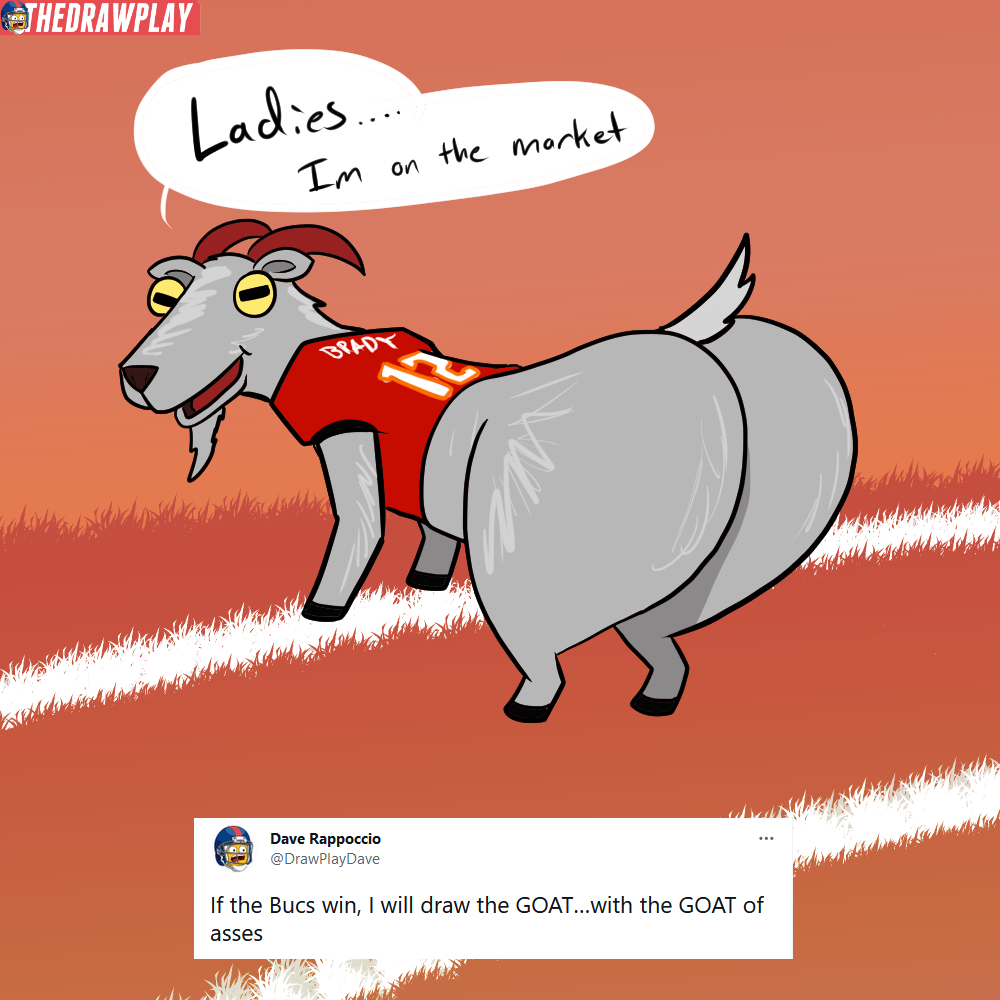 WEEK 11 PICKS – CLASSIC ALBUM COVERS
TITANS @ PACKERS
The Packers found a win in their ghee-coated buttholes against Dallas, so can they go on a streak? Lets see them stop Henry first.
If the Packers win, I will draw Rodgers brain like the cover of The Roots – Phrenology

BEARS @ FALCONS
The Bears are fun now! Good, even! I think they will win.
If the Falcons win, I will draw Mariota and the Infinite Badness

EAGLES @ COLTS
If the Eagles drop this the entire narrative around them is going to shift.
If the Colts win, I will draw Nick Foles as Nevermind. I assume you know why

JETS @ PATRIOTS
The Patriots are good on defense and Bill Belichick has a vendetta against the Jets. Never pick the Jets here, even if this is the biggest Jets/Pats game in years.
If the Jets win, I will draw Zach Wilson, Odelay

COMMIES @ TEXANS
The Commies are decent enough to make this game skippable. The Texans are depressing to watch.
If the Texans win, I will draw Davis Mills as London Calling

RAMS @ SAINTS
Two deep disappointments. Rams I guess.
If the Saints win, I will draw Andy Dalton and Taysom Hill in Wish You Were Here

BROWNS @ BILLS
Well if the Bills drop 3 in a row they could legitimately end up in last place in the division. They need this win now just to keep pace with the Dolphins.
If the Browns win, I will draw Nick Chubb, giving Allen his Death Certificate

PANTHERS @ RAVENS
Ravens probably.
If the Panthers win, I will draw PJ Walker and DJ Moore as Rumors

LIONS @ GIANTS
I worry the Giants do not have the offensive power to keep up if the Lions bring their scoring prowess back. I'm still a pessimist at heart. I feel an upset looming.
If the Giants win, I will draw Brian Daboll as Enema of the State

RAIDERS @ BRONCOS
This is actually one of the few wins the Raiders earned this year. Depressing. But they are on a downward spiral. Feel like the Broncos defense can win this.
If the Raiders win, I will draw Mark Davis as Maggot Brain

COWBOYS @ VIKINGS
I still do not trust the Vikings at all.
If the Vikings win, I will draw Kirk Cousins as Price in Purple Rain

BENGALS @ STEELERS
The Bengals come back to the Steelers right as TJ Watt comes back. Yikes. Without Chase I think the Steelers ruin Joe's day again.
If the Bengals win, I will draw Joe Burrow as Led Zeppelin IV

CHIEFS @ CHARGERS
Chiefs probably. Wow they put the Chargers in two straight SNF games? Bold.
If the Chargers win, I will draw Justin Herbert as Aladdin Sane

49ERS @ CARDINALS
49ers have a good coach. Cardinals do not.
If the Cardinals win, I will draw Tiny Kyler, Ready to Die
TIE GAME
Both QBs in the hot dog flavored water


This is a topic with a lot of options and I wrote this late at night, so I'm very open to suggestions. Try to keep it to albums that have 1, maybe two people on the cover in some way