CARTOON BETS WEEK 3 – CAVEMAN STYLE
on
September 26, 2022
at
12:01 am


I'm not normally this petty but that comment was too funny in hindsight. Lord give me the self confidence of a Steelers fan
So, to reiterate: I'm at a mountain cabin this week, having some chill. All I have is a pen, a sketchpad, and a small laptop. Might not be comics this week, but if there are, they will also be caveman style
BIG WEEK FOR THE LEAGUE. A few teams managed to save their seasons. A few managed to prolong the inevitable. A few had a rough day. Lets start with the teams who probably just had a bad day:
The Bills – The Bills were missing multiple important starters and brought it down to the wire. This was a great duel between two top teams. They messed up at the end by not going out of bounds and not getting set fast enough, but this isn't a loss the Bills should be ashamed of. The Dolphins are legit.
The Chiefs – The Chiefs looked out of sorts while on the road. Not their best day, but I also don't think there's any reason to worry here.
Bucs – That was ugly, but they held the Packers down in Tampa without Mike Evans. A bit concerning, but this was another tough match between two expected conference playoff contenders.
WHICH TEAMS PROVED THEMSELVES
Eagles – The Eagles are legit. Hurts is legit.
The Dolphins – Legit as hell. Tua is finally Bama Tua again and they look scary.
Packers – They held off the Bucs. Looks like the week one loss was once again probably an anomaly.
WHICH TEAMS ARE PROBABLY FUCKED
Commies – The Ron Rivera era has been a wild disappointment. The Team occasionally puts up a fight, even occasionally wins, but they far more consistently underperform and fail. The Eagles are good, but the Commies have looked worse and worse over the course of the last 3 weeks.
Seahawks – The Hawks would be 0-3 if Nathaniel Hackett could manage any sense of competence. Geno Smith is medicore, the team is weak, and they will not do anything of value.
Raiders – the Raiders are the only 0-3 team left in the league. They've had a chance in every game and can't cross the finish line. This is going to be a sad year for Vegas
Texans – they suck, but we can't say this is a surprise
Saints – Something is extremely wrong here. Jameis is hurt, yes, but this team looks woeful. The game wasn't even as close as the final score as the Panthers easily handled business.
WHICH TEAMS SAVED THEIR SEASONS OR HELD OFF THE INEVITABLE. Aka the "Mid" teams
Vikings – They are 2-0 and dont really deserve to be. They did not deserve to beat the Lions. But they did! So it's not over yet.
Lions – The Lions have firepower but they don't have the ability to play a whole game. They are admirable and fun, but not worthy of our trust.
Colts – The Colts are not a good team, but they managed to put some shit together against the Chiefs. They might find a rhythm yet, but it's going to be an uphill battle.
Titans – They have difficulties doing anything in the second half of games, which is a major issue. That used to be Derrick Henry time.
Bears – the Bears are 2-1 and could be 0-3. They are not an inspiring team and Justin Fields simply doesn't look good.
Jaguars – the Jaguars might be alright! Doug is a good coach and it just goes to show what kind of monster Urban Meyer was that this team has looked fun, good, and competitive in each game so far.
Chargers – Herbie is hurt, but the Chargers are suddenly in a bad spot. The Jaguars snapped a long road losing streak in LA and did so convincingly against this team.
Patriots – The Pats are capable of playing good ball but they aren't the mistake averse Pats of yore, and with Mac hurt, the season is now very much in jeopardy
Steelers – The offense is broken and it's only a matter of time till we see Kenny Pickett. The defense isn't nearly as potent without Watt.
Browns – The Browns played a convincing football game against Pittsburgh and if we didn't know what was coming in 8 weeks, it would be easy to root for Jacoby Brissett.
Panthers – honestly, this is still the Matt Rhule getting fired waiting game, but this week just extended it
Rams – The Rams handled business against the Cards in Arizona, nothing to worry about
Cards – the Cardinals aren't starting strong like usual. We aren't far from panic mode
Falcons – The Falcons, unexpectedly, have fight in them this year. I cant say I saw it coming.
49ers – Yeah, they look a little bad. You'd think they'd be okay with Jimmy back there, but it's not going very well.
Broncos – This team is somehow 2-1. Same as the Bears, this team is not good but has won some games around defense
Bengals – Saved their season arguably by beating up the Jets, finally winning a game they were supposed to
Ravens – righted the ship against the Patriots, still look solid outside the Dolphins 4th quarter collapse
Giants – As expected, the Giants aren't actually good, just not woefully incompetent. Danny needs reliable targets to throw too and better protection, but it's likely not coming this year. Defense is still alright.
Cowboys – An elite front 7 on D, and Cooper Rush is a solid game manager, but they aren't special and likely won't go very far this year.
PICKS!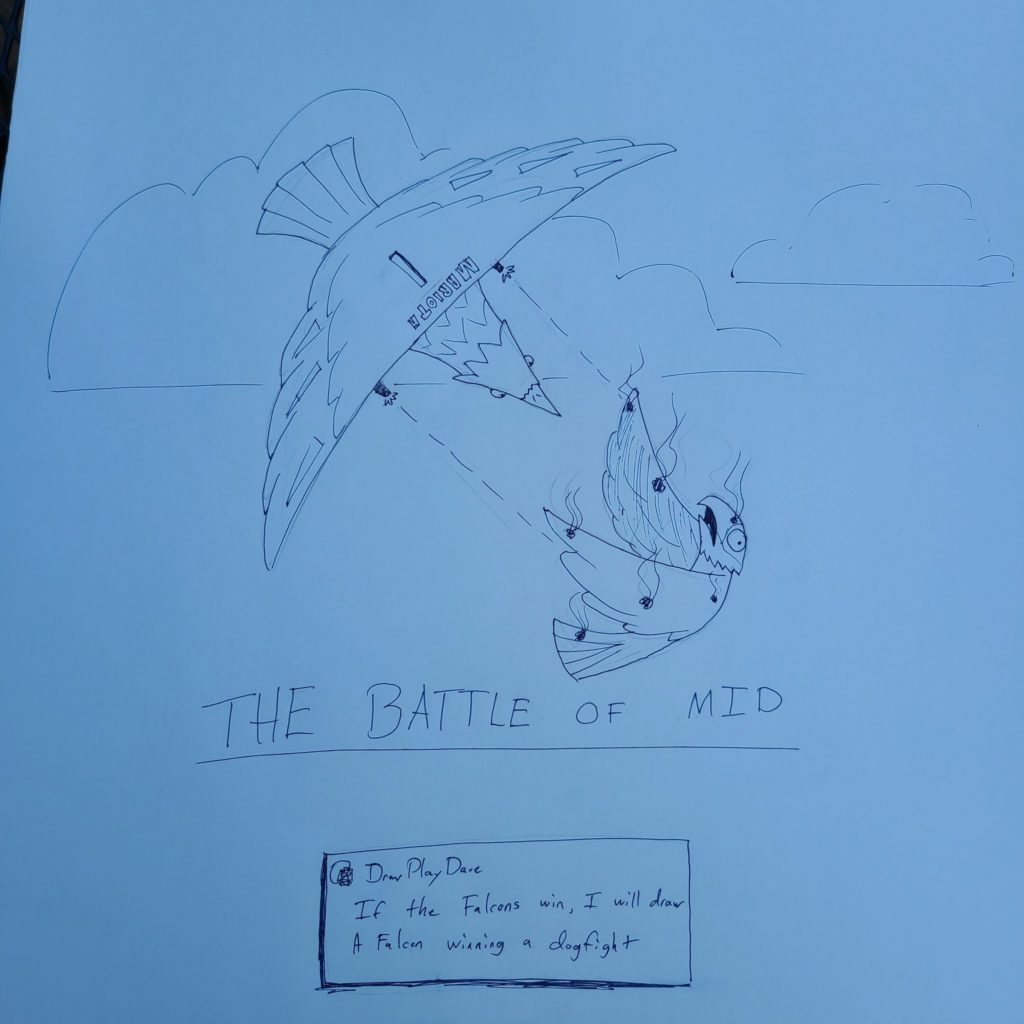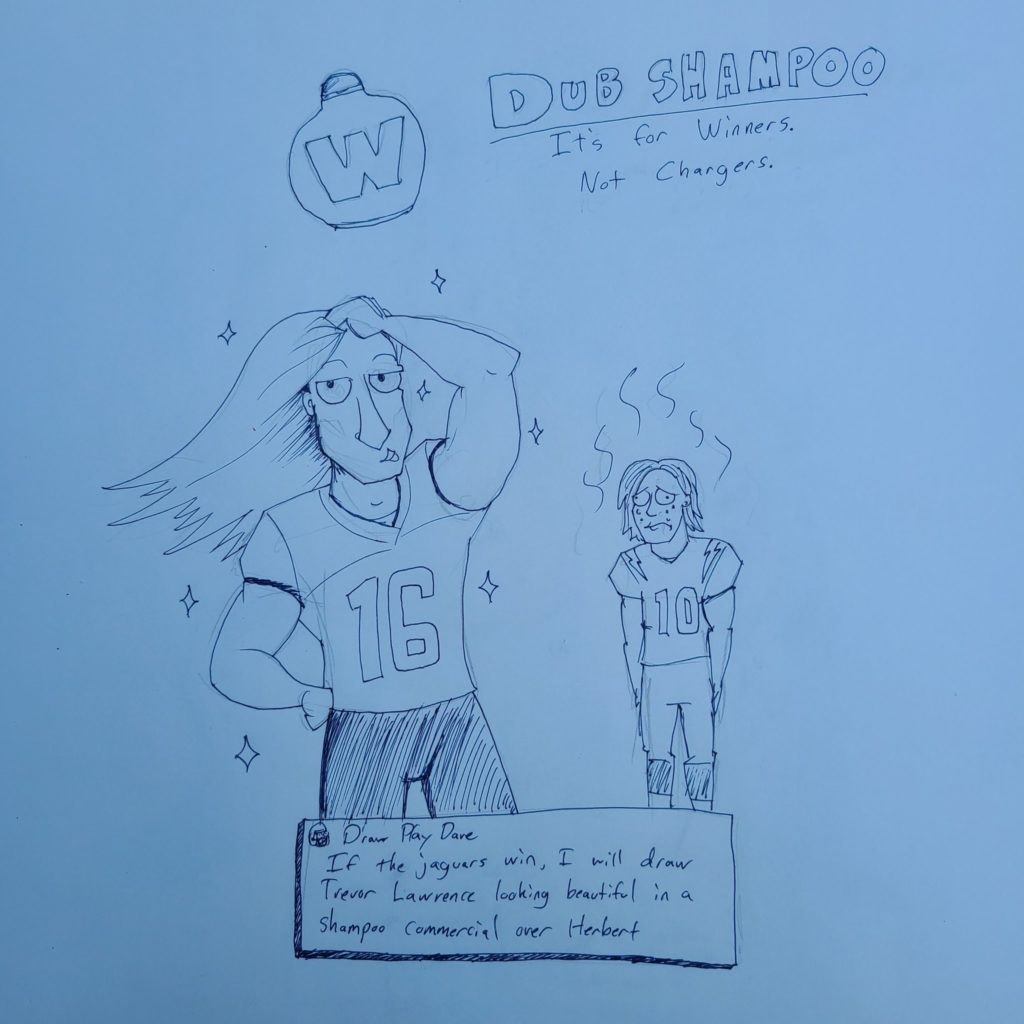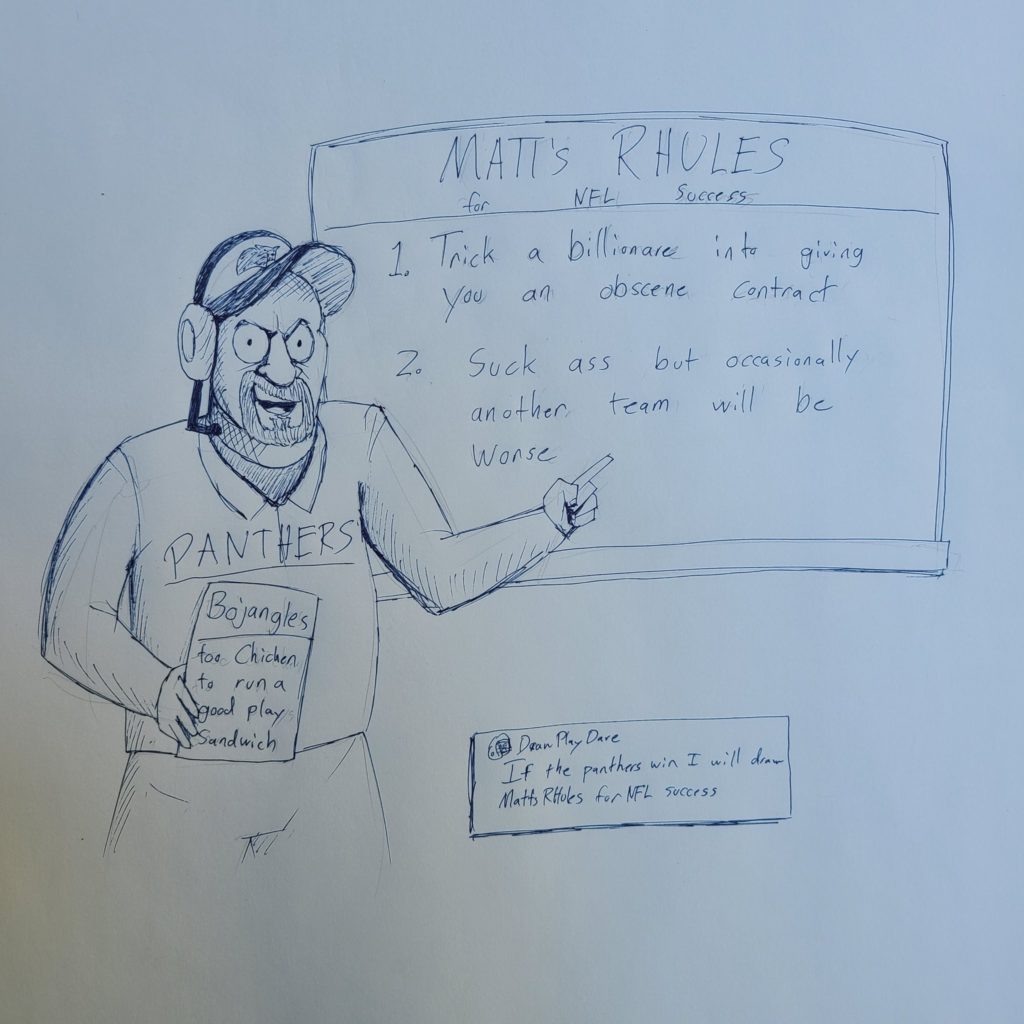 DOLPHINS @ BENGALS
The best performance the Bengals put on the field this Thursday night will be those new white helmets.
If the Bengals win, I will draw the white Bengal version of Joey the Tiger

VIKINGS @ SAINTS
Kirk loves to overperform on those afternooners. Plus the Saints seem fucked up and nobody is really discussing it.
If the Saints win, I will draw Saint Alvin Kamara, resting upon high
SEAHAWKS @ LIONS
The Hawks are a few bad fumbles and Nathaniel Hackett brain farts away from being 0-3. They are not good.
If the Seahawks win, I will draw Let Geno Smith (he's a blacksmith, get it)
JETS @ STEELERS
I'm excited to see if new era Steelers also play down to opponents.
If the Jets win, I will draw Jet Fuel Melting Steel Beams
BEARS @ GIANTS
I think this matchup favors the Giants, actually. The Bears cannot and will not pass, which is what the Giants are worse at defending. Their defense is good, but the Giants offense is better than the Bear o, so I just think this leans towards NY
If the Bears win, I will draw Justin frolicking through the swamps of the meadowlands
TITANS @ COLTS
Colts bad, Titans bad, should be a great game. I'll pick the Titans.
If the Colts win, I will draw Derek Henry hitting the broad side of a barn (the barn is Lucas Oil stadium)
CHARGERS @ TEXANS
The Chargers need a break so they better not fuck this up.
If the Texans win, I will draw a very large Texan asshole truck running Herbie the love bug off the road
BROWNS @ FALCONS
Falcons got that dawg in them, but it's not a very strong dawg
If the Falcons win, I will draw Marcus Mariota and Drake London/Kyle Pitts (whoever has the better game) as Outkast
COMMIES @ COWBOYS
Cowboys unfortunately have more life and an easy schedule while Dak is hurt, I'm mad about it
If the Commies win, I will draw Carson Wentz as Stalin
JAGUARS @ EAGLES
I'm starting to believe in the Jaguars and I'm sure Doug Pederson has this game circled. But the Eagles are on fire right now.
If the Jaguars win, I will draw Doug Pederson as Rocky on the steps, giving Philly the fingers
BILLS @ RAVENS
This will be a big test of the Bills mettle. Excited to see if they can get back on top. A loss here has distant playoff implications.
If the Ravens win, I will draw a Raven eating buffalo wings
CARDINALS @ PANTHERS
Panthers are up there for most unwatchable team this season.
If the Panthers win, I will draw Baker Mayfield juggling 3 Kyler Murrays
BRONCOS @ RAIDERS
I feel like the Raiders have to get that first win at some point, and the Broncos have barely farted themselves into 2-1, so why not here
If the Broncos win, I will draw Nathaniel Hackett redeeming himself by bringing home the corpse of Denver's public enemy Josh McDaniels
PATRIOTS @ PACKERS
Mac Jones died, so the Pats chances probably went with him.
If the Patriots win, I will draw Bill Belichick drinking ayahuasca 
CHIEFS @ BUCS
This one is pretty tough to call, but with the hurricane in town, I feel like beating a storm and the chiefs drives up the Brady spite meter
If the Chiefs win, I will draw Kermit wrangling a goat
RAMS @ 49ERS
You know what? All logic says to pick the Rams here, except Kyle Shanahan seems to own Sean McVay. I'm playing the meme card.
If the Rams win, I will draw Aaron Donald making a Jimmy sandwich
A TIE
I will draw both QBs drowning in the kiddie pool