CARTOON PICS WEEK 9 – The Manningcast Curse Is Real
on
November 8, 2021
at
12:01 am
A BAD WEEK FOR ELIMINATOR PLAYERS. I wonder what the record is for how many eliminator picks are ruined by one game. We'll likely never be able to track that, but I would bet the Bills/Jags game has a chance of being up there in the top 20, maybe top 10. Possibly higher. There is no excuse for what the Bills did yesterday. None. Well…maybe. The Manningcast curse. Every active player who has gone on the ESPN Manningcast has lost the following week. It's hit Travis Kelce, Russell Wilson, Gronk, Stafford, and Tom Brady. Josh Allen stopped by last week. The Bills then came out and got obliterated, shamefully, by the other Josh Allen. Yes I know 9-6 isn't getting "obliterated" but when you are supposed to be a super bowl contender coming off a bye playing one of the worst teams in the entire league…you aren't supposed to lose 9-6. Pathetic.
The Bills were given a wide-open AFCEast and they might actually blow it. The Jets, Dolphins and Patriots all started the season looking rough but now the Patriots are gaining quiet momentum and the Bills have now blown it against the Titans (a playoff seeding competitor even with Henry out) and the goddamn Jags. They have to play the Jets next, which, you know, should be a blowout, but after today who knows. Then they play the Colts and Saints before taking on the rising Pats. That game will be a big deal.
What else happened? Well, turns out maybe I was right to question Cincy all along. The Bengals have blown it two weeks in a row, this one in spectacular fashion against a hobbled Browns scquad. Maybe the Browns Minus Beckham trend is real after all. Baker just…plays better without OBJ out there. And now OBJ is straight gone. He should be on a new team as you read this, but I'll get to that eventually. In the meantime, the Browns are back, baby.
Jordan Love did not impress. I stuck with the Packers even with Fraudgers out because the Chiefs are playing like ass this year and the Packers are stacked, but no dice. Jordan Love was nothing special. Maybe we have hope that the Packers won't get a 3rd HoFer in a row.
The Falcons are performance art. You won't convince me otherwise. Their ability to choke away leads late in the 4th is unmatched to the point where I genuinely start wondering if football is scripted. They pulled it off this time, but you just wait till they choke away a lead again next week like clockwork. I deliberately don't watch the Falcons games every week because I know only the final 5 minutes are relevant.
The Raiders suffered a trap game against the Giants. I didn't get any boost of confidence watching that win, same as I felt bad after the Panthers win too. Just another gross close game with plenty of dumb errors that worked out in our favor this time. The defense managed to close out a game though, so good for them. Still want everyone fired. The Giants have managed to climb into a tie with Philly for 3rd place, above the TEAM, who I am delighted to see in last. Dallas should still easily sweep the division, even if they too got trap gamed by the Broncos.
Mike Zimmer is toast. Two weeks in a row giving up games like this. I think Zim is a good coach but you can just kinda feel it when an era has run its course. Miami finally won a game, even with Tua out. The Lions didn't lose! They didn't play.
We don't give enough credit to the Titans for how weird this team wins. They haven't played a normal game all year. They've had two QBs in back-to-back weeks throw baffling picks from their own endzone. They scored 14 points in roughly 20 seconds of gametime against Stafford. This is a good team that can really win even when stuff goes wrong. I respect and admire the Titans.
The Texans forced 5 turnovers and lost. Literally the worst team I've ever watched play football.
I think this ended up being one of my strongest weeks for pics though! Take a look at these great babies.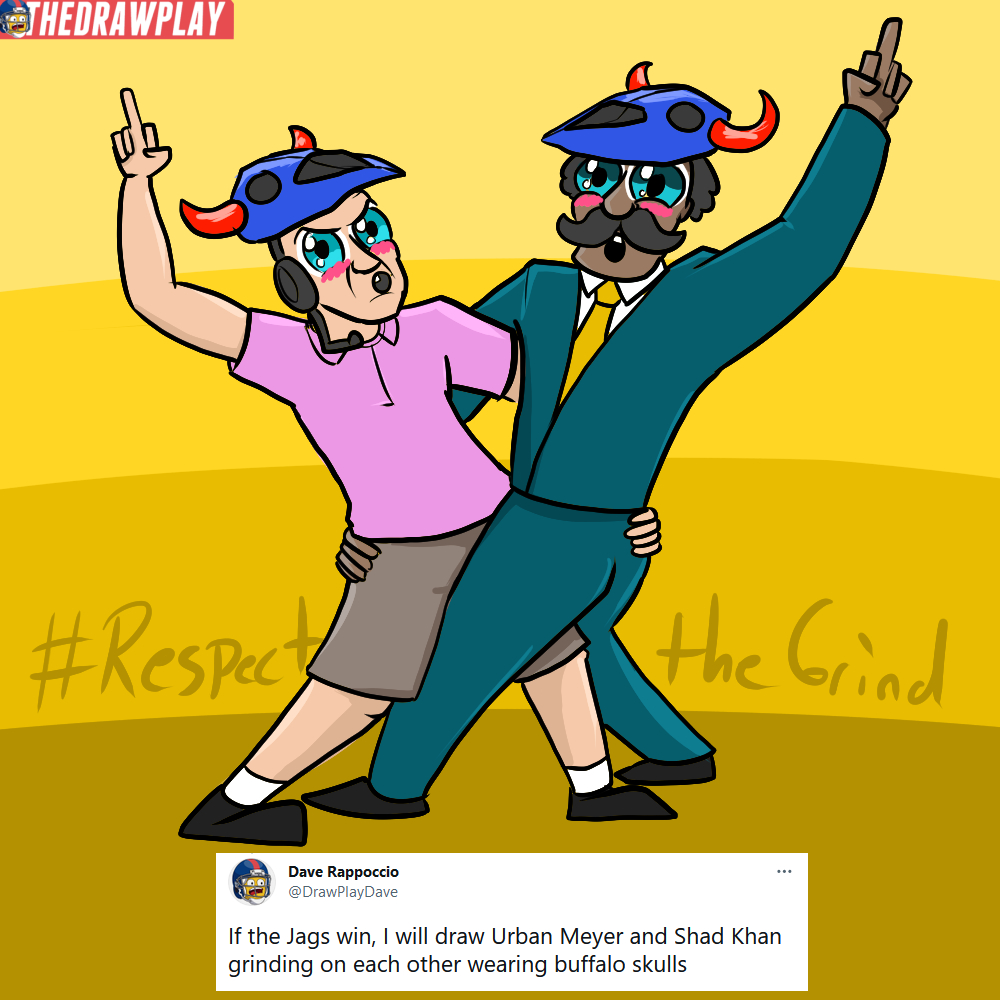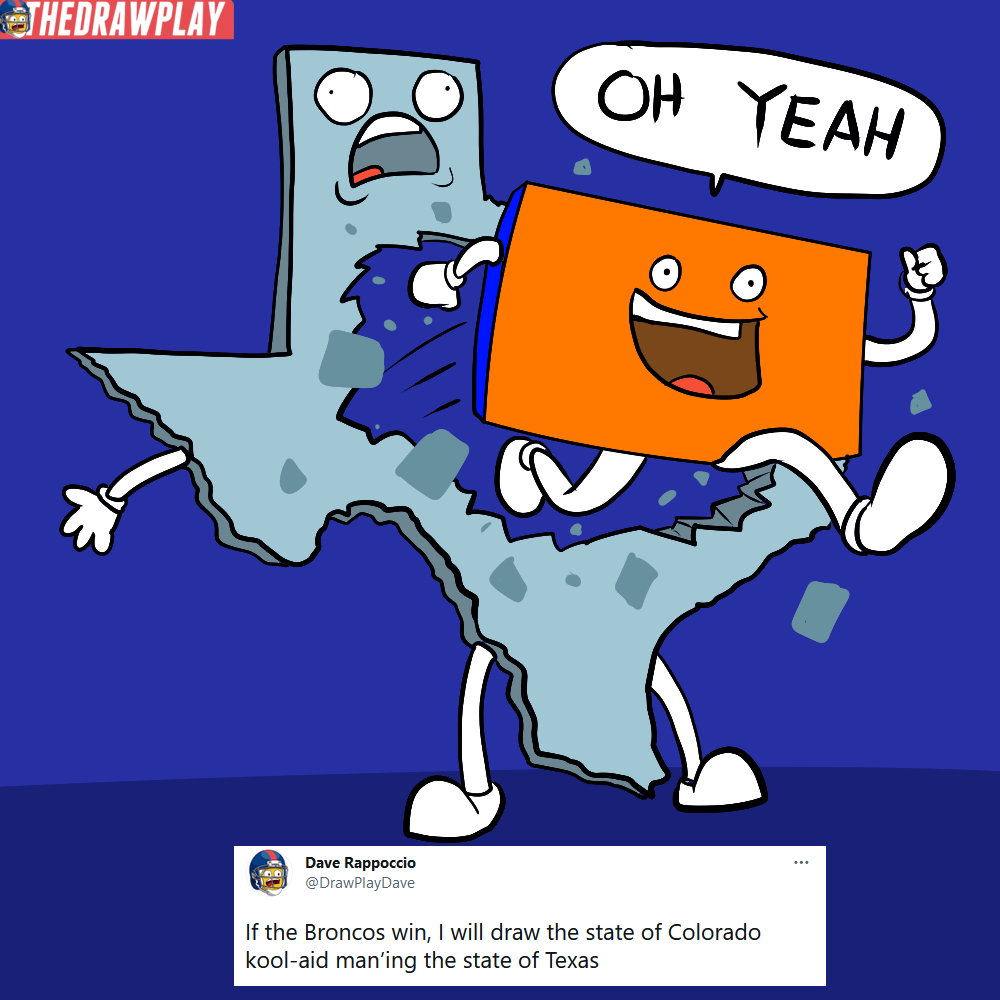 I don't usually brag because of crippling imposter syndrome but I feel like my batch of doodles this week might be my best ever single week set, none I'm unhappy with. The Falcons Dune picture is arguably one of my favorite pics I've ever made.

WEEK 10 PICKS!
RAVENS @ DOLPHINS
Unless some wacky nonsense happens I don't know anyone who would pick the Dolphins here. The Ravens are so injured and yet all they seem to need is Tucker and Lamar and who gives a shit
If the Dolphins win, I will draw a Dolphin impaling Lamar Jackson with its face
SAINTS @ TITANS
Since I am incapable of picking the Saints correctly, I will now be picking the Saints games according to who I want to win. I want the Titans to win, so go Saints.
If the Titans win, I will draw Saint Derrick Henry, lost too soon
BILLS @ JETS
If the Bills lose to the Jags and Jets in back-to-back weeks we may as well just write them off as a loss and move on with our lives.
If the Jets win, I will draw a card table smashing through a buffalo

LIONS @ STEELERS
Obviously, the Steelers should win this and I am very worried about the Lions at this rate, but don't discount the Steelers ability to play down to opponents.
If the Lions win, I will draw Dan Campbell doing squats with a steel girder on a dead Big Ben

JAGUARS @ COLTS
Colts aren't too bad! They seem to base their wins off "can they overcome the inevitable 2 Carson Wentz brainfarts". The Jags should not win this.
If the Jags win, I will draw Urban Meyer grinding Lucas Oil Stadium

BUCS @ TEAM
Fuck em up, Tom
If the TEAM win, I will draw Dan Snyder laughing maniacally in hell

BROWNS @ PATRIOTS
This might be one of the few genuinely tough calls this week. Most games seem to have an obvious favorite, but this one might be close. Gonna go Pats due to home-field advantage.
If the Browns win, I will draw Nick Chubb as Covid Godzilla destroying Foxboro

FALCONS @ COWBOYS
Cowboys will look like shit until 10 minutes left in the 4th when they score 5 TDs to make a comeback against the stupid Falcons
If the Falcons win, I will draw Matty Ice, the wizard of ice magic

PANTHERS @ CARDINALS
You can take the Darnold out of The Jets, but you can't the Jets out of the Darnold
If the Panthers win, I will draw Cam Newton, Return of the Mack

VIKINGS @ CHARGERS
The Chargers aren't the chokers they have been, they win and lose pretty straightforwardly this year. The Vikings are tremendous chokers.
If the Vikings win, I will draw Thor, God of Thunder, taking his lightning bolts back from the Chargers

SEAHAWKS @ PACKERS
Packers get Throw Rogan back unless more hilarity ensues so he's going to spite his way to about 10 touchdowns on the feeble Seahawks defense
If the Seahawks win, I will draw Russ using his new repaired robo finger to flip off Aaron Rodgers

EAGLES @ BRONCOS
I can't quite get a read on the Eagles. They seem to put up stronger fights than they should each week and they make me nervous a lot. The Broncos just shocked the Cowboys, maybe they can carry that momentum.
If the Eagles win, I will draw a very large eagle feeding Teddy Bridgewater to baby eagles

CHIEFS @ RAIDERS
The Raiders are a good team. They were bound to get a hiccup but the Chiefs have proven to not be a fluke but actually bad.
If the Chiefs win, I will draw Derek Car being drowned in ketchup

RAMS @ 49ERS
Well the Rams were extremely weird on SNF against the Titans, but the 49ers laid a complete egg against the Arizona backups. The 49ers are not that good.
If the 49ers win, I will draw Jimmy G winning a handsome contest over ugly Matt Stafford