CARTOON PICKS Week 18: It's done, it's finally over
on
January 10, 2022
at
12:01 am
And with that, the first 17 game season is over. It was kind of a waste to have an extra game, but it still gave us some drama. Raiders/Chargers was even better than expected, and we came inches away from a tie that would have sent Pittsburgh home. Alas. There isn't much to learn, because now it's just the playoffs. I'll have the annual bandwagon guide up later this week for playoff discussion. Let's just look at the results of my year!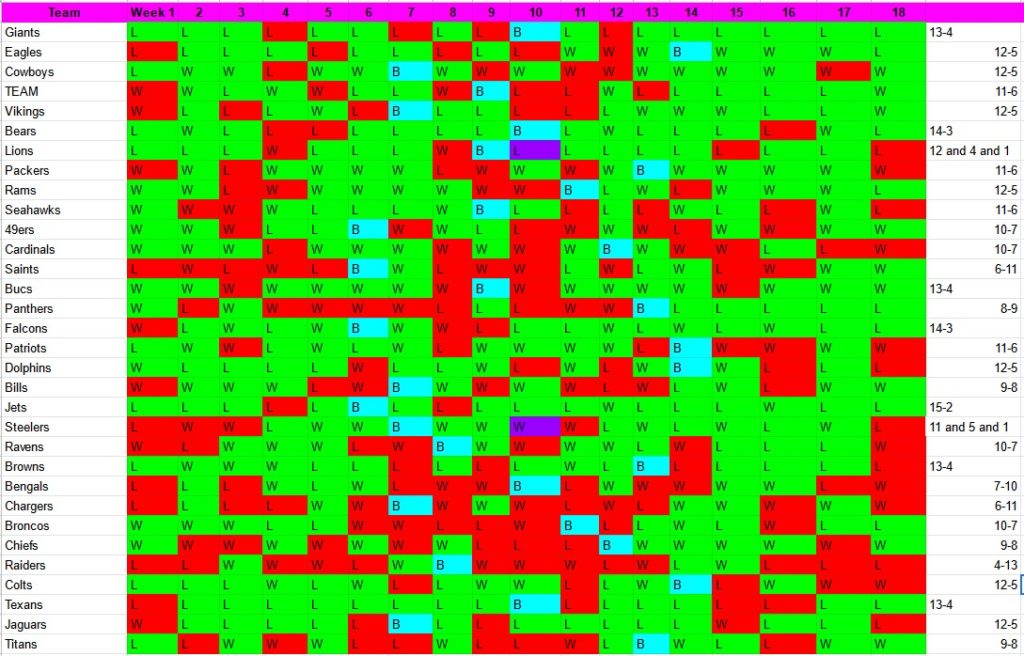 My overall record: 172-99-1. Technically, I did not call the tie, but I also didn't get it wrong, so I'm throwing it in there at the end. I was 63.4% accurate, which is actually an improvement from last year's 61%. I'm surprised I improved, actually, because my middle season record is pretty bad. But I had several great weeks to bookend the year so I guess it worked out. This more or less tracks with how I expect most people's picks to go. Early on, it's easy to pick the teams you expect to be good and the early season hot teams, but around mid-season is when injuries and fortunes start to flip and the frauds are still mudding the waters. By the end of the year the teams are very clear so it's no wonder my record improves there.
My worst week was week 10, where I went 5-8-1. I also went 7-8 in week 11, these were my only losing records. My week 9 was my only even split, at 7-7.
My best week was week 16, at 13-3.
Teams I had the least faith in: The Giants, of course. I never picked them to win a single game, and I got 4 wrong. Looking back, I would have picked those 4 games as losses again. That they beat anyone astounds me.
My best record: The Jets, for the second year in a row. I went 15-2 on the Jets, and surprisingly, I got both of their wins correct. My next best teams were the Falcons and Bears, both 14-3. After that, the Texans, Browns, Bucs, and Giants at 13-4. The Falcons and Bears being so high surprised me, because neither team was as clearly bad as say, the Jets or Texans. I just called their few wins pretty accurately.
My worst team…was not the Saints. The Saints and Chargers tied at 6-11 for my second-worst team. The Saints I knew would be bad, but the Chargers confounded me all year. But more than that, the team that clearly confused me the most…was the Raiders (4-13). I fucking hate the Raiders.
The team I underestimated the most (most incorrect Lose picks) was the Raiders, mostly through sheer volume of incorrect picks. 7 times I expected a loss and got burned. I also got the Titans wrong a lot, which makes sense, they looked dead in the water after Derrick Henry went down and the team became an injury revolving door. That they now own the #1 seed is amazing.
The team I expected too much from was the Raiders, Saints, and Panthers, who for each I got six called wins wrong. Basically, the Raiders, Panthers, Chargers, Saints, and Bengals were my losing records. My brain never computed the Bengals being successful.
I never picked the Bucs to lose. My longest win streak was the Jets, who I got right 10 weeks in a row.
Next up, PICKS. Had an average week. Sitting players will mess up choices in the standings. But I think I did some good work for this week.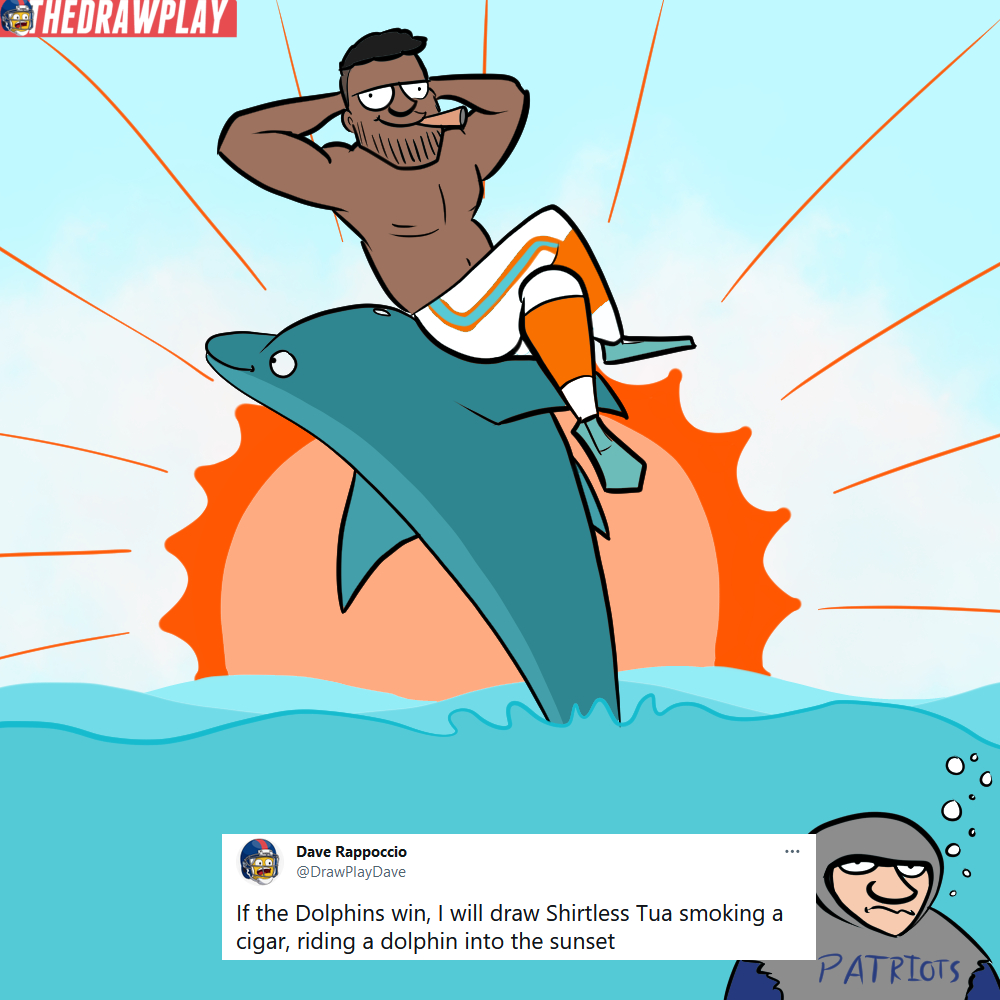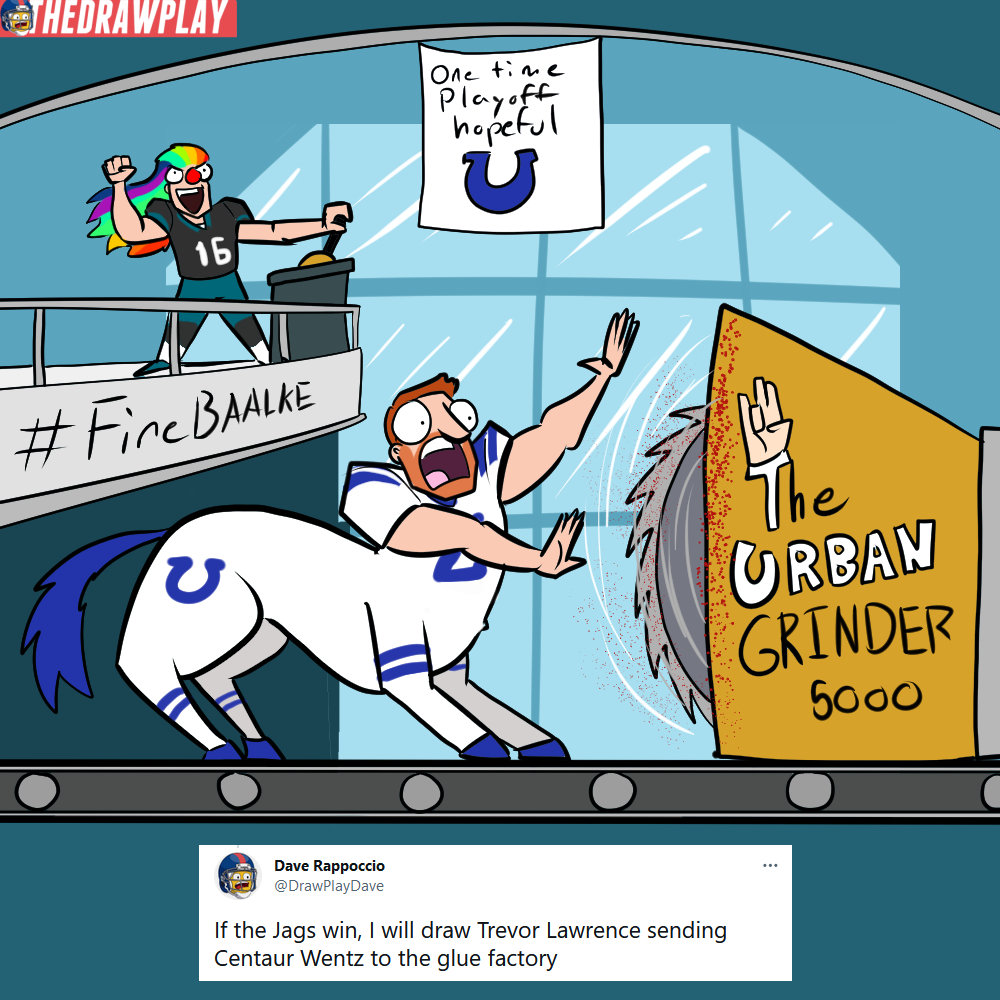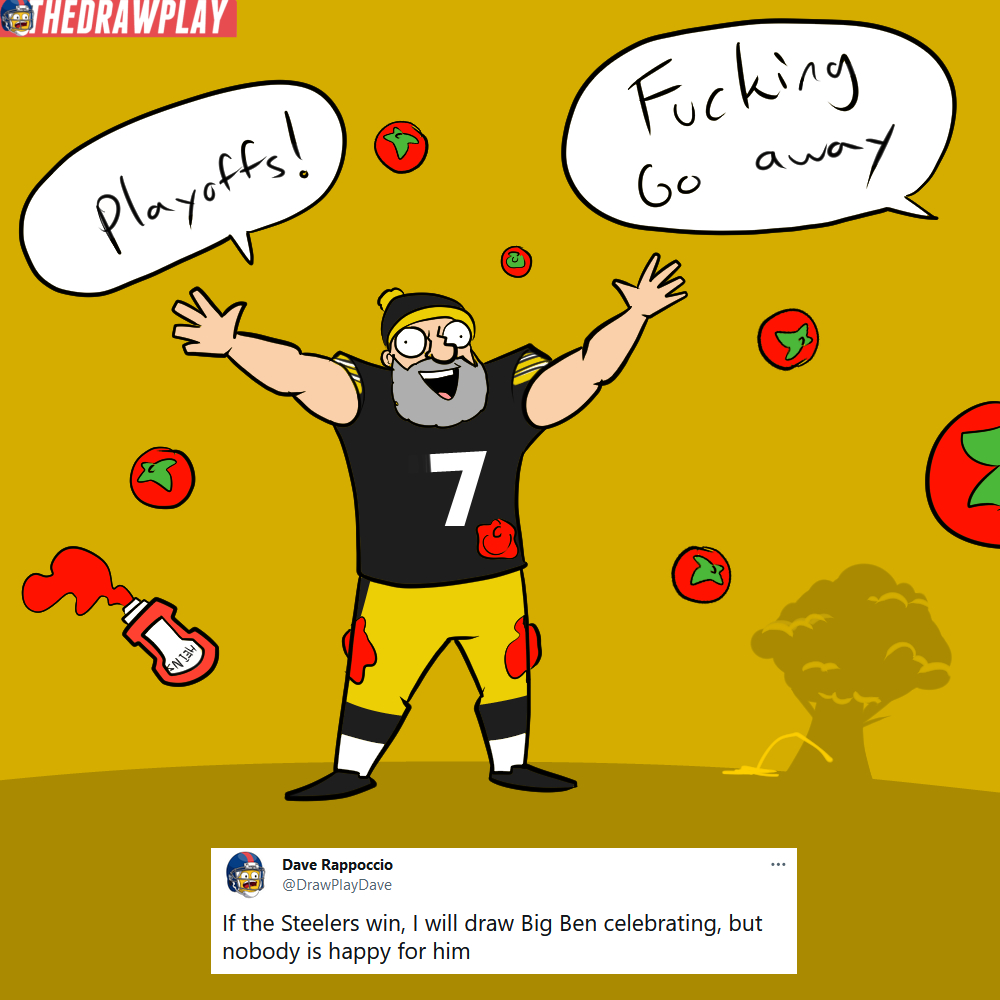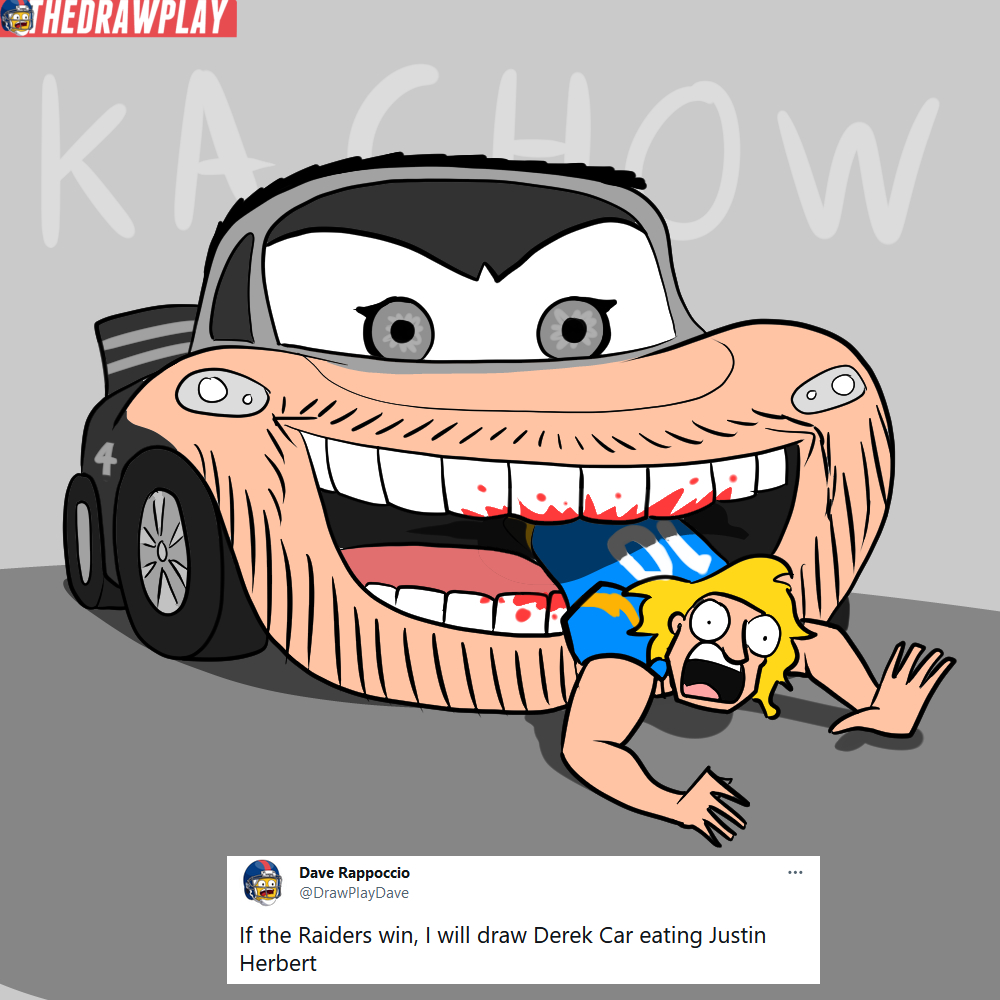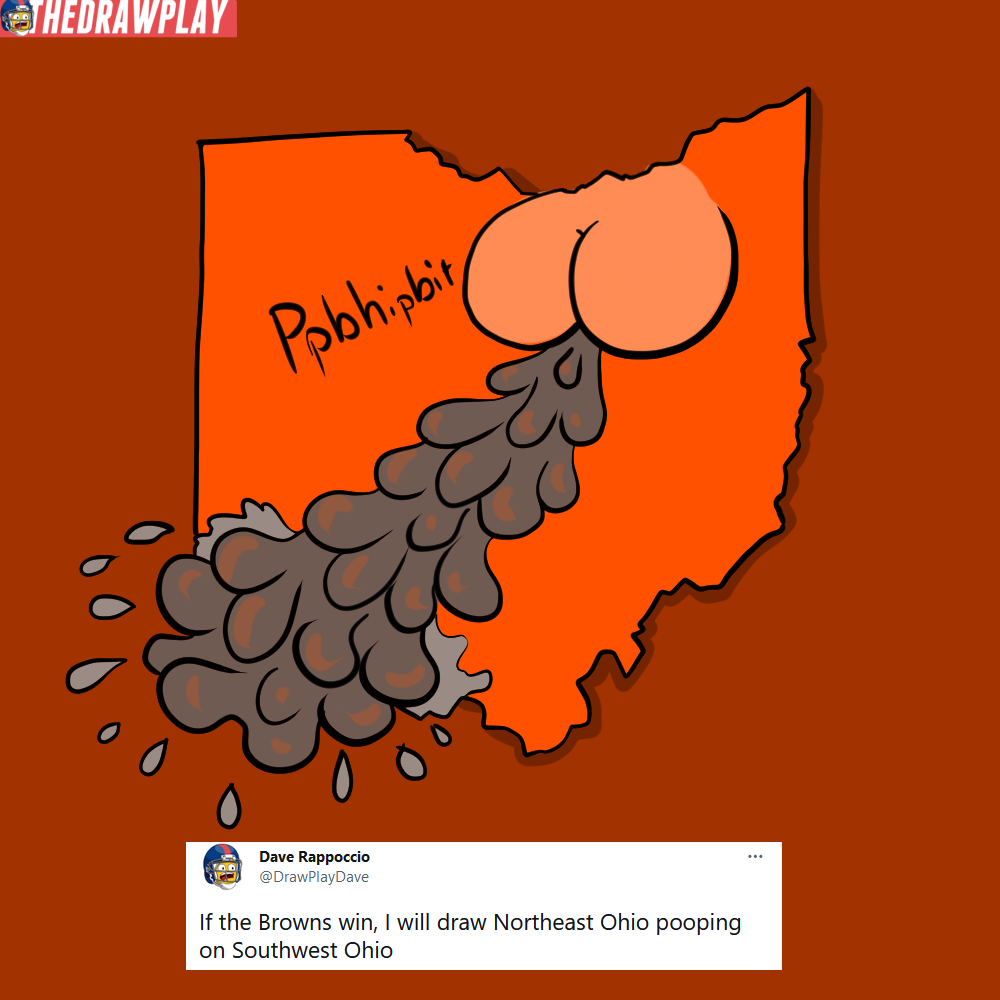 Finally got my kneecaps drawing. Also, Urban Meyer grinding got me a lot of online attention this season, but I think Derek Car is my favorite new running joke this year.
PLAYOFFS! The game changes here. As those of you who followed me last year remember, now we get the good stuff. EVERY GAME GETS A PICTURE! It just depends on who wins. No more right and wrong, now you root for the picture.
RAIDERS @ BENGALS
I don't know who is going to win this. I was incredibly wrong about both teams all year. I can't even hazard a guess, I just hope the game rules.
If the Raiders win, I will draw Derek Car making a Bengal Tiger into roadkill
if the Bengals win, I will draw an old Bengals fan saying it's been 84 years

PATRIOTS @ BILLS
Honestly kind of hilarious to me that this is the matchup we got. These two fought each other all year to control the division and now we get the final game to truly decide who walks away the champion. The Patriots were surprising this season, but faltered towards the end. The Bills disappointed all year, but grinded out wins that used to come easier. It feels like the pressure is on the Bills now. The Patriots are playing with house money, and I think they are gonna steal it.
If the Patriots win, I will draw the death star blowing up a herd of buffalo
if the Bills win, I will draw Josh Allen gleefully driving a covered wagon through a Patriots graveyard

EAGLES @ BUCS
I think the Eagles drew the short straw on first-round matchups.  The birds have definitely found an identity in the second half of the year, but this is when Brady goes sicko mode.
If the Eagles win, I will draw Rocky punching Tom Brady in the face
if the Bucs win, I will draw an Eagle blasted out of the sky by a cannonball

49ERS @ COWBOYS
It felt like the Cowboys wanted to send a message in week 18 by pounding the birds into smithereens. The 49ers had to claw and scrape by the Rams to even obtain a playoff berth. I don't see this ending well for the 49ers.
If the 49ers win, I will draw Yosemite Sam shooting the rich Texan from the Simpsons
if the Cowboys win, I will draw Gravekeeper Jerry Jones absorbing the lifeforce of Jimmy G

STEELERS @ CHIEFS
I hope the stupid Steelers get blown out the last thing I want is a Big Ben twilight glory tour. I want him obliterated like Dan Marino was in his last game. Luckily the Chiefs are the toughest matchup in the AFC right now, but this is far from guaranteed.
If the Steelers win, I will draw Big Ben riding a ketchup rocket into space
if the Chiefs win, I will draw Kermit Mahomes blowing up the big ben retirement tour hot air balloon with a bazooka

CARDINALS @ RAMS
The Rams have been disappointing but still strong. The Cardinals have become a disgrace. Probably the best the Rams could have hoped for.
If the Cardinals win, I will draw Kyler Murray as a phoenix, rising from the death of mediocrity
if the Rams win, I will draw Matthew Stafford crying over his first playoff W