CARTOON PICKS WILDCARD WEEK: Blowout Central
on
January 18, 2022
at
12:01 am
As a fan of chaos, I am generally for the expanded playoff because it adds that extra variable. Any team on any given Saturday/Sunday/Monday for some reason, you know? But sadly I don't think the 7th seed has done much to justify its existence so far. The Colts last year put up the only fight so far in their loss to Buffalo. This year, the 7th seed was the state of Pennsylvania, and both the Eagles and Steelers ate shit. If eliminating the 7th seed eliminates the state of Pennsylvania, that's a good thing IMO.
However, the weekend wasn't particularly good for competitive games, hapless Pennsylvania included. Raiders/Bengals was easily the most competitive game of the week, and it was first. The only other good game was Cowboys/49ers, and that was because it became vintage NFCE clownball at the end. Why yes, that was also my favorite game, how did you know?
Congrats to the Bengals! A long-overdue bout of happiness. I am very happy for you, Cincy friends. A long time coming. I never thought Zack Taylor of all coaches would suddenly be okay and get that long-awaited win not even Marvin Lewis could grab.
Congrats Bucs! I guess! Didn't look very hard. The Eagles were a second-half garbage time team all year and they beat no playoff teams this season. They were fun, but they were frauds.
Big Ben went out like a coward. Even after the game got out of hand and the Chiefs just started to play backyard football on them, he still wouldn't throw it deep. This is it, man. This is your fabled last game (presumably). What do you have to lose? Fucking sling it! But nope, The Rapist went out chucking the ball 3 yards down the field. On the final play of the game, when I thought for sure the Chiefs would give Ben the "honorable" walkoff TD, he still threw it ten yards short of the endzone and the guy got tackled. What a wet fart of an ending. Not every QB can go out like Dan Marino, but if this is the last time we see Ben until we have to deal with his Hall of Fame enshrinement, a hilarious way to go.
Congrats to Matthew Stafford, getting his first playoff win! Thrilled for you, buddy. Sorry Cardinals. After two seasons featuring second-half collapses, you got some questions that need answering.
Holy shit the Patriots/Bills game. Holy shit. It felt like the Bills were excising 20 years of demons in one game. 7 drives, 7 touchdowns, no punts, field goals, or turnovers, against what was supposed to be one of the best defenses in the league. Absolute obliteration. I figured the Pats weren't as good as their record, especially with the late-season problems that cropped up, but goddamn what a trouncing by the Bills. Probably the most satisfying win for Buffalo in 2 decades.
I will reserve most of my thoughts on the Cowboys/49ers game for a comic this week, but let me just say: lmao
Honestly, it was a bad week for chaos, but I'm not going to complain about a weekend where I got to see the Patriots, Steelers, Eagles, and Cowboys all eliminated at once.
PICS!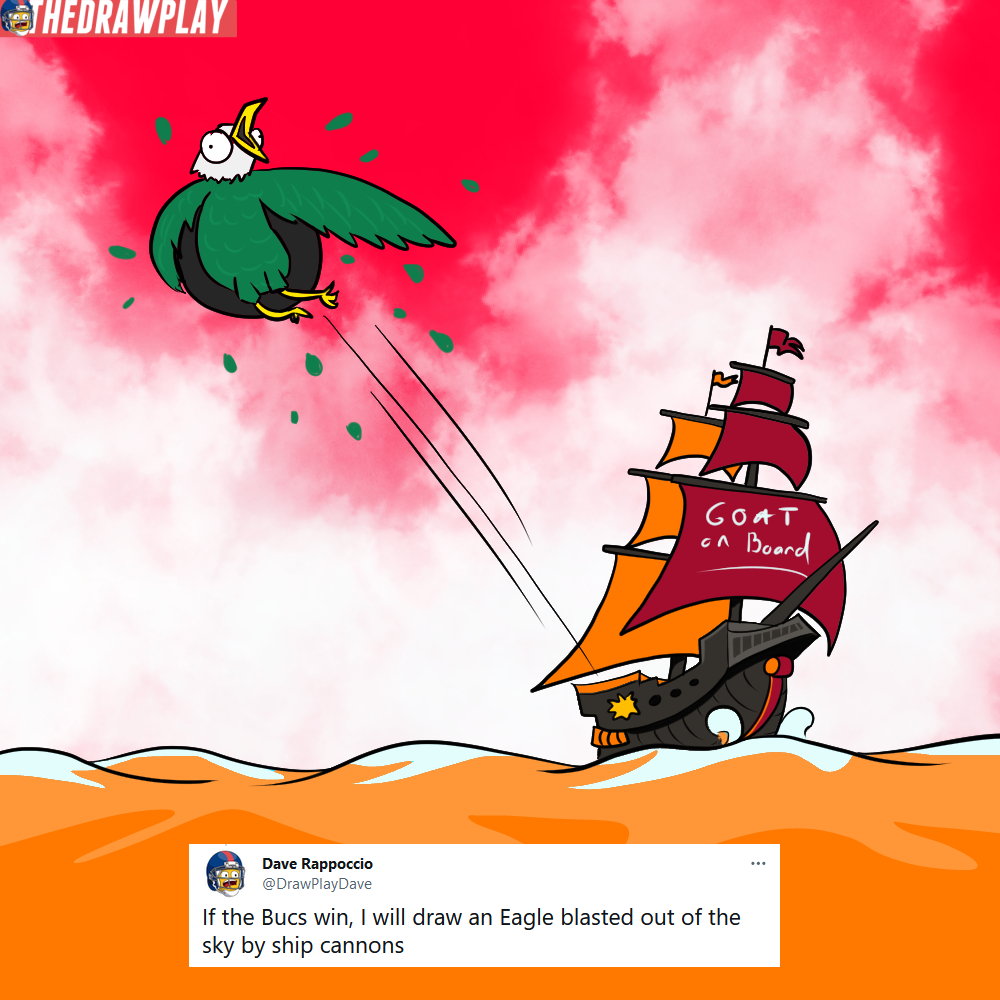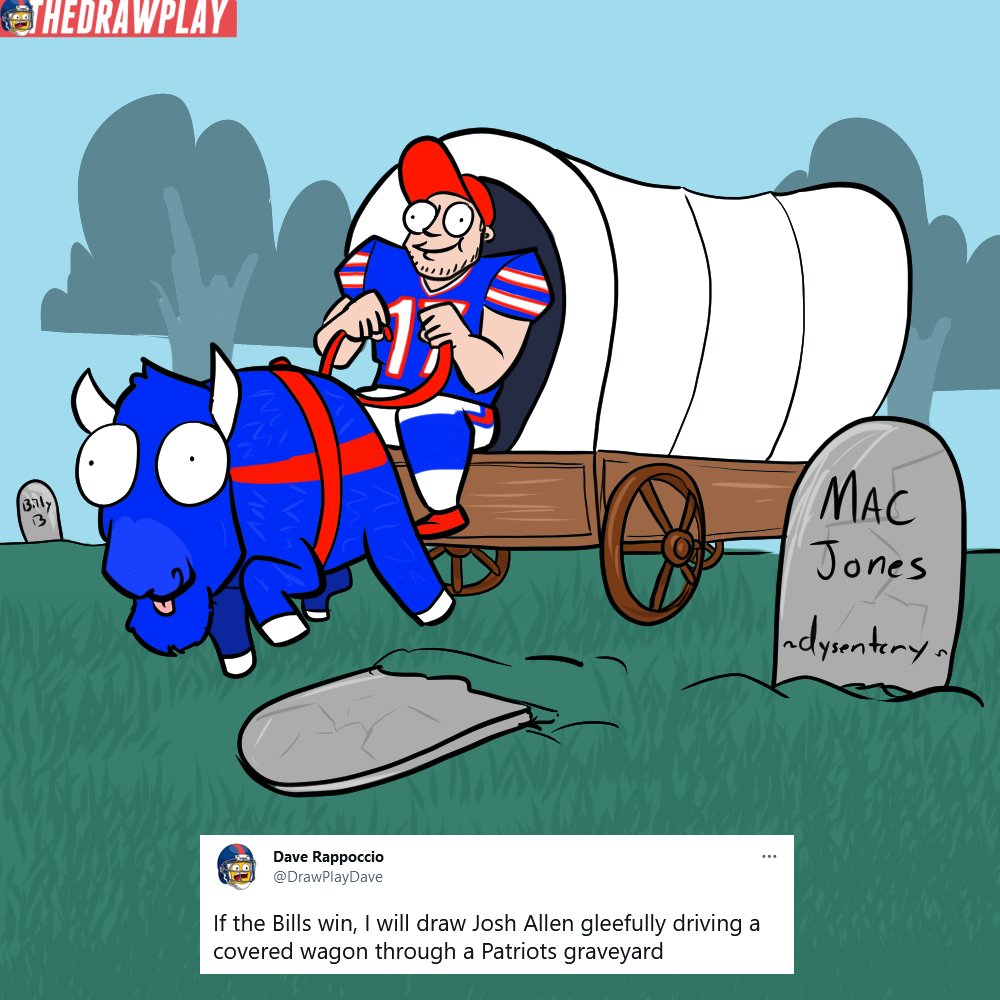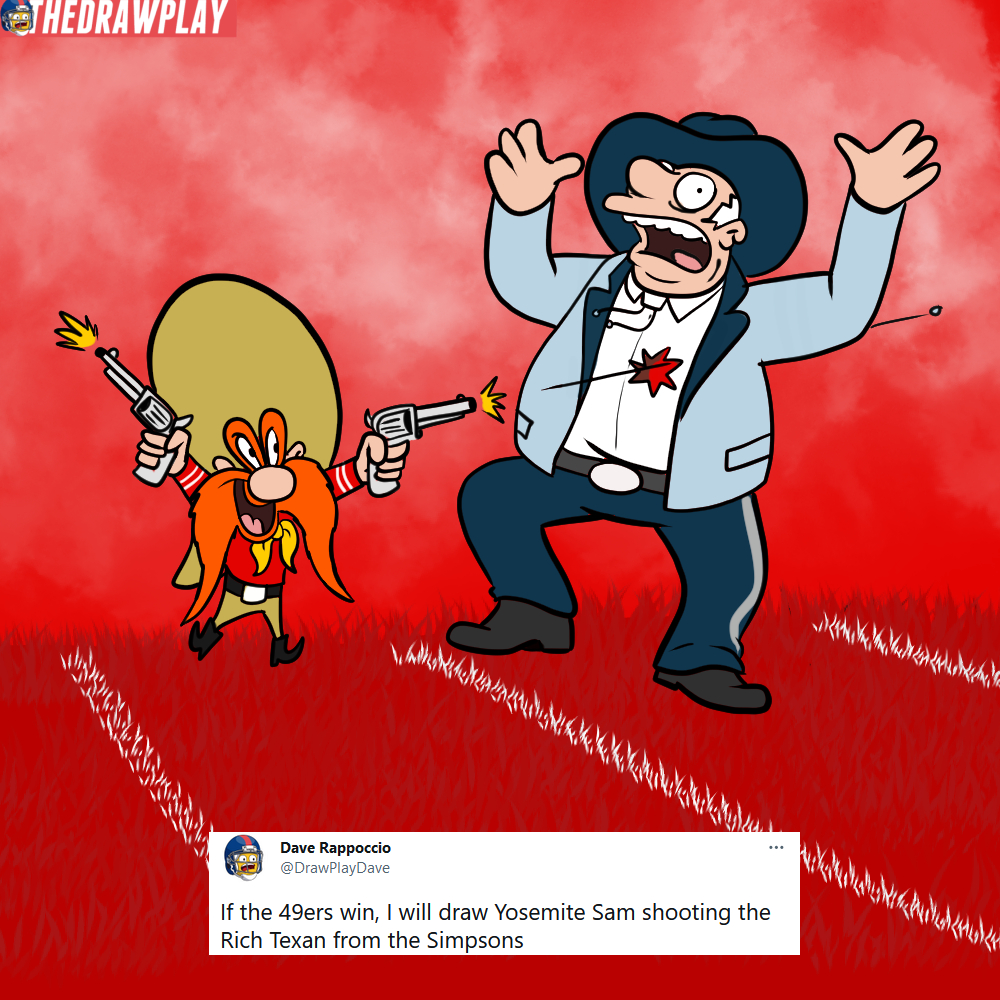 DIVISIONAL WEEK!
BENGALS @ TITANS
Genuinely sad one of these two teams has to go. The Bengals can certainly win this but I feel skeptical about them after the wildcard. They looked so much better than the Raiders in the first half, but took their foot off the gas and let the Raiders climb back in it. The Titans are getting Derrick Henry back, and he has the potential to simply dominate the game if he's genuinely, actually himself again. Would be happy to see either team win this, but I expect the Titans to win.
If the Titans win, I will draw Derrick Henry as a woodchipper eating Joe Burrow
If the Bengals win, I will draw Ohio punching Tennessee in the dick
49ERS @ PACKERS
Did you know that Aaron Rodgers grew up a 49ers fan and wished he had been drafted by them? I'm sure this will not be brought up at all. I expect a Packers blowout, but stranger things have happened and the 49ers have been the cause of 3 Rodgers playoff chokes in the past decade.
If the 49ers win, I will draw Aaron Rodgers getting a shot of the L vaccine from Dr. Jimmy
If the Packers win, I will draw Aaron Rodgers as the King in the North
RAMS @ BUCCANEERS
The Rams are one of the few teams to show the Bucs who's boss this season. Let's hope it happens again! I do not want to watch more Tom Brady for the love of god
If the Rams win, I will draw Odell Beckham Jr on the Victory Boat
If the Bucs win, I will draw Tom Brady as Thanos
BILLS @ CHIEFS
Man it would be delightful if the same Bills that gave the Patriots the business showed up to this game. Would easily result in the best game of the year, with a score of like 60-57. Watch it be a dumpy slog of a game because fate is cruel. Chiefs probably, but I'm praying for you to do it, Buffalo.
If the Bills win, I will draw Josh Allen as Bills Superman
If the Chiefs win, I will draw The Walrus as Shai-Hulud and Kermit Mahomes as The Muad'Dib