WILDCARD BETS – WILDCARD BITCHES
on
January 17, 2023
at
12:01 am
THAT WAS A GOOD WEEK OF PLAYOFF FOOTBALL!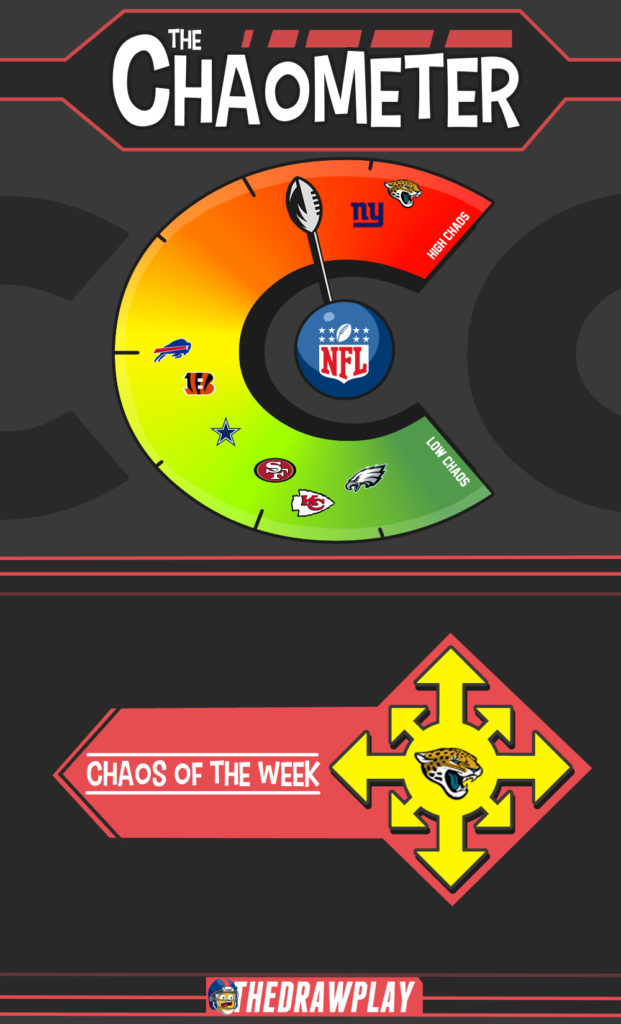 It wasn't all perfect, in fact, a lot of it was ugly. But for the most part, that was a better football weekend than most of us would have expected. I wouldn't say there were any true surprises if you look at the final results of every game. If you watched the games, however, each one was a bit wild in it's own way. Let's start with the least chaotic and get weird from there.
SAN FRANCISCO/SEATTLE
If you saw this final score, you'd probably think to yourself "yeah, that looks like what I expected". If you watched the second half, that's exactly what most of us would have expected. The chaos in this game, what it was, was the first half. Seattle balled out! They made it a pretty good game and honestly if they had been able to keep that level of play the Hawks might have had a chance. Sadly, they had to play perfectly and they started to slip up as the game went on. This game wasn't terribly notable outside the tight first half and the fact that Brock Purdy once again stepped up to the plate. Fun fact of the day, Purdy now has the same number of postseason TD throws (4) as Jimmy Garoppolo. Yeah. The 49ers went on two deep runs with Jimmy and he only threw 4 TDs in all those games. Man Jimmy might just…suck.
DALLAS/TAMPA
Tampa was a mediocre team with a losing record coming into this game. This should have been the result the entire time, we just let the mystique of Tom Brady cloud our judgment on a team that basically got here by default. Dallas took care of business. But the kicker did shank four straight extra points! What fun. Adios Brady, go fuck off somewhere.
CINCY/BALTIMORE
Without Lamar the Ravens were always going to have a tough uphill battle. But they held their own in a classic borderline unwatchable AFC North slugfest. Huntley just isn't as good as Lamar. Greg Roman should and will probably be let go soon after another game where his playcalling and design was atrocious. Lamar himself might also be gone soon too. While the game was far closer than it should have been, divisional games always make things fun. However I do want to give this game credit for probably having the single most chaotic play of the entire weekend: Huntley trying to QB sneak over the top from 2 yards out was a terrible idea to start, and it went as bad as possible after the ball got popped out and Sam Hubbard took it 98 yards to the house. That play was, at minimum, a 10-point swing, as the Ravens were pretty much guaranteed at least a field goal should they not cough it up. The 24-17 score shows that the fumble also proved to be the difference in the game. What a play. Indicative of the entire season for the Ravens, really.
MIAMI/BUFFALO
This is the game that should have been a blowout similar to SF/Sea. No Tua, not even Teddy, but Skylar Thompson? In Buffalo? Yes, it is a divisional game and those get weird, but even after a close first half Buffalo tends to remember who they are in the second half. They did! And yet, Miami stuck with them. In fact, if Miami could at any point get a play called in time, they might have actually won! This was always a tall order for the Dolphins but it was a credit to McDaniel and company to make it this much of a game. It also lasted so long that the Giants/Vikings game had to be delayed by 20 minutes.
NEW YORK/MINNESOTA
Unless you have a defense fetish, this was actually the best football game of the week! We all knew this one would be silly and wild, and boy, neither team's defense decided to show up. Daniel Jones went bonkers, having maybe his best game ever at the best time, dropping dimes and rushing like nobody on the Vikings knew he was there. They didn't! I've seen Jones scramble well before, I've never seen him scramble so effectively to the point where he actually got tired on a drive. This one featured tons of big plays, lead changes, long drives, and fun. Saquon did Saquon things! Kirk played lights out connecting with Hockenson all day. Sadly, that was the connection that would kill them all. The Vikings lived by the one-score chaos, and they finally died by it. I didn't even celebrate when Kirk threw it short of the sticks with the game on the line, I was too stunned to believe it happened.
But, come on. We all know what was going here. CHAOS OF THE WEEK goes to the Jaguars and Chargers, giving us a diet, playoffs version of the Vikings/Colts. The Jaguars played pretty much one of the worst halves of football I've ever watched. Trevor Lawrence looked maybe the worst he's looked, even under Urban Meyer. When they muffed the Chargers' kick, giving them yet another red zone possession, I was delirious with laughter, because how could you not be? The Jaguars season was going up in tremendous amounts of smoke. Yet…the Chargers were the ones on fire, and we just didn't know it yet. When the Jags got the pity touchdown before halftime I remember thinking "okay, maybe they can preserve some dignity with a good second half". Wow. Fucking…wow. The Jaguars turned into absolute monsters and the Chargers died a horrible death. The funny part is, watching the second half, is it made it clear that the Jaguars were actually the better team the whole time. Once they stopped kicking themselves in the dick, gifting LA short fields, they owned Los Angeles. LA scored 17 of their 27 points off turnovers, which considering the mess Jacksonville was handing them, is actually kinda bad. This game was a secret blowout by Jacksonville, and Joey Bosa throwing tantrums was my pissbaby moment of the year.
GIANTS CORNER:
Holy shit. HOLY SHIT. This is the first playoff win in The Draw Play era. I started it after the 2011 win. I forgot how badly my nerves get fried, and that game made it worse because we were in it to the end with a team known for last-minute bullshit. I also forgot how fucking good a playoff win feels. I took the dog for a walk right afterward, dancing and fist-bumping the whole time, probably confusing my neighbors. I can't believe this season has happened. We entered this year with a roster that was arguably worse than last year's 4 win medium pepsi disaster, and we made the divisional round. This season was supposed to be a wash. Necessary suffering to make it to the future. Now here we are. Playing with house money, probably with the coach of the year, and easily the most fun I've had since 2011. The ride probably ends in Philly this weekend but I can't feel anything other than satisfied.
MOST UNWATCHABLE GAME OF THE WEEK: I ranked Dallas/Tampa higher than Hawks/9ers on the chaos meter but it was solely for the 4 missed PATs, which was objectively hilarious. That's the first game where the most attention I paid was during the extra point kicks. Everything else was unwatchable dreck.
DISAPPOINTMENT DUCK: Also Tampa. You could have at least made it something of a game, you fucking losers.
PICKS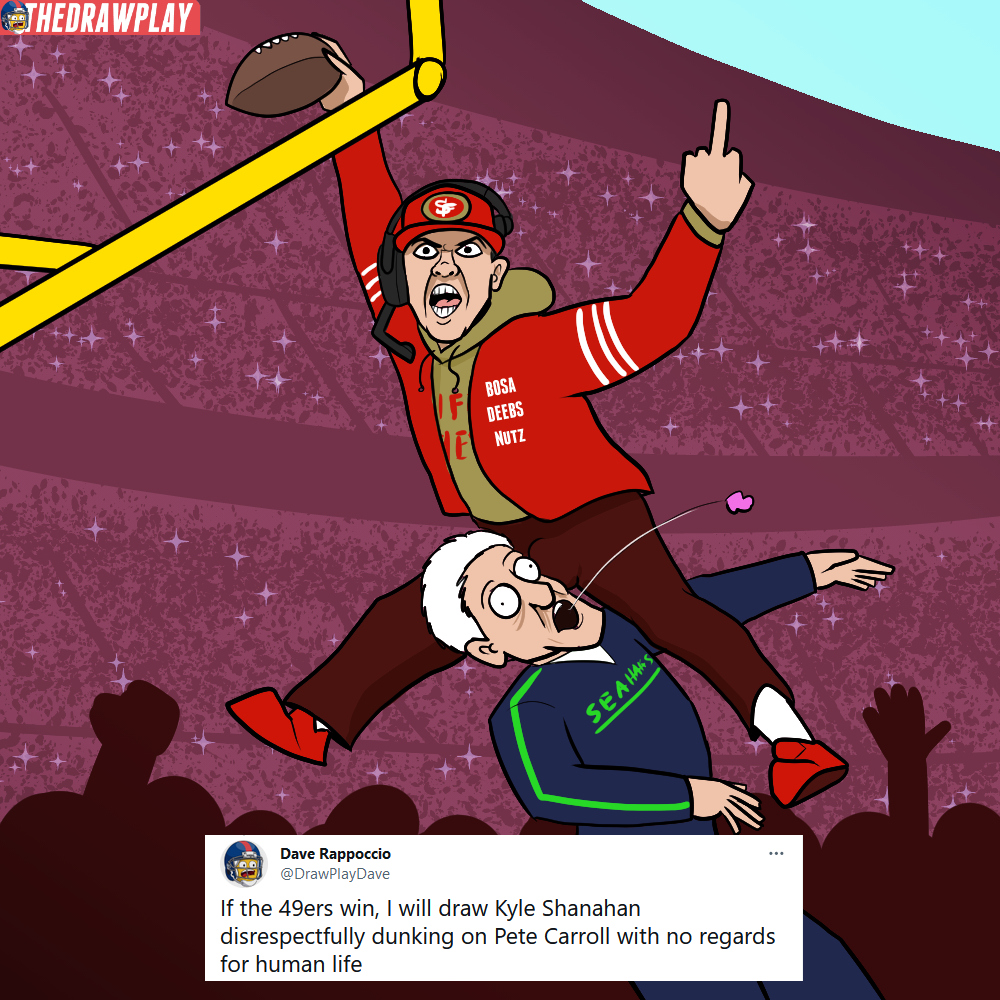 Okay, Divisional Round, whadda ya got for us?
JAGUARS @ CHIEFS
Jaguars are this year's hot chaos ticket and the Chiefs have been known to play with their food instead of stomping them out. Do I think the Jaguars have much chance to win this? No. But I'm through counting them out. They could come in here and fuck us all up hardcore, and it will be incredible if it happens.
If the Jaguars win, I will draw Trevor Lawrence, slathered in BBQ sauce, as he feasts on the ribs of a dead walrus
If the Chiefs win, I will draw Walrus Andy Reid in a speedo
GIANTS @ EAGLES
The Giants, by all logic, should lose. They lost to Philly twice already and are heavily outmatched to a stacked Eagles roster. If they lose, I'll be sad, fuck the Eagles, but this was such a run that it's hard to actually get upset about it considering by all logic we shouldn't even be here. But the Eagles cooled off in the final weeks of the season, Hurts and Lane Johnson are hurt, and the Giants second stringers actually put up a fight against them in week 18 with nothing to play for. The Giants should not win, but any team playing with house money can cause some chaos to reign.
If the Giants win, I will draw Brian Daboll knocking out Rocky Balboa
If the Eagles win, I will draw Jalen Hurts as Sam the Eagle
BENGALS @ BILLS
It kind of confuses me that this game isn't also at a neutral site. The NFL essentially decided that the Hamlin game did not happen, leaving both team's records in place with winning % deciding the seeds. But because the Bills and Chiefs were in contention for the top seed and home-field, they decided to have a potential Bills/Chiefs game in a neutral site. But why did the NFL decide to only accommodate for one of the potential scenarios that the Hamlin game would have decided? If you accommodate for the Bills winning a non-existent game, shouldn't you also accommodate for the Bengals winning? If the Bengals won that game, they'd also be 14-4 and own the head-to-head tiebreaker, wouldn't they? Didn't the Bengals essentially have a chance to own the 2nd seed with a win that day? In fact, if the Bengals had 14 wins, didn't they also have a head-to-head tiebreaker over the Chiefs? Could the Bengals have taken the #1 seed if things fell their way? Unless someone can point me to the math that says no, it feels like this game should also be neutral, so I get why Bengals fans spent the week miffed. Either accommodate both scenarios or neither or them. Anyway I think the Bengals win it.
If the Bengals win, I will draw Joey the Tiger nuking Buffalo from orbit
If the Bills win, I will draw Josh Allen hurdling a frozen Bengal tiger
COWBOYS @ 49ERS
Can the 49ers do me a solid and ruin Dallas two years in a row? I hope so. God I hope so. The 49ers though have also been the beneficiaries of a weaker schedule during this amazing run, and Dallas is going to be their biggest test so far. Brock Purdy may finally look like the rookie he is against Micah Parsons and company, so the question is how much can he hold out while SF does their best to force Dallas into very McCarthy-esque mistakes. SF should take it, but I think Dallas has a surprising shot. I have to go wash my mouth out now that felt awful to say.
If the Cowboys win, I will draw Dak Prescott as a western gunslinger, posing over dead Sherrif Purdy
If the 49ers win, I will draw Brock Purdy as a powerful prospector, driving his pickaxe into outlaw Dak's head