CARTOON BETS WEEK 1
on
September 12, 2022
at
12:01 am
WEEK 1 ALMOST DONE! LETS OVERREACT TO TRADITIONALLY THE HARDEST WEEK TO JUDGE!
*clears throat*
NEW YORK GIANTS FOOTBALL BAYBEEEEEE
Yes. It's week 1. The Titans may have just had an off day. Todd Downing, the Titans O-coordinator, made some very questionable calls. They muffed a punt. If I was a Titans fan, I wouldn't be too worried after this. As a Giants fan, I shouldn't even be all that pumped. Most of our offense came on two big plays. Daniel Jones threw a horrid pick when they were gifted free points on the muff. I have no idea what is going on with Kadarious Toney, who sat by himself on the bench all game except for when he came in and had a 20 yard run. They almost let the Titans win by giving them free penalties on the final drive only to get bailed out by Fat Randy. BUT WHO CARES BECAUSE FOR ONE WEEK I GET TO FEEL PROUD. And there is a lot to be excited about. In one game, Brian Daboll had a better in-game coaching performance than any game Joe Judge ever did. I was fine with the 2pt conversion call. I was thrilled by the halftime adjustments after a woeful first half. I was thrilled by how these players played for this team. The Giants are still probably not very good, but it feels so nice to not be crippled by cynical agony after week 1.
The Vikings look good! Im not going to judge the Packers at all, they got blown out by the Saints in week 1 last year, they'll figure it out. But the Vikings are very fun, and Justin Jefferson is very fun.
The Bears won! They need a new football field but wow! Neither Justin Fields or Trey Lance impressed, but that game was so gross it feels impossible to judge them.
The Bengals/Steelers game, my god. What a roller coaster. The Steelers dominate the whole game, losing TJ Watt in the process, and then Burrow to Chase does it. Only to shank the kick. Only to shank another kick. Invest in longsnappers. Nobody wanted to win that game. Still, goes to show the Steelers still need better QB play and the Burrow/Chase combo can strike at any second. Gonna be a fun division over there.
The Panthers are so fucking dumb and bad, but they got screwed. You can't fake a spike then spike it, that should have been a penalty. They looked woeful against the Browns until they actually let Baker rip it and it almost worked. If they let Baker play like Baker, they might win a few games.
Death, Taxes, the Falcons blowing it. Surprised to see they put up such a fight though. However I don't think either team is very good.
The Rams might have some major O-line issues. The Bills looked absolutely ferocious and justified their hype status.
The Lions! The Lions haven't changed. Last year they spent games getting blown the fuck out only to fight their way back, only to lose anyway. Maybe this is Dan Campbells identity. He only activates after it is too late. If they could ever learn to put up points in the first half like they do when they are losing by 20 in the second, they might actually become a good team.
Baltimore took care of business. KC took care of business and I feel like a dumbass for picking the Cardinals. The Chargers took care of business in a fairly wild game, but I picked the Raiders correctly! Miami took care of business and I want to shit-talk the Patriots but this was the Miami game, the Patriots are never the Miami game Patriots.
Now let's finish up by mocking the entire AFC South. No one in the division won on Sunday. This would not be so notable, if one of those games wasn't LITERALLY TWO OF THOSE TEAMS PLAYING EACH OTHER. The Titans fell apart against the Giants. The Jaguars mounted a valiant comeback against the Commies after Wentz started to Wentz, but it wasn't enough. The Colts and the Texans? A thing of beauty. The Texans had this game in the bag and let the Colts come back and force overtime, and then neither team could do anything. As a cherry on top, Lovie Smith literally gave up and played for the tie by punting it away at midfield with 20 seconds left. One of the most cowardly punts in history.
BUT THAT'S THAT! I will update when Seattle loses to Denver tonight. I had a bad week, as I usually expect in week 1 when I don't know anything. To be fair, one of these drawings is due to a tie, which is statistically almost impossible to predict. It might not be a true loss for me, but it is absolutely a win for you!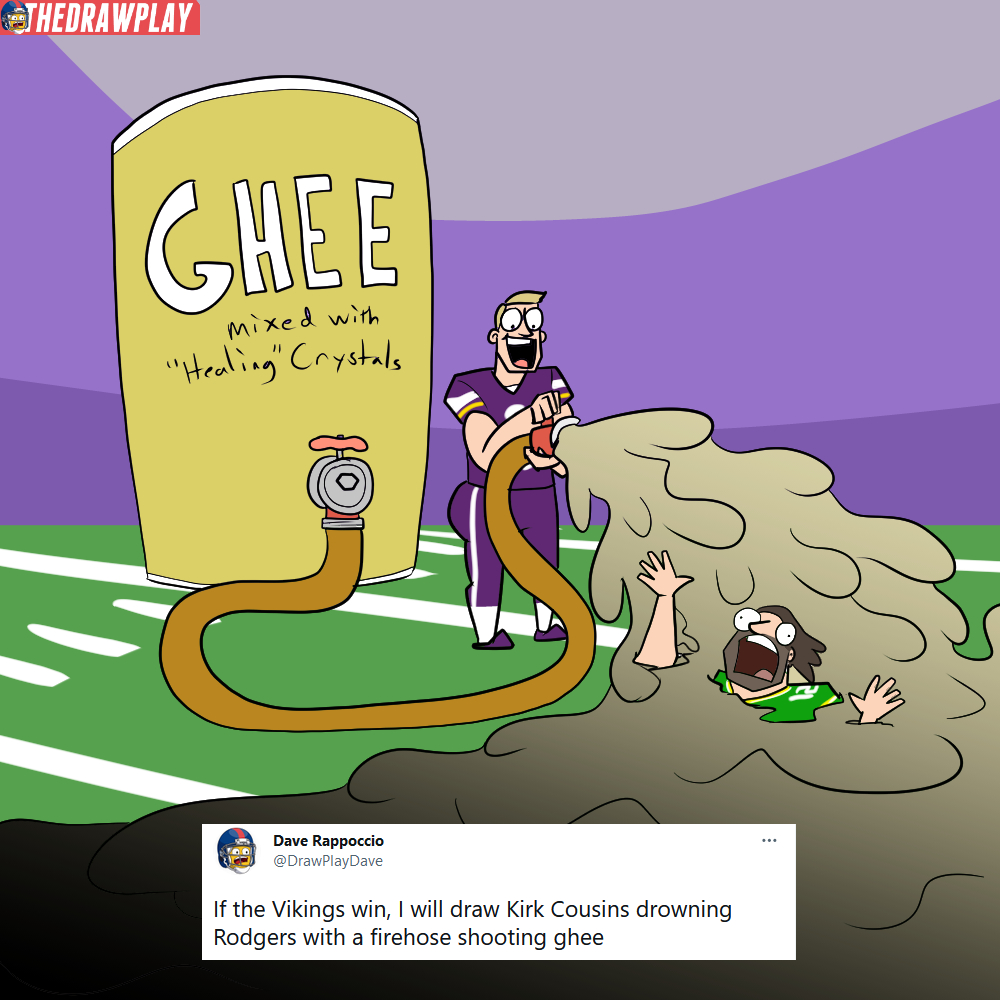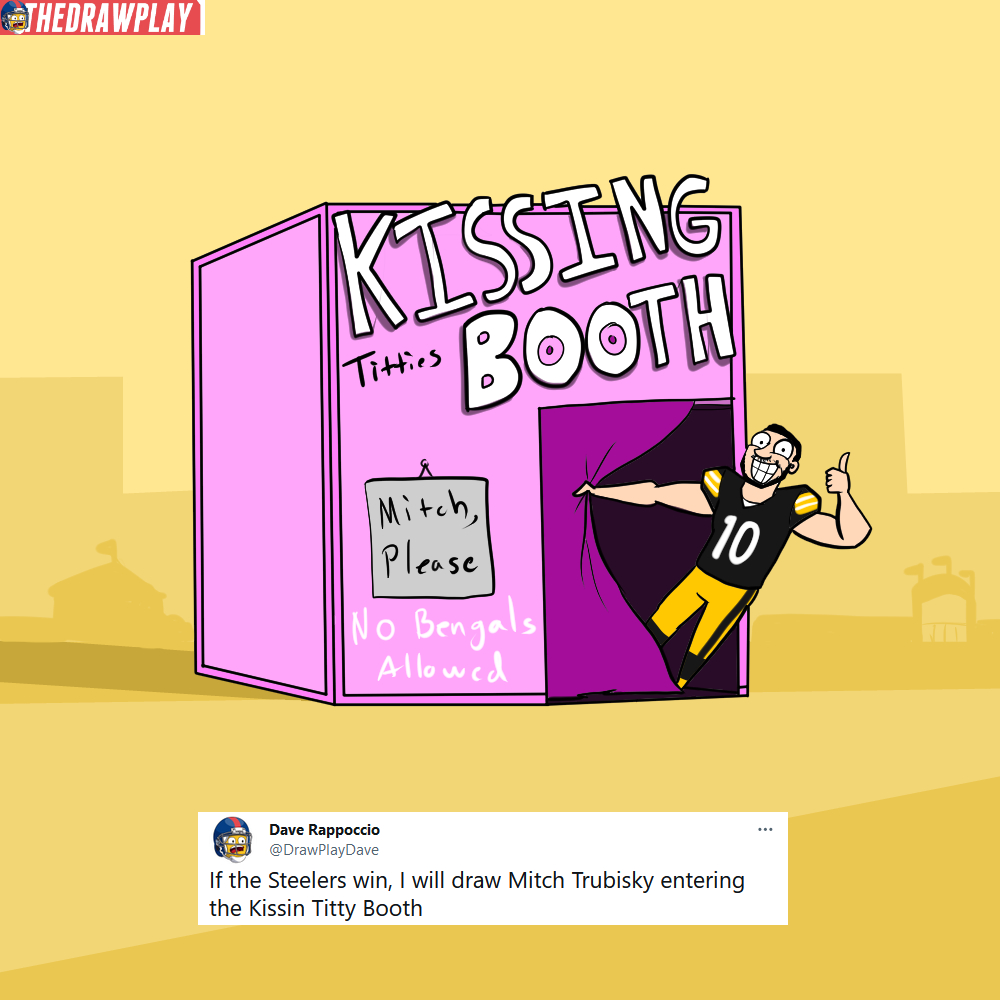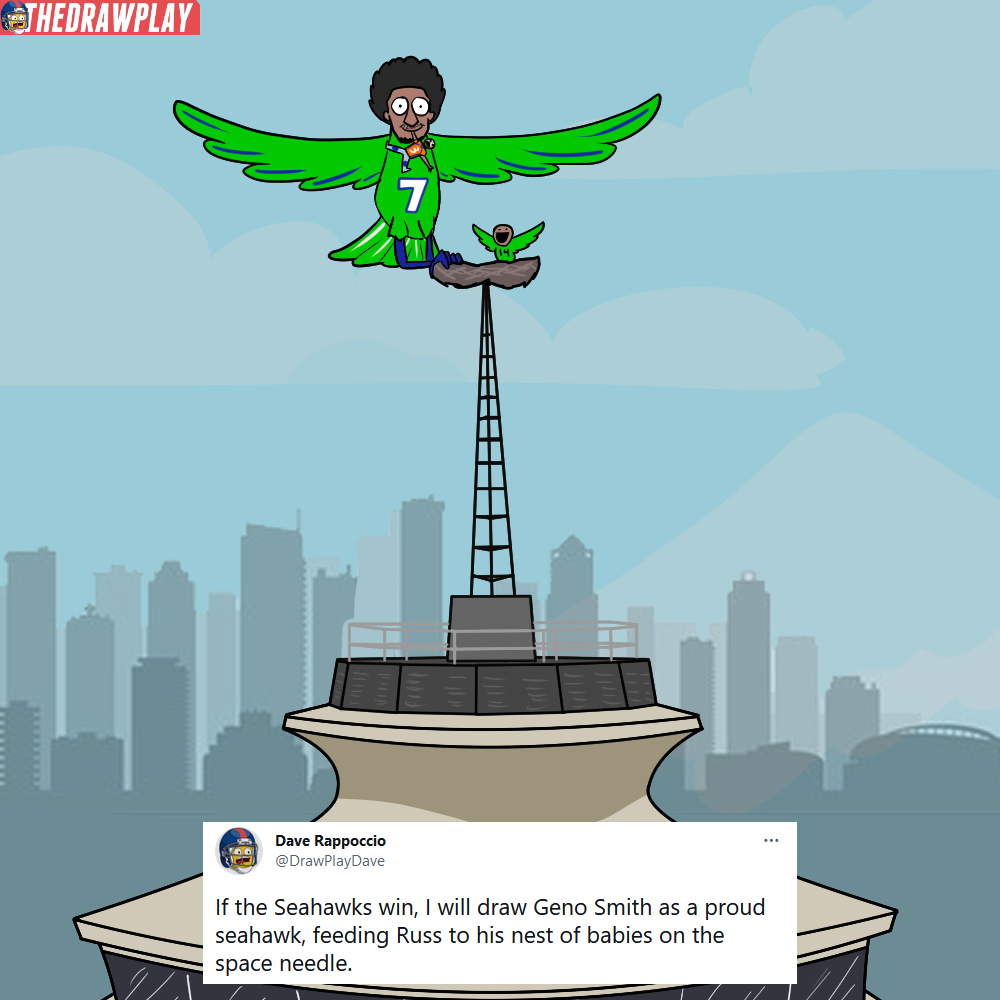 PICKS FOR WEEK 2!
CHARGERS @ CHIEFS
The Chiefs came out of the gate looking like monsters. I can't trust the Chargers to win this one yet.
If the Chargers win, I will draw Herbie as Zeus, smiting Kermit Mahomes
PATRIOTS @ STEELERS
The Steelers defense will not be quite as good without TJ Watt, but that defense is still really good. The Patriots offense? Now that's a unit I do not have faith in, and neither should you.
If the Patriots win, I will draw Pat Patriot punching Steeley McBeam
PANTHERS @ GIANTS
The Panthers did sort of okay against the Browns, which means they are at least capable of winning games. The Giants showed me they might actually be able to win a few games this year, and this is one of the more winnable games on the schedule. Maybe I'm just high on my own supply for the first time in ages, but I'm gonna pick the Giants.
If the Panthers win, I will draw Baker Mayfield getting a raw infusion of spite juice

JETS @ BROWNS
The Browns didn't look spectacular out there against Carolina, but that's more than enough to beat the Jets.
If the Jets win, I will draw Joe Flacco chilling next to an on-fire Cuyahoga River

COLTS @ JAGUARS
Two losers. I guess I'll take the Jags since they are at home and seem to enjoy annoying the Colts like that.
If the Colts win, I will draw old man Ryan whipping Trevor Lawrence with his cane

DOLPHINS @ RAVENS
The Dolphins certainly looked like they had potential in week one, but it felt like they should have been better. I trust the Ravens here.
If the Dolphins win, I will draw Jalen Waddle Waddling on Edgar Allen Poe's grave

BUCS @ SAINTS
I feel like since Brady came to Tampa the Saints in the regular season have been the annoying thorn in his side. Saints win.
If the Bucs win, I will draw pirate captain Tom Brady

COMMIES @ LIONS
The Lions will make it a fight, after they start losing by 17.
If the Lions win, I will draw Jared Goff, champion of the proletariat

SEAHAWKS @ 49ERS
May change if Seattle actually comes out of nowhere and looks good against Denver tonight, but I doubt it. 49ers win. EDIT: well, uh, I'm a lot less confident now, but the 49ers are at home, so I'll stick with them.
If the Seahawks win, I will draw Geno Smith with a cybernetic jaw

FALCONS @ RAMS
Well the Rams should feel good about having a solid bounce-back game. If they lose this, the alarm articles are going to be WILD
If the Falcons win, I will draw Marcus Mariota as The Falcon

CARDINALS @ RAIDERS
The Cardinals still managed to come out of the Chiefs game looking okay, just very outclassed. The Raiders are probably in the same tier. I actually think I'll pick the Raiders on this one, due to being at home.
If the Cardinals win, I will draw Kyler Murray having fun in the Bellagio Hotel fountain

TEXANS @ BRONCOS
Broncos Nation, let's ride. Okay, I have less faith in the Broncos after that Monday night failure, but fumbling two different balls inside the 1 on subsequent drives is not something that will happen every week.
If the Texans win, I will draw Davis Mills as a snake about to eat tiny Russ

BENGALS @ COWBOYS
I'm writing this as Dak leaves the game with a hand injury. I may have to update this later depending on the extent of that injury, because with Dak, the Cowboys have a chance. Without Dak, the Cowboys are fucked. I'll call Bengals for now. EDIT: The Cowboys are fucked
If the Cowboys win, I will draw Dak/Cooper Rush, big game hunter, standing over their new trophy kill, Joe Burrow

BEARS @ PACKERS
The Bears won an extremely Bears game in week 1. Bad weather, an idiot opponent playing down to competition, all recipes for Bears bullshit. The Packers will probably beat them up.
If the Bears win, I will draw Yogi Bear Justin Fields stealing a pic-a-nic basket from Aaron Rodgers

TITANS @ BILLS
The Titans made a big mistake losing to the Giants in week 1 because now they go into one of the hardest games on their schedule and will probably stumble into 0-2.
If the Titans win, I will draw Derrick Henry as a snowplow

VIKINGS @ EAGLES
I feel like the Eagles are here to ruin my day so I am picking the Eagles.
If the Vikings win, I will draw Kirk grilling a bald eagle
A TIE
If two teams tie, I will draw both QBs shooting each other in the nuts