CARTOON PICKS WEEK 10 – Nobody Wants To Win The AFC
on
November 15, 2021
at
12:01 am
The AFC makes no sense. Just when you think one of the teams looks like a frontrunner, they drop a game or two they absolutely shouldn't. The Bills were on fire then took a dump against the Jags. The Steelers were on a big winning streak and then tied the Lions. The Dolphins are arguably the biggest disappointment of the season but then kicked Baltimore's ass. The Chiefs are completely discombobulated but finally looked…right. The Chargers looked great and have spent the last month stumbling around drunk. The Bengals took off then dropped two in a row. The Raiders are having a great year but are also deeply affected by off-field drama. The Titans are chaos, but that's kind of been their entire MO under Vrabel so it's no wonder they seem comfortable. The Texans are the only true measure of consistency so far with only week 1 being the anomaly. With the way the Patriots are trending, I expect them to drop a horrible L in the next two weeks. Just you watch.
The AFC is getting the attention for their high chaos but the NFC really isn't far behind them in chaos. The Vikings are bonkers, losing games they are winning and winning games they shouldn't. The Saints are just a mess. They beat the Bucs with Trevor Siemian but then got beat by the Titans and already lost to the Falcons and Giants. The Bucs themselves just dropped another game to the TEAM, after Chase Young got hurt and taken out. The Panthers were awful with Darnold but one game with Cam and PJ Walker and they blow out the Cardinals, who destroyed the 49ers last week without Kyler but lost this week to a worse team? The Rams just got OBJ but lost Robert Woods. The Cowboys got blown up by the Broncos. The Packers, probably the favorite to win the conference, looked awful against a not-good Seahawks team. The Eagles, Giants, and Team have all stolen wins from teams they shouldn't have beaten.
The Rams, first game in with Beckham and Von Miller, completely shat the bed.
Despite this penchant for nonsense the past couple of weeks haven't featured many good games. Lots of blowouts. The best game this weekend was probably Steelers/Lions, but mostly because it was two teams trying to lose, with neither of them succeeding. If that's the one Tie Game we get this year, I'm happy with it. Great game. I cheered when the Steelers fumbled the ball with 8 seconds left in OT.
I did okay this week. Nothing this week was as fun as last week.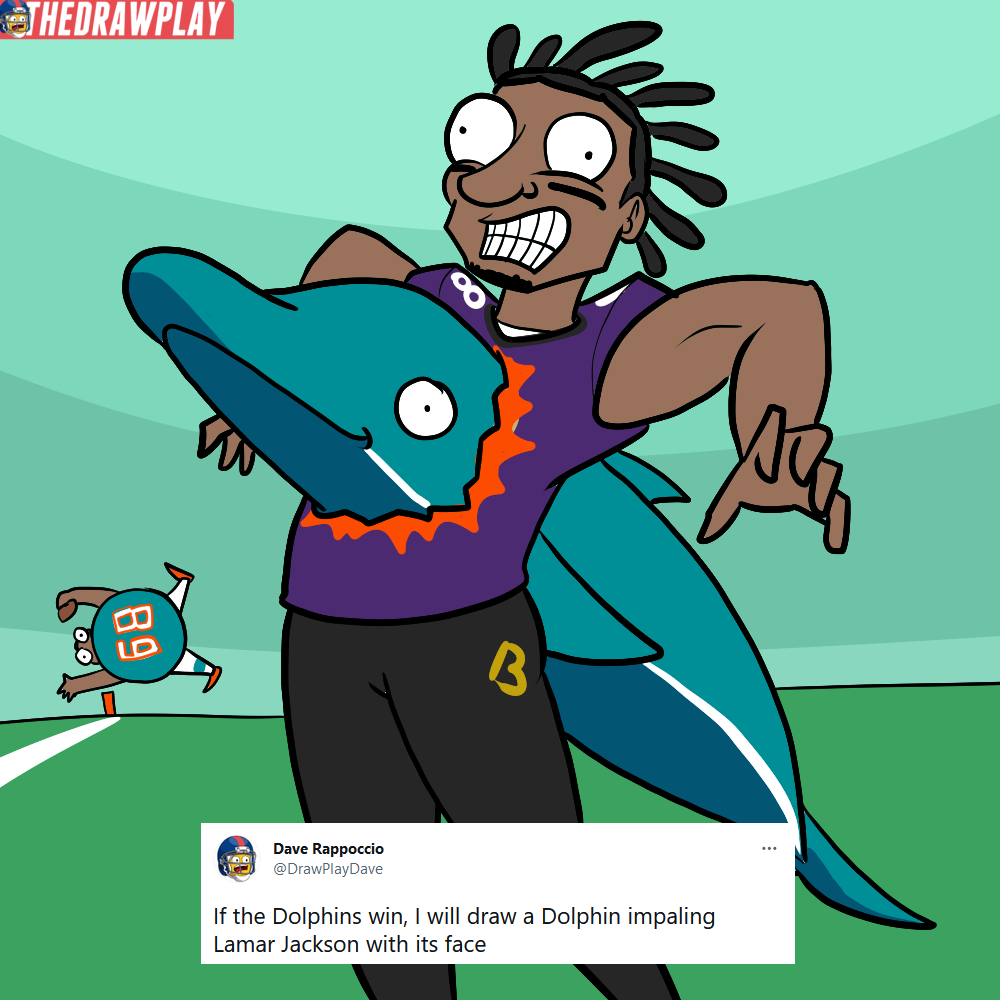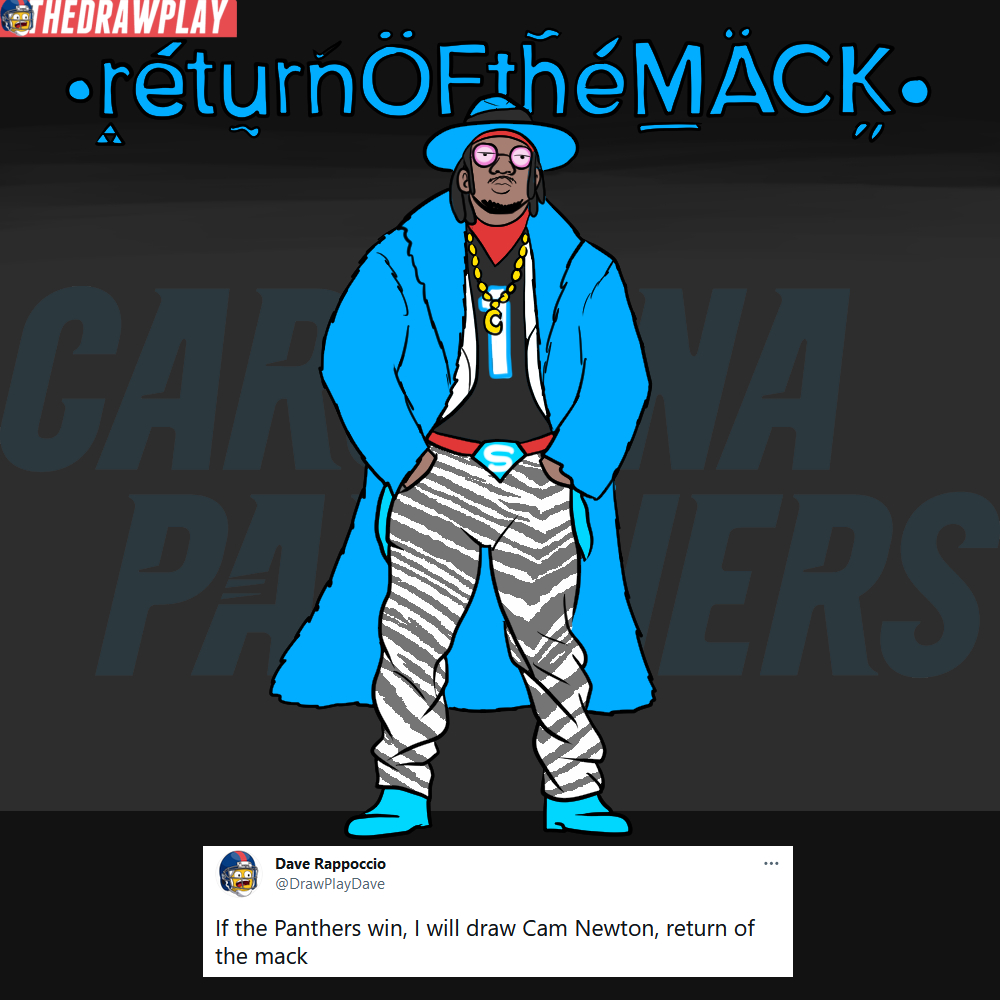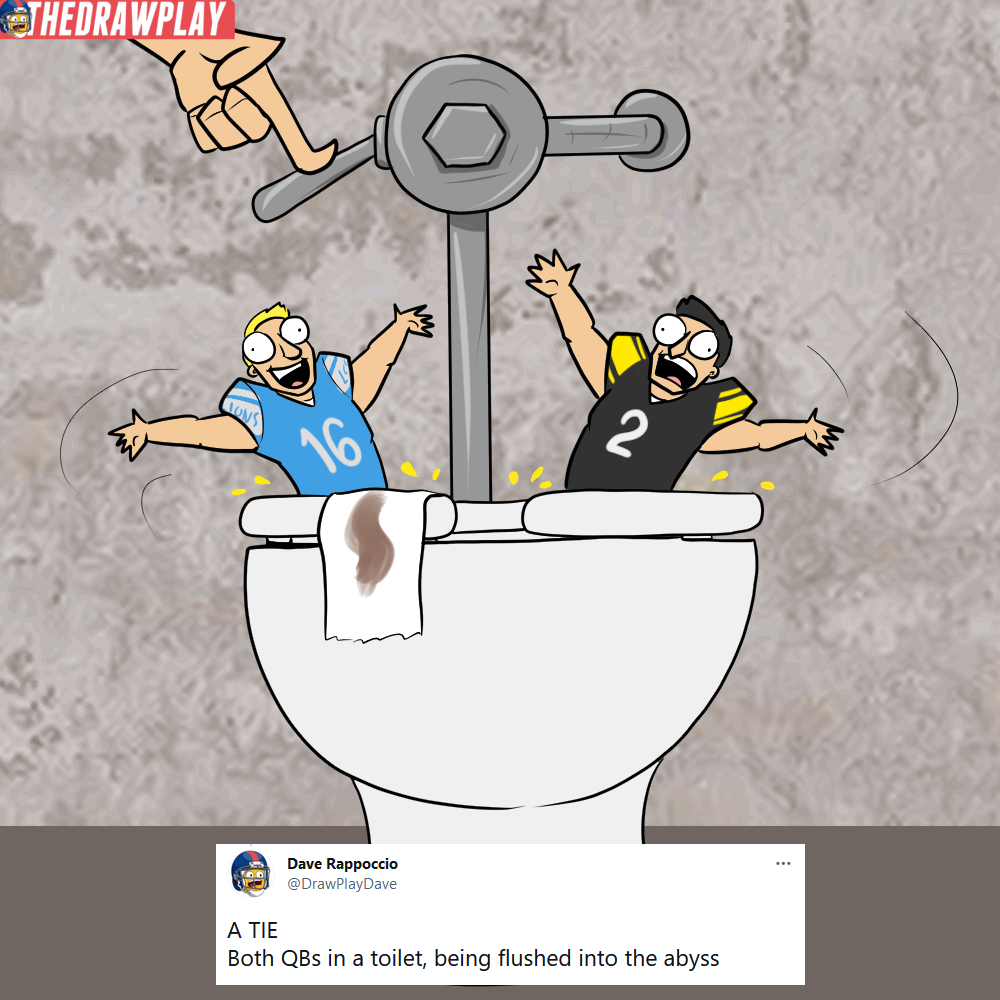 At least we finally got the tie image to happen. You live your truth, Jared Goff.
WEEK 11!
PATRIOTS @ FALCONS
The Patriots are absolute motherfuckers and are still somehow going under the radar as they sneak their way into the top competitors of the AFC. This is either the game that they drop for no reason, or they absolutely dominate a team they should destroy and then they get punked next week after the media has to collectively admit they are a top team.
If the Falcons win, I will draw Matt Ryan beating Patriots fans to death with a dead horse labeled 28-3
RAVENS @ BEARS
Hopefully the Bears lose this one normally instead of lose it because the refs decided they hated them this week.
If the Bears win, I will draw Justin Fields' right to Bear Arms

PACKERS @ VIKINGS
Battle of the dipshit anti-vax QBs!
If the Vikings win, I will draw Kirk Cousins flexing since his plexiglass shield kept him safe from Covid Rodgers

COLTS @ BILLS
The Colts scored 17 points against the woeful Jags in the first quarter and then almost lost the game by just…not doing jack shit after that. Carson Wentz missed the birth of his child for this. The Colts are mediocre as hell.
If the Colts win, I will draw the Colts mascot as a super sayian

LIONS @ BROWNS
Can't pick a Lions win till they prove they can do it. They got to face the Steelers without Ben, ran all over them, and still could barely tie. A bad team, these Lions.
If the Lions win, I will draw Dan Campbell as the old lady from Titanic

TEAM @ PANTHERS
Well, maybe the Panthers are good again? Looks like we are done with the Hey Darnold era.
If the TEAM wins, I will draw the Washington Monument growing balls

TEXANS @ TITANS
The Titans should just annihilate this team, even without Henry. Knowing the Titans, this might end up a confounding loss. Still, fuck the Texans.
If the Texans win, I will draw Jack Easterby in Oilers gear

49ERS @ JAGUARS
The 49ers are nothing special but the Jags are across the river and through the woods from special
If the Jags win, I will draw Urban Meyer grinding Yosemite Sam

DOLPHINS @ JETS
Finally, a matchup worthy of our eyes. This battle shall be legendary! Dolphins I guess.
If the Jets win, I will draw a dolphin obliterated by a cruise missile

SAINTS @ EAGLES
I have sworn to use my powers of getting the Saints wrong for good. I pick the Eagles.
If the Saints win, I will draw the superdome as a UFO Independence Day'ing Philly

BENGALS @ RAIDERS
Two teams that started hot and cooled off. I guess go Raiders.
If the Bengals win, I will draw Burrow and Chase playing frisbee with the Raiders stadium

COWBOYS @ CHIEFS
This game might end up being good if the correct Chiefs show up.
If the Chiefs win, I will draw the Walrus stabbing Mike McCarthy with his tusks

CARDINALS @ SEAHAWKS
If Kyler starts, this should be an easy win. If Colt McCoy starts, it should also be a win because Colt McCoy knows how to beat Seattle. Still love you for that win last year, buddy.
If the Seahawks win, I will draw Tiny Russ beating up Tiny Kyler

STEELERS @ CHARGERS
Man I don't even know anymore. I guess Steelers.
If the Chargers win, I will draw Boltman twerking

GIANTS @ BUCS
Well if the TEAM can beat them, maybe we can. Hahahahaahahahaha
If the Giants win, I will draw Eli Manning and Daniel Jones double-birding Tom Brady