CARTOON PICKS WEEK 5 – Russ Is Cooked
on
October 10, 2022
at
12:01 am
At one point during the Thursday Night Matchup between the Broncos and Colts a clearly bored and frustrated Al Michaels tried to liven the broadcast by saying that sometimes a game is so bad that it wraps back around to being good. When he said it, the game was still a pile of shit. For 3 and a half quarters, Colts/Broncos was the worst football game I've seen in years. It was an astounding level of failure that it was a miracle any points even got scored. Neither team could do a damn thing. Russ looked absolutely cooked. Ryan was getting pummeled to the turf every other drop back. Al Michaels and Kirk Herbstreit were openly dunking on the game by the second quarter. But then something happened.
The Broncos were having a mildly successful drive, already up 9-6. They had reached field goal range. It felt like the kind of drive that often happens in these particular types of stinkers, two teams fumble around until one finally puts it together for one drive and it effectively ends the game once they score because you know the other team has no chance to put up more than 3 points. But then Russ chucked another awful pass into the endzone, where it was promptly picked off. At that moment, I think I snapped. I started laughing, like, loud cackle laughing, for 5 minutes, causing my wife to wander into the room and ask me what the hell was happening and I could barely even explain that it was just the accumulated result of watching two awful teams fail miserably for 50 minutes. I think for anyone who had watched that game from the beginning, that was the moment that broke the threshold. That was the moment when the game went full circle and wrapped back around to being good. That was when the game decided "fuck it, let's go full-on nihilist". There is truth in what Al Michaels said. Stare into the abyss long enough, and it stares back into you. From that point on I was more entertained by every failure than I was by most games' successes. I was deeply, openly, rooting for the game to reach overtime and was deeply disappointed that we didn't get a tie, even though the ending was still absolutely marvelous as crispy-cooked Russ missed a wide-open target and instead lost the game. I was laughing with joy for an hour after that pick. Game of the year for me so far.
It just kind of goes to remind you that entertainment and connection can come from anywhere. Most football games each week are fairly dull affairs. But even when what feels like what should be the worst of the sport graces your eyes, a small change in perspective can make everything just…delightful.
That was my shower thought for the week, so let's get to Dave's Brag Corner: FUCK YEAH GO GIANTS BITCH. It is astounding what good coaching can do. This is basically the same dumpy squad that the Giants trotted out last season, but instead of sputtering and slowly dying every game, the Giants are absolutely maximizing their limited potential. A huge indictment on Joe Judge and previous regimes. Even David Gettleman's draft picks aren't looking like total busts this year under coaches that aren't garbage. Andrew Thomas is now an elite left tackle. Dexter Lawrence is having a great season in the middle. Xavier McKinney is playing solid D. Barkley looks like Barkley again. Even Daniel Jones, bless his injured heart, is playing pretty solid ball out there even with nobody to throw to or protect him besides Thomas and a Rookie. He's shown enough heart this season that if the poor boy can keep it up I think I'd be okay with keeping him, on a short contract. The Giants went into London with an offense held together by Saquon, an injured Jones, and a WR corps made up of wet toilet paper they found on the street and arguably outplayed the MVP, former #1 seed Packers offense. They have made outstanding halftime adjustments all year, this game being just the biggest win of all. This is a well-coached team making the best of limited talent. It's not just Daboll. Wink Martindale and Mike Kafka are both doing an outstanding job and arguably deserve even more credit. I'm especially impressed with Kafka, he's found all sorts of ways to work around the limitations of the offense and make Barkley sing. Every win feels like the Giants are playing with house money and I'm under no illusions it'll last all year, but damn this is the most fun I have had watching football in years. 
In other news, not a whole lot. Most results I'd say made perfect sense. I got a lot of picks wrong, but I can't say any of them really came as a surprise.
-The Dolphins are not good without Tua, and in fact, may still be flukes who enjoyed a Baltimore and Buffalo choke.
-The Packers are deeply flawed, and after being beat by Daniel Jones throwing to street trash, I never want to hear him bitch about not having weapons again.
-The Seahawks are just like the Lions. Good offense, awful defense.
-The Lions got completely stymied and predictably made Bailey Zappe look like a competent starter.
-The Eagles remain frightening
-The Cowboys might actually be more frightening. The offense is too safe under Rush, but might become good with Dak back, and that defense is unbelievable
-The Rams are mid. Stafford has no protection.
-The Browns are mid and are still masters of kicking themselves in the balls. The Chargers just…handed them the win, and then they shank the kick. Absolute Browns.
-The Chargers are mid and didn't deserve to win the game. They were winning, then decided to go for it on 4th in their own territory, and failed, giving the Browns the easy win. Lucky for them, the Browns went full Browns. But that was a baffling decision and even statistics should have told you that the risks of not making that conversion were too high. The Chargers were saved from themselves and after talking with some Chargers fans, they are getting exasperated with Brandon Staley.
-The Jaguars. Oh no. You were supposed to be good! You were like the Giants! You finally found a good coach that could maximize your talents and start getting you out of the pit! Instead you lose to the woeful Texans.
-The Texans are still shit though
-The Cardinals put up a good fight against the Eagles, but ironically, I think Kyler's height may have cost them the game. When he made the terrible decision to slide, he was about 6 inches short. This meant the Cardinals had 4th down instead of 1st down, forcing them into a longer kick, which got shanked. If Kyler is taller, it takes longer for his legs to reach the ground after beginning a slide, and that time difference might have been 6 inches. This is the theory I am going with. Tiny Boy's Tiny Legs lost the game.
-The 49ers took care of business
-The Panthers remain total garbage. Matt Rhule cannot possibly last much longer. This season is a waste otherwise, at least maybe an interim can salvage some things.
-The Saints are still flawed but it must be nice to have a week against a bad defense. Taysom Hill was the good one this week.
-The Steelers never had a chance starting a rookie QB in Buffalo. I didn't expect it to look that bad, but I'm not surprised. The Steelers are bad.
-The Bills are very good!
-The Bucs were saved by an absolutely vintage Jerome Boger garbage roughing the passer penalty. We were robbed of what should have been a Falcons attempt to win after a glorious third-down sack was deemed "too rough" by the referee squad best known for being shit. Golden Boy gets protected again on one of the worst calls of the year.
-The Falcons are feisty though, and I look forward to what they might do next year. Kyle Pitts seems like a bust.
-The Patriots are competent enough. Good defense and a bad offense. Had an easy task this week because the Lions had no defense. The offense remains an issue and I'm still baffled that it's run by Matt Patricia.
-THE JETS! Dropping 40 on the Dolphins, even without Tua, is a feat. The Jets are not a bad team. The Jets…are a mid team. Good for them. Genuinely; good for them. Zach Wilson needs to fuck more milfs, it's clearly working.
-The Vikings are also somehow 4-1, and they are less deserving of that record than the Giants are. For like 3 weeks the Vikings have almost snatched defeat from the jaws of victory, only to snatch victory from the jaws of defeat they almost caused themselves. They keep saving their own asses. It makes them annoying to watch. This was best exemplified by the game-winning play this week, when the Vikings defender gave up a huge play, wiffed on a tackle, and then went and just stole the ball from the Bears player to seal the deal.
-The Bears suck, but they are on the upper end of the bad teams. But it's because of that defense. So far the Bears new regime has completely failed on what should have been their main objective: help Justin Fields. Build around him. Everything this year should have been about salvaging Fields. Right now, Fields is a bust. The potential remains, but man is it ugly to watch.
-The Colts are so bad and after yet another season with an old fart QB flopping about, I think it might be time to move on from Frank Reich and Co. should they miss the playoffs.
-The Broncos are such a mess but I feel like I should save this discussion for its own comic
-The Titans. So mid. So incredibly mid.
-The Commanders! When Wentz drove the field down to the two-yard line I literally yelped with laughter when he inevitably threw a pick to lose the game. The NFC East is the 5-0 Eagles, the 4-1 Giants and Cowboys, and the 1-4 Commies. The NFC Beast is back, and Washington remains in the gutter. As god intended. Washington deserves nothing good until Snyder gets punted.
-The Raiders are TOO BE DETERMINED, but probably bad
-The Chiefs are TOO BE DETERMINED, but probably good
-The Ravens are mid. They seem like they should be better than this. The pieces are there. They occasionally look great. Lamar looked really bad against the Bengals. It does warm my heart to see JPP get a late-career gig and bat down passes with his big long mitts again.
-The Bengals are also mid. Another team that should be better than they are, but keep holding themselves back. Zac Taylor is a bad coach and going to the Super Bowl last year may have been a curse in disguise, because now his job is secure. But goddamn it is almost inevitable Burrow and Chase will do cool shit in the final minutes of every game.
CARTOONS! I think artistically, this was a good week.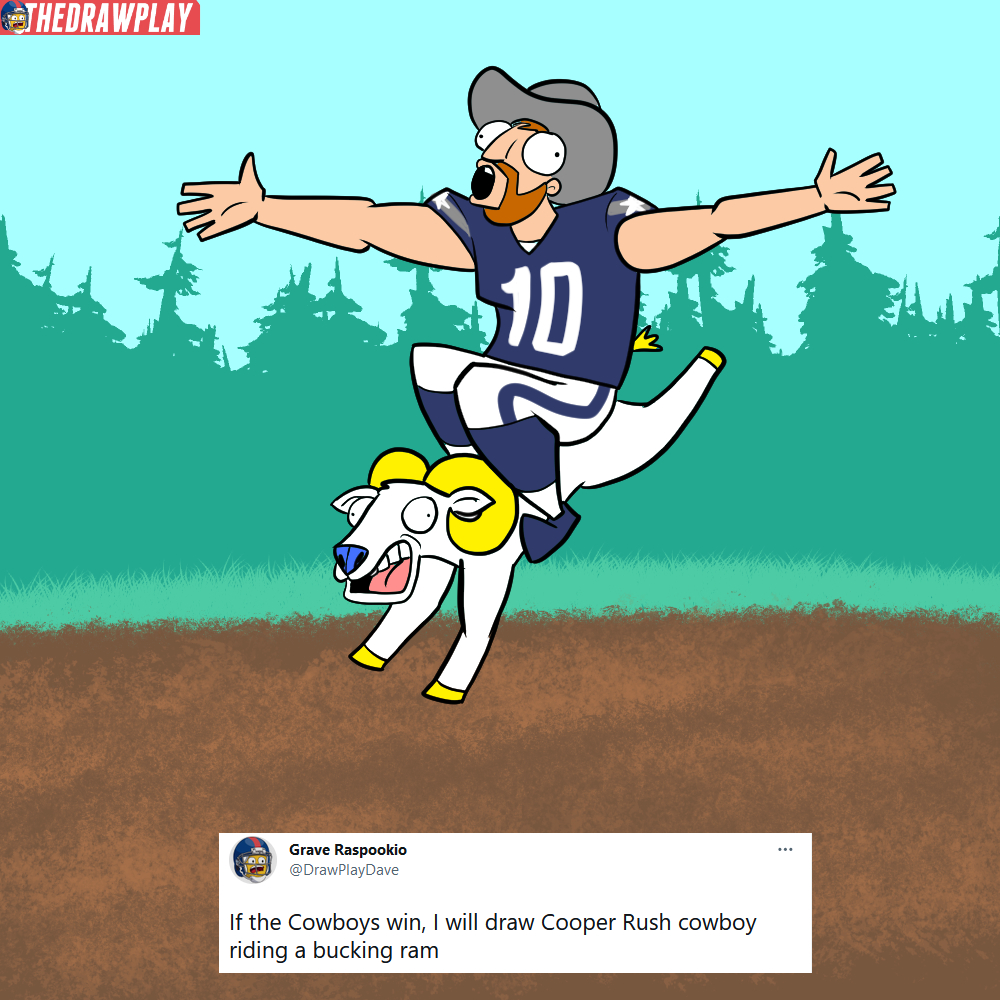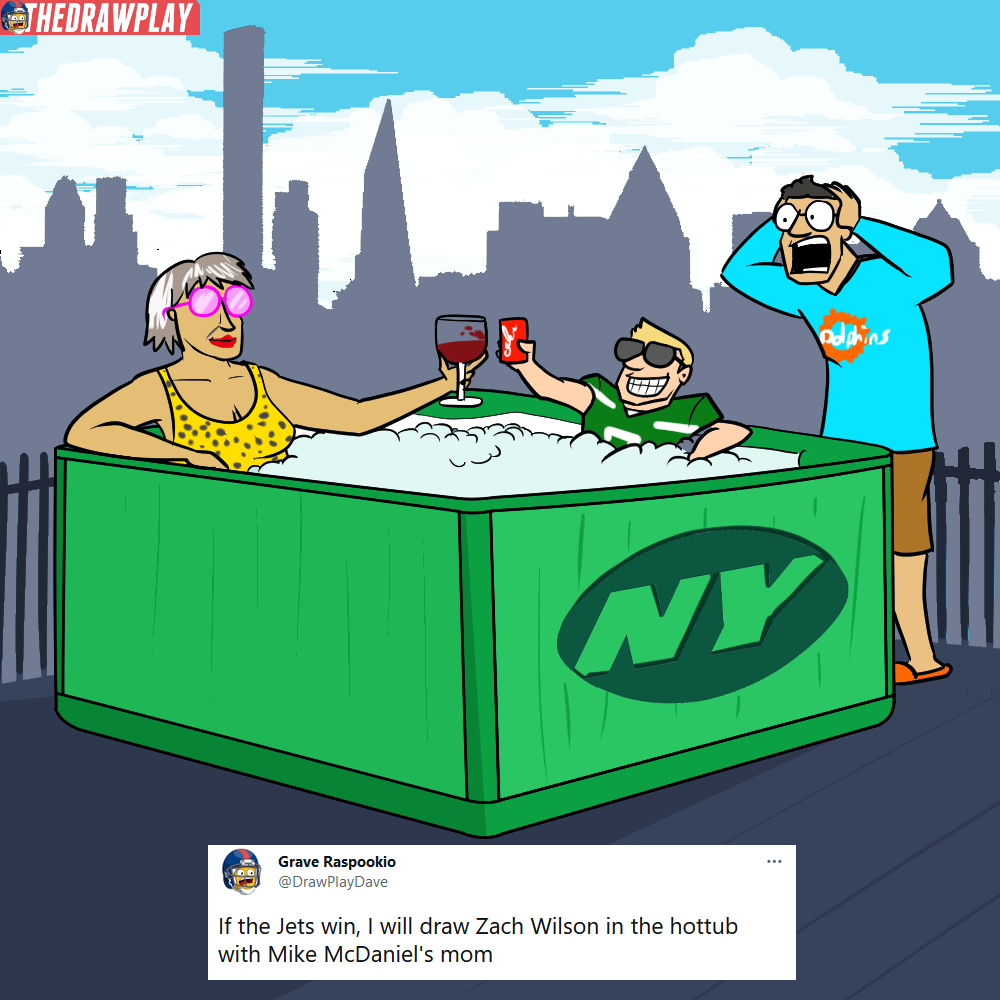 WEEK 6 PICKS! I have decided it is time for another themed week. This week? Memes. I realize most of the commenters here trend older and less "online", so I have provided handy links. Thing is, I'd be very happy to get some input ideas on this one. I'd prefer to keep it to fairly broad, well-known memes, and also preferably ones that easily fit in one single panel. No Wojaks or other stickmen style memes, preferably something that would better translate since I'll be fully recreating them.
GAMES
COMMIES @ BEARS
Good lord, Jeff Bezos paid like a billion dollars for the rights to stream this game, after the last game. I feel like the Bears are due a win and the defense will make Wentz go full Wentz
If the Commies win, I will draw Carson Wentz as Dickbutt
RAVENS @ GIANTS
This feels winnable for the Giants, but I'm still pretty skeptical of our offense, and an inherent pessimist. Ravens it is.
If the Giants win, I will draw Brian Daboll as Big Chungus

JAGUARS @ COLTS
A week ago I would have been very faithful in the Jaguars. Now I have no idea. This isn't in Jacksonville, so the curse isn't in effect, but they did just clobber them a few weeks ago. Fuck it, go Jaguars.
If the Colts win, I will draw Matt Ryan as Brent Rambo
PATRIOTS @ BROWNS
Browns are the better team but also a dumber team, going Pats.
If the Browns win, I will draw Jacoby Brisset, Nick Chubb, Kareem Hunt, and Amari Cooper as Me and the boys
BENGALS @ SAINTS
Bengals. Oh man I'm picking too many away teams, this is going to bite me.
If the Saints win, I will draw Dennis Allen in the style of Stonks

BUCS @ STEELERS
Again, picking the away team. The Steelers are putrid and Tom Brady owns them.
If the Steelers win, I will draw Tom Brady in the style of Loss
49ERS @ FALCONS
Oh god…49ers
If the Falcons win, I will draw Marcus Mariota as JEB!
JETS @ PACKERS
Okay, still can't trust the Jets, so finally picking the home team. If the Jets win this one, I believe.
If the Jets win, I will draw Zach Wilson as the Bro Explaining

VIKINGS @ DOLPHINS
Tua should be back, so here's a real test. If the Dolphins lose this against a team just begging to choke, they might have been frauds all along.
If the Vikings win, I will draw Kirk Cousins in the style of You know I had to do it to em
PANTHERS @ RAMS
Nice of the Rams to keep getting softball makeup games after they blow it the previous week.
If the Panthers win, I will draw Matthew Stafford and a Panther in the style of Woman yelling at cat
CARDINALS  @ SEAHAWKS
I think the Seahawks lack of defense is going to be their doom here.
If the Seahawks win, I will draw Kyler and Geno as Two Guys on a bus
BILLS @ CHIEFS
So far, Mahomes owns Allen. This might be the best chance Allen has to take the belt though. Chiefs, hesitantly.
If the Bills win, I will draw Josh Allen catching the eye of Distracted Boyfriend, over kermit mahomes

COWBOYS @ EAGLES
Can't pick against the best team in football until they lose, but this is the week they very much might lose.
If the Cowboys win, I will draw Astronaut "always has been" with the Cowboys shooting the Eagles.

BRONCOS @ CHARGERS
The Broncos are a fucking mess, if the Chargers blow this they can't be taken seriously. Not that we take them very seriously right now.
If the Broncos win, I will draw Russ as a Minion
TIE GAME
Both QBs as Pointing Spidermen
BYE WEEKS
Raiders, Titans, Lions, Texans