WILDCARD WEEK PICKS – HOLY SHIT THE BROWNS DID IT
on
January 11, 2021
at
12:01 am
HAHAHAHA THEY DID IT! THE BEAUTIFUL MOTHERFUCKERS DID IT! GOD BLESS THE CLEVELAND BROWNS!
I was all prepared to pat the Browns on the bum and say "Good show this season boys. Sorry it ended like this, but ya'll finally made it back at least" and then they go and possibly send Big Ben's fat face into the west forever. I'm so jazzed. I expected the Bills to finally break their playoff loss streak this weekend. After everything that happened with the Browns (No coach, injuries, struggling to beat the Steelers backups in week 17), I just couldn't see this streak ending. But they did it. They did it. They motherfucking did it. I'm so happy for you, Cleveland. This was such a long time coming. To finally break that streak, against your most hated of rivals, in Pittsburgh…just incredible. I only wish there had been a home crowd to witness it. I don't know if this run can continue, but this has already been a success of a season. Congratulations, Browns. Congratulations.
To the Bills: I also raise a glass. You also earned it. The Browns and the Bills both entered the playoffs by vanquishing an ancient old fart QB with noodle arms. Rivers tried to throw a hail mary in that last attempt and didn't even reach the 5 yard line from the 50. Rivers and Ben have had good runs, but I think they should follow Eli and walk into the sunset. I'm glad the Bills won that game, especially after that highly suspect reviewed call on that fumble a few plays earlier. The Bills had a scare at the end but still look like a legit team out for blood.
Before we bid farewell to those who left us this week and look forward to the next, I want to say…I'm not sure I like 3 games in a row for two days straight. It was really tiring and dull during most of the games. I prefer 2 games per day. I also enjoyed the Nickelodeon broadcast, and expect a comic about that this week.
To the losers of the weekend, we bid adieu to you.
STEELERS – Well that was the wettest of farts to end a promising start. 11-0, incredible defense, an old but effective Ben…then it all just crumbled in front of us over the last several weeks. The team needs to move on from Ben. He has a huge cap hit next season and he looks toasted. JuJu is likely gone otherwise and maybe he's gone anyway. The defense is set up for the future but it won't mean much if they are asking Mason Rudolph to carry the torch. All in all, if this is Ben's swan song, it ended with a gross thud on the pavement.
TITANS – When they punted in Ravens territory later in the game while losing, the entire football world seemed to turn on them and enjoy their misery. A cowardly punt, one of the worst all year. For a team that seemed to thrive on being a bully and doing bold things, this was a disappointing end. They need to fix the defense but overall this was still a positive year for the Titans and proved that this squad wasn't just a fluke in 2019. This is a team that can compete with the best of the league. I hope they don't waste Derrick Henry's remaining golden years.
COLTS – I guess you existed. I watched maybe 2 Colts games all year so honestly I don't have much of an opinion. I couldn't even name more than like, 5 players on this squad. One of you Colts fans in the comments can offer a better post-mortem than me.
BEARS – This game was a very good indicator that you were what we thought you were. Absolute frauds. Fine, your defense ain't too shabby. But your coach sucks. Your QB sucks. Your team still sucks. I would have rather watched the Cardinals, Cowboys, Giants, Eagles, 49ers, Vikings, even the coachless Lions in this game instead of you. If you extend Mitch you deserve everything that happens. My guess is Mitch leaves, Nagy stays, starts Foles next year, and then Nagy gets fired when the team is 2-7.
TEAM – I guess it was inevitable that this sad sack leader of a sad sack division would go down. At least you went down swinging and ironically may have found your future QB in Heinicke. The little AAF upstart that could made it interesting but the Team just did not have what it takes to stop the Brady Powerhouse. The vaunted defensive line led by Chase Young barely scratched him. Still, the TEAM looked like a decent if not great squad when they didn't start Dwayne Haskins or Kyle Allen, so this team might have a future. I hope they keep the name.
SEAHAWKS – hahahahaha, probably the second most embarrassing loss of the weekend behind Pittsburgh. The Rams were down to thumbless Jared Goff at QB and they still stunk like ass. Absolutely pathetic performance by Seattle. For a team that started incredibly strong and had super bowl vibes and aspirations, they just fell apart completely. Honestly once they lost to the Giants that should have been the point when we wrote them off for good. Now the team has some serious things to iron out as it appears their slow slide into irrelevance after the early 2010 peak years is continuing.
PICS!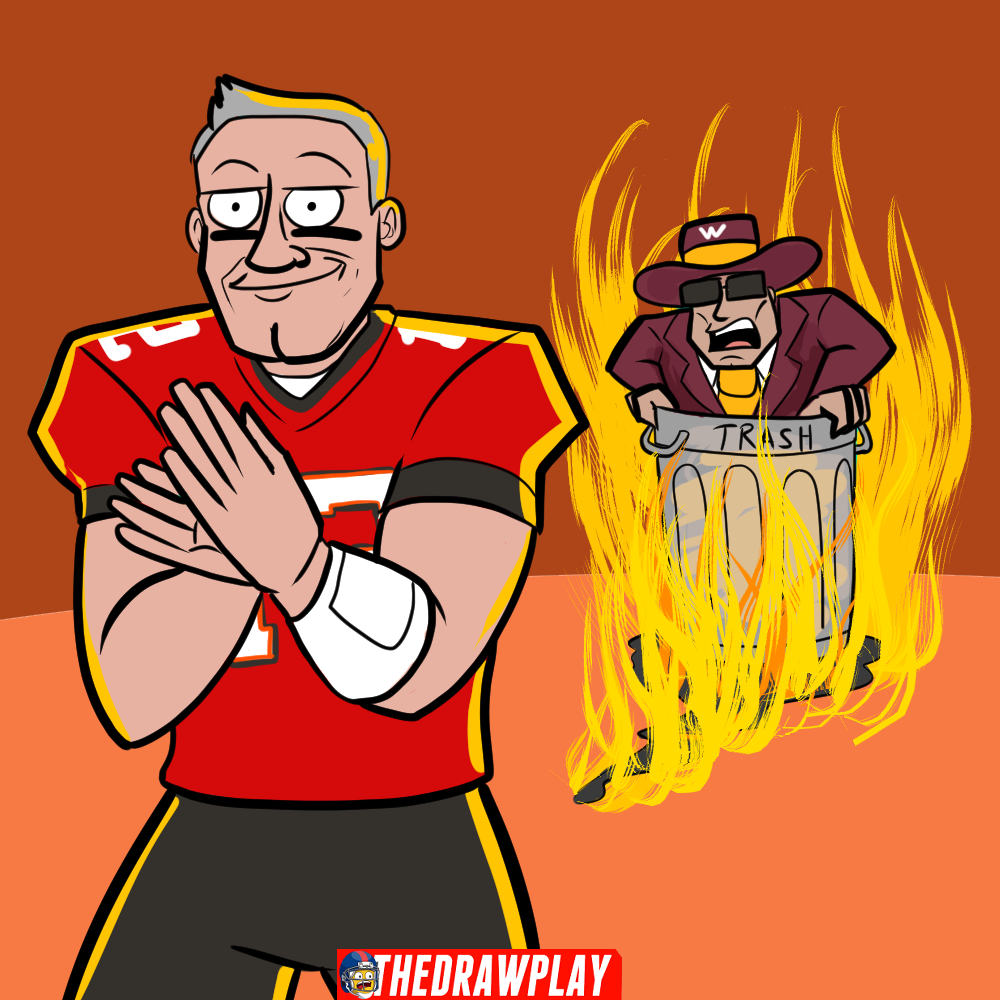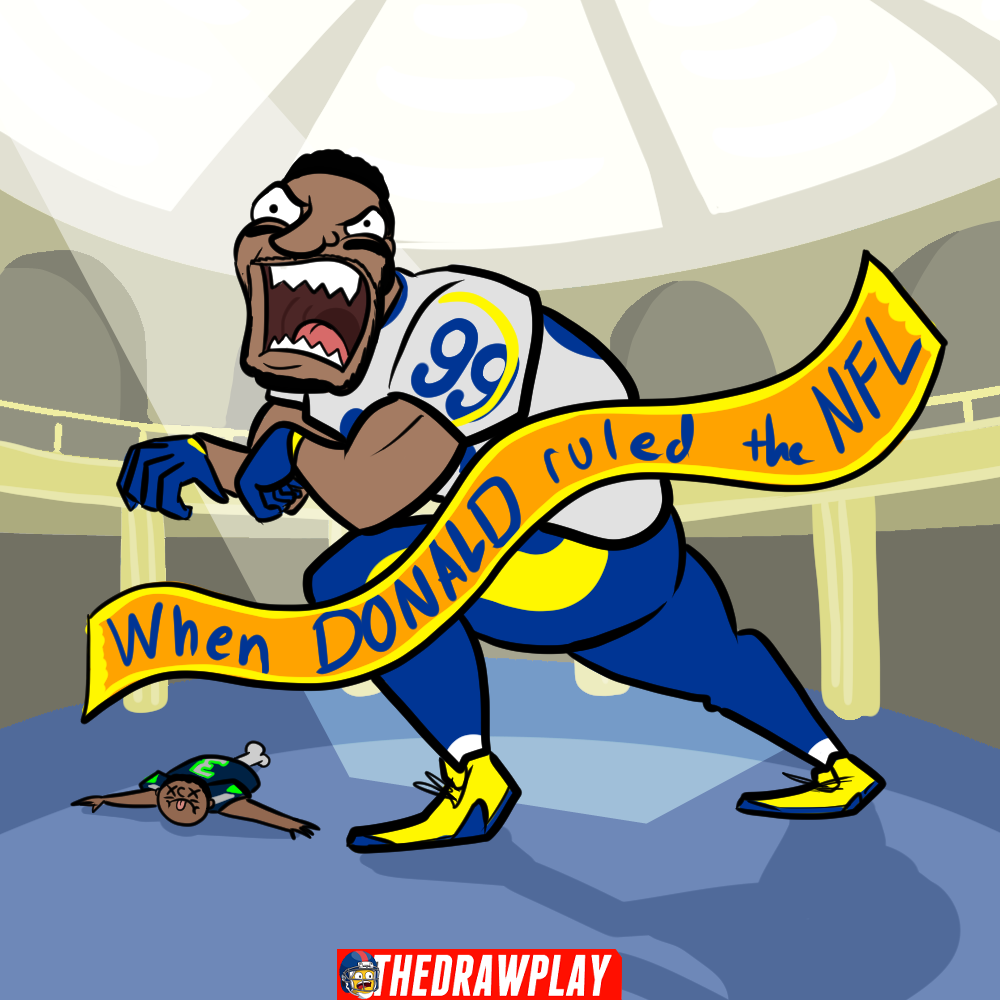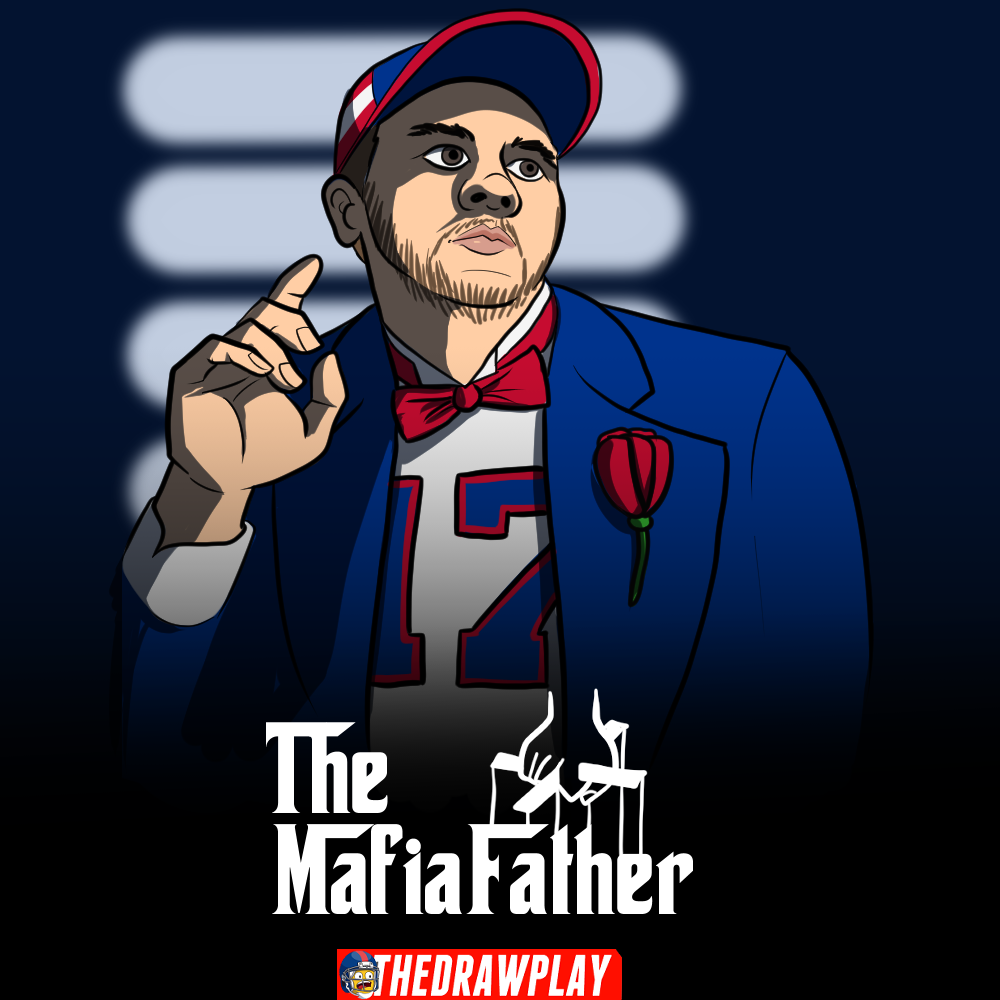 Chaos took a bit hit this weekend, but if you still desire to root for nonsense, the Browns and Rams are our best chaotic options left. After that, the Chiefs, Bills, and Ravens are the preferred options over anything left in the NFC. The AFC is officially the cool zone now.
RAMS @ PACKERS
The Rams defense is incredibly legit and I hope Aaron Donald is alright so this game is good. It's hard to trust a Rams team with a broken QB and possible Blake Bortles starting, but you never know. Chaos in the NFC is incredibly low, with 3 (37 or older) HoF QBs leading great teams and one chaotic team driven by a man with no thumb. The NFC is boring. I don't have faith in the Rams, but I am 100% on team McVay.
If the Rams win, I will draw Jared Goff trying to give two thumbs up (partial idea from anonymous below)
If the Packers win, I will draw a Ram frozen in ice as a smug Rodgers ice skates
RAVENS @ BILLS
This is a tough matchup for the Bills, but that's what happens when you reach the divisional round and only good teams are left. The Ravens got off to a slow start against the Titans but this team is built different that last year's squad. This team can win it. This team has the resilience that they need to push it. In situations like this that extra bit of experience matters a lot. The Bills are still a relatively fresh faced playoff squad with a young leader. They are probably more talented, but I can easily see the Ravens winning this. I think they do, actually, even though I am personally rooting for the Bills.
If the Ravens win, I will draw Super Saiyan Lamar flushing a buffalo down the toilet
If the Bills win, I will draw a Buffalo stampeding over pooping Lamar
BROWNS @ CHIEFS
While it is now clear that the Browns offense can keep up with anyone, chances are low that they get the same kind of turnover luck against the Chiefs that they had against the Steelers. As fun as that game was, 28-0 in one quarter is fluke stuff you don't get every game. The Browns secondary is still a mess, half their offensive line got hurt, and the Chiefs are extremely potent. That pass rush should help Cleveland as Mahomes likes to backpedal too much to give himself time, but they have to reach him quickly because I can see Hill and Kelce feasting on the Cleveland DBs. This is a winnable game for the Browns, but it's hard to pick against the Chiefs. Frankly though, Cleveland is now playing with house money. The season is already a resounding success. The Chiefs have more expectations. Maybe it'll happen. May Chaos Reign.
If the Chiefs win, I will draw Kermit Mahomes riding the Walrus as it eats the Brownie
If the Browns win, I will draw the Brownie, but swole as fuck
BUCS @ SAINTS
OLD MAN FIGHT ROUND 3. This game is the one I'm least looking forward to because I don't like either team and wish they could both be eliminated. The Bucs have already lost twice to the Saints, but now Brady has experience with them and they just look stronger now. The Saints had some trouble against the stout Bears but I doubt it'll be as hard against Tampa. I just…want both of these QBs to fucking retire. I might even prefer the Bucs win because Brees is more likely to hang it up this offseason than Brady is and maybe losing to Brady will do it. Hopefully at minimum the game is fun. At least one of them is out after this. We either get to laugh at Tom losing 3 times to the same team for the first time in his career, or watch the Saints lose another heartbreak game they were favored in. A small consolation prize for both scenarios.
If the Bucs win, I will draw old Tom with a lightsaber cane striking down old Drew Brees
If the Saints win, I will draw the exact same thing, only vice versa (Good idea KansasTexan)