CARTOON PICKS RETURN!
on
September 21, 2020
at
12:01 am
Even though I only did it for one season like 5 years ago people still ask me if I'm ever going to bring this back. Well, I think I might be back. yeah, I'm thinking I'm back. Lets do this shit again, folks! I think this will replace Monday comics for the season since these are more fun to make during the games.
Okay, so those of you who might be new to this, here's how it works. I pick every game for the week (I'll likely try to list my next week predictions under these posts each week). I also make a bet on each game. Whoever I pick to win, if they lose, I have to draw something as punishment. You can see the examples I got wrong below. Sometimes this results in few drawings as I get most games right. Sometimes things go horribly wrong. Most of the time you can count on 4-5 doodles.
Since this goes up on Monday, you can check back tomorrow if I get the MNF game wrong for some extra hilarity! I'll also probably add my picks to this post later in the week, probably Wed, to account for any midweek news. Now you have a reason to return and give me extra traffic! Hahahaha I do not run ads I do not get paid for your clicks but share me anyway.
Here is my tweet thread of picks for this Sunday, in case you wonder what potential magic you may have missed. It should be more organized from here on.
SOME RULES:
-"Can I submit my own ideas for your bets?" YES! Yes you can! Keep in mind however that they should be relatively simple requests, I'm not going to draw your complex masterpiece of Gardner Minshew as a redneck Jaguar mauling the entire Dolphins defense in the style of a Van Gogh. The easier, the simpler, and the funnier, the more likely I'll decide to use yours. Read the tweet thread for an idea of what I'm looking for. Comment your request below. Commenting your request does not mean I'll use it.
-If I get the pick right, I'm not drawing the cartoon anyway just because you want to see it. Them's the breaks. If I'm right, no doodle. You are hoping for my failures, and I am motivated to be right. If you really really want to see something and it doesn't work out, too bad. Or send me money and I'll make it. I'll sell out for you.
So lets get to this week's picks! Unfortunately for you, I was extremely accurate this week. Dallas and KC gave me brief scares, but ultimately I was right about pretty much every game. Except the Colts. I did not expect the Vikings to look as terrible as they do this year. Clearly, I am Nostradamus. Also I guess the Raiders did the thing too!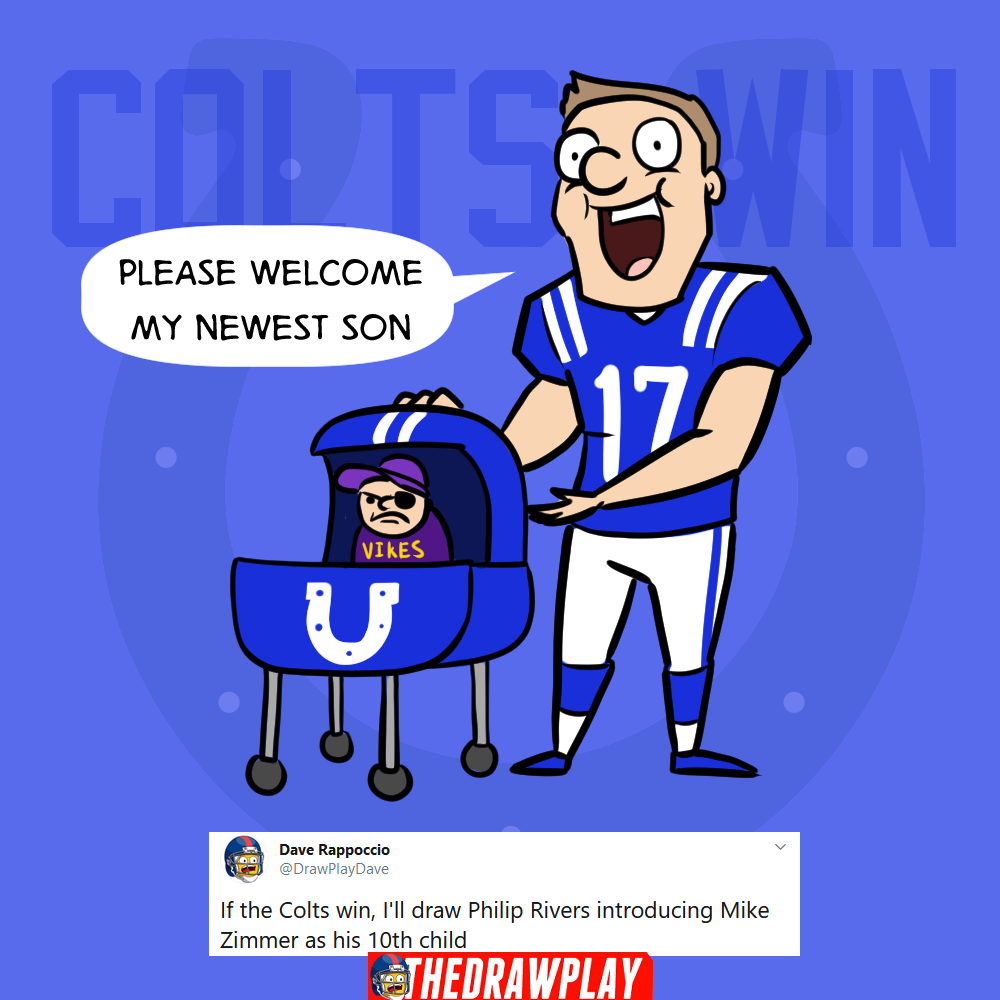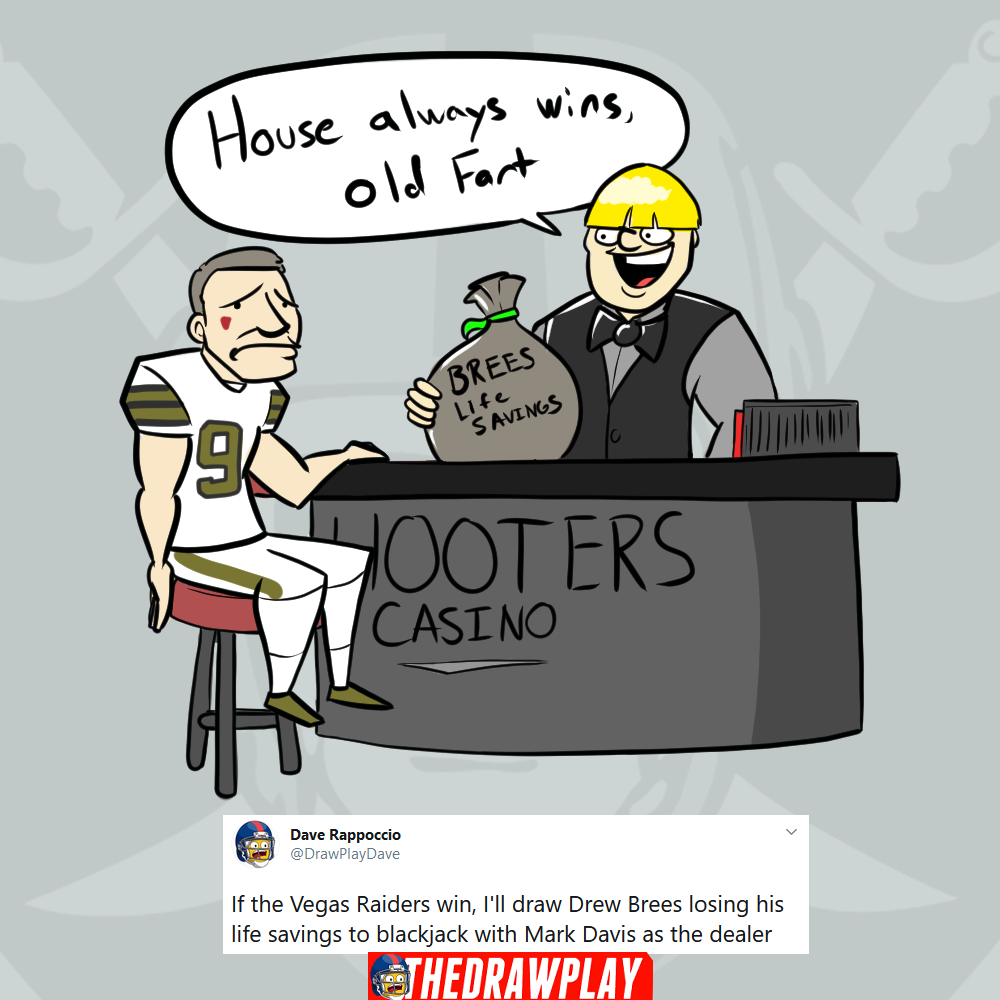 WEEK 3 PICKS! Fortunately for you, this week seems a lot harder to pick:
Dolphins @ Jags
The Dolphins might not be the worst team in the league this year, but they still appear to have a way to go and are still devoid of much talent. The Jags, despite also lacking in talent, have found some sort of identity and Gardner looks like he's continuing to improve. This is a battle of bad teams fighting to be mediocre, but the Dolphins might be sneaky better than expected as they've played the better teams thus far. I still gotta go with the slightly hotter hand. Jags
If the Dolphins win, I will draw Ryan Fitzpatrick riding a Dolphin who is blowing water out of it's blowhole spelling "Duval sux"
49ers @ Giants
The Giants are a bad football team and just got worse. Now they have zero running threat, one less B-level wide receiver, and no expectations. Even before this, the Giants have scored the least amount of points in the league, yes, even less than the Jets (by one point). The 49ers are basically down to their practice squad replacement team by this point, but if that does anything, it just makes the game "potentially winnable if things go right" for the Giants instead of "absolutely decimated". 49ers
If the Giants in, I will draw Joe Judge as a judge, banging his gavel down on a guilty Kyle Shanahan's head
TEAM @ Browns
The TEAM took a big L against the Cardinals (who I am very high on this season, actually), but I haven't quite lost my faith yet. The Browns showed promise against the Bengals but got leveled by the Ravens. I think this will actually be a good game. All this said, I just…have more faith in the Browns? The TEAM impressed me in week 1, but the Eagles may just be really bad. The Browns got expectedly shellacked by Baltimore but showed promise as a unit against the also woeful Bengals. This feels like last year's Browns, but more disciplined. I can't believe I'm picking the Browns to have a winning record. BROWNS
If TEAM wins, I will draw Chase Young pooping on OBJ

Bengals @ Eagles
Wow this game is surprisingly hard to call? Joe Burrow has been excellent so far but he's Atlas and on his heavy shoulders sits a giant dumpster. At the start of the season I'd have picked the Iggles to wipe the floor with Cincy but right now the Eagles are practically already in crisis. Wentz has looked terrible and the team is once again riddled with injuries. Many of the once stout defenders are past prime. One of these teams is going to earn a much needed breather win while the other will be officially placed on "wasted season" watch. I really want to pick the Bengals, but life hates me, so EAGLES
If the Bengals win, I will draw Joe Burrow smoking a cigar over Carson Wentz's grave

Raiders @ Pats
I'm writing this before I watch the Raiders play the Saints, so the Raiders might be a better team than I think they are. Unless they destroy the Saints' very souls, I still can't pick them against the Patriots at home. The Patriots don't look they've lost anything in the switch to Cam. PATS
If the Raiders win, I will draw Bill Belichick with a Mark Davis haircut

Bears @ Falcons
The Bears are pretenders. They streaked together some scores as the Lions choked, and then almost let the Giants beat them after going up 17-0 as the Giants shat themselves. They are still staring Mitch Trubisky. The Falcons have been beaten by a great team (Seahawks) and had a spectacular meltdown against a decent team (Dallas). They put up some points in both games. The records are switched here, I think the Falcons are better. FALCONS
If da Bears win, I will draw Matt Ryan being mauled by a Bear wearing an "I Kiss Titties" t-shirt

Rams @ Bills
The Rams look pretty good again. The Bills look like divisional contenders and for sure playoff contenders. However I've seen the Rams getting a ton of praise that I just didn't quite see. They didn't look that great against Dallas and then they got to beat the shit out of an Eagles team already punching itself in the dick. I don't trust the Rams quite yet and I'm on the Josh Allen is actually good now bandwagon. BILLS
If the Rams win, I'll draw Aaron Donald ripping a buffalo in half

Texans @ Steelers
The Texans are not good. They could really use a true #1 WR. The Steelers appear to be back. It brings me no joy to report this. STEELERS
If the Texans win, I will draw JJ Watt giving TJ Watt a wedgie (Via Cepedalemitajobibo)

Titans @ Vikings
The Titans barely squeaked out a win against the Broncos, and almost gave up a huge lead to the Jaguars. They are not the same team as last year. That said, they are playing the Vikings. TITANS
If the Vikings win, I will draw Thor banishing Derrick Henry to Tartarus

Panthers @ Chargers
I don't really know what to think of the Panthers or Chargers yet. I was impressed by Herbert's debut, considering how emergency it was. If they go back to Tyrod I think they lose. However the Panthers lost 60% of their offense when CMC went down. CHARGERS
If the Panthers win, I will draw Sir Purr lounging on the beach in LA with Herbert/Tyrod buried in the sand

Jets @ Colts
The Jets are a fucking disgrace. COLTS
If the Jets win, I will draw Adam Gase making crazy eyes over dead Philip Rivers, a'la Ali over Frazier.

Cowboys @ Seahawks
The Cowboys are better than I think a lot of people give them credit for. That said the Seahawks are probably a #1 seed super bowl contender at this rate. They finally unleashed the Russ. SEAHAWKS
If the Cowboys win, I will draw Dak as a chef, cooking tiny Russ with Zeke is ready to eat him.

Lions @ Cardinals
The Lions are a fucking disgrace. As per their trend, they will briefly be winning this game by two scores before Kyler Murray punches Matt Patricia in the dick. CARDINALS
If the Lions win, I will draw Matt Stafford holding a W too high for Kyler to reach

Bucs @ Broncos
The Bucs figured it out and looked like the team we dreaded against the Panthers. The Broncos lost their starting QB. These are teams trending in very different directions. That said…will Brady still suck in Denver? Not this year. BUCS
If the Broncos win, I will draw Tom Brady choking on that high altitude Denver air

Packers @ Saints
The Packers are good as hell. I hate it. The Saints are also good as hell. I hate it, but slightly less. I would normally give it to the Saints, but home field doesn't mean jack shit this season. PACKERS
If the Saints win, I will draw old man Brees telling Aaron Rodgers to get off his yard

Chiefs @ Ravens
This game is gonna rule. However I think this is a statement win for the Ravens, who want to make a big deal about how important they are. RAVENS
If the Chiefs win, I will draw walrus Andy Reid dumping old bay on his dinner,  a raven