CARTOON BETS WEEK 6 – Miami's Vice
on
October 18, 2021
at
12:01 am
Honestly, not a great week of football. Not a lot of quality games this week. Not too many surprises either. I would say the biggest surprise is how bad Miami is, but I wanna save that discussion for later this week. Congrats to Urban Meyer for finally getting that elusive first win and making me draw quite possibly the worst thing I've drawn so far. Let's look at the results of the week!
-The Patriots seem able to genuinely hang with anyone but play too cautiously and lack too much talent to actually capitalize. Mac Jones is either afraid to sling it or they refuse to let him. He seems fine at playing it safe and making accurate, controlled throws but they won't take any risks. Makes me wonder if they are playing the long game development-wise. They might actually be interesting if they let him go out there and just whip it.
-The Panthers started 3-0 and are now 3-3. Unlike the Broncos, who did the same thing, the Panthers actually looked like they had potential. But now they just look kinda lost. They went to overtime against a mediocre Vikings team who is somehow finding ways to win and then lost by giving up a touchdown.
-Cardinals are going to blow it at some point and lose a game, but even with the coach out with COVID the Cardinals easily handled the Browns in Cleveland. If the season ended today it's hard to not pick Cardinals/Bills as the SuperBowl matchup, which I would absolutely love to see.
-The Texans are honestly lucky to have won a football game because they are just…woeful. Easy argument for one of the worst teams I've seen.
-Turbo fuck Dan Snyder for retiring Sean Taylor's number as a distraction on short notice. I'm glad the Chiefs ended up beating them. Such a shameless move, shameless owner, shameless franchise.
-The Bengals. They are good! Good for them. The Lions are not.
-Chargers got blown out by the Ravens, who genuinely seem to also be great this year. Everyone has an off-day, and a west coast team going east for an early game is a typical recipe for problems. I wouldn't worry if I were a Chargers fan.
-Daniel Jones should never have started that game. Instead, he stayed in the whole time, even once the game was well out of reach (which was about halftime). He threw the ball 51 times, behind an offensive line that had one healthy starter on it. Fuck this coaching staff. I understand you have to try to win and putting Glennon out there is basically the white flag and Judge's job is in jeopardy but holy shit, Jones should not have been playing. He was carted off last week after one of the worst concussions I've seen, and he didn't look right. Fuck this coaching staff I can't wait for everyone to get fired. Jones was honestly progressing this year and this week brought him back to bad Jones.
-Aaron Rodgers does indeed own the Bears.
-The Bills are beatable and Derrick Henry is still a goddamn monster who we should never disrespect.
CARTOONS!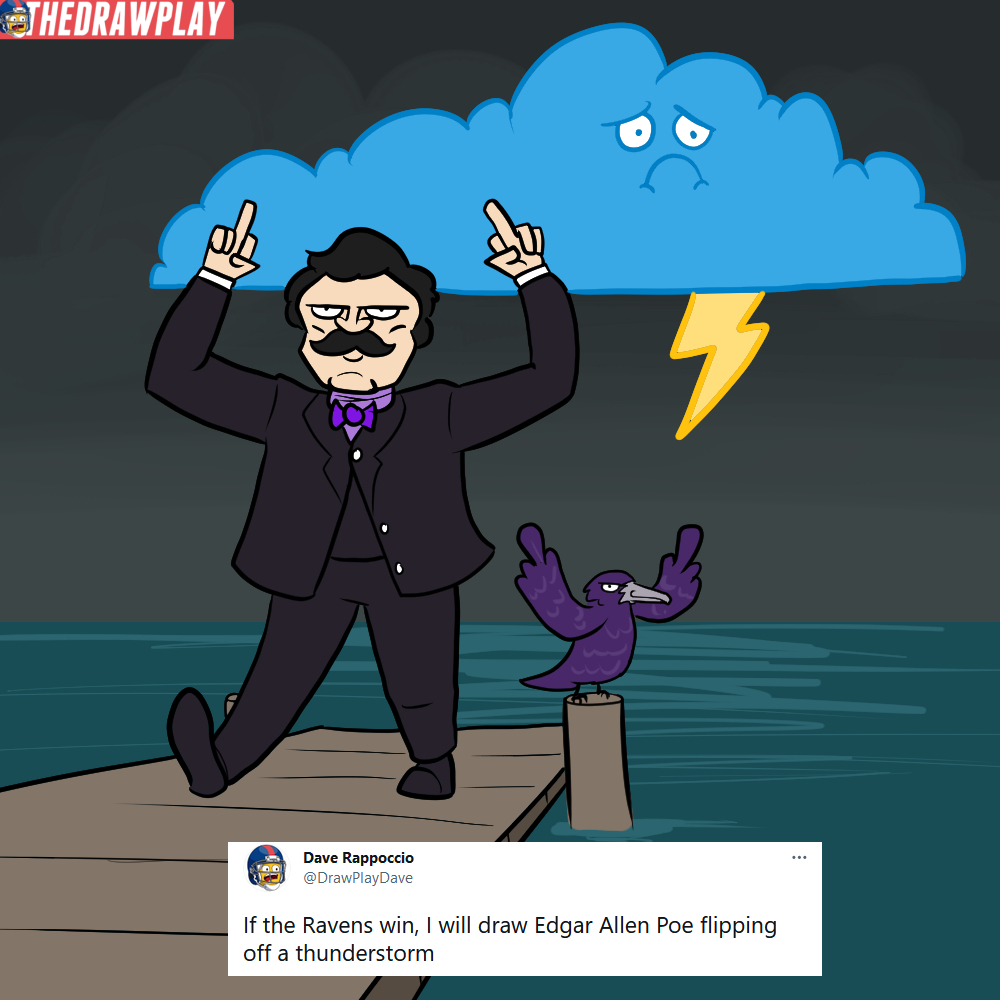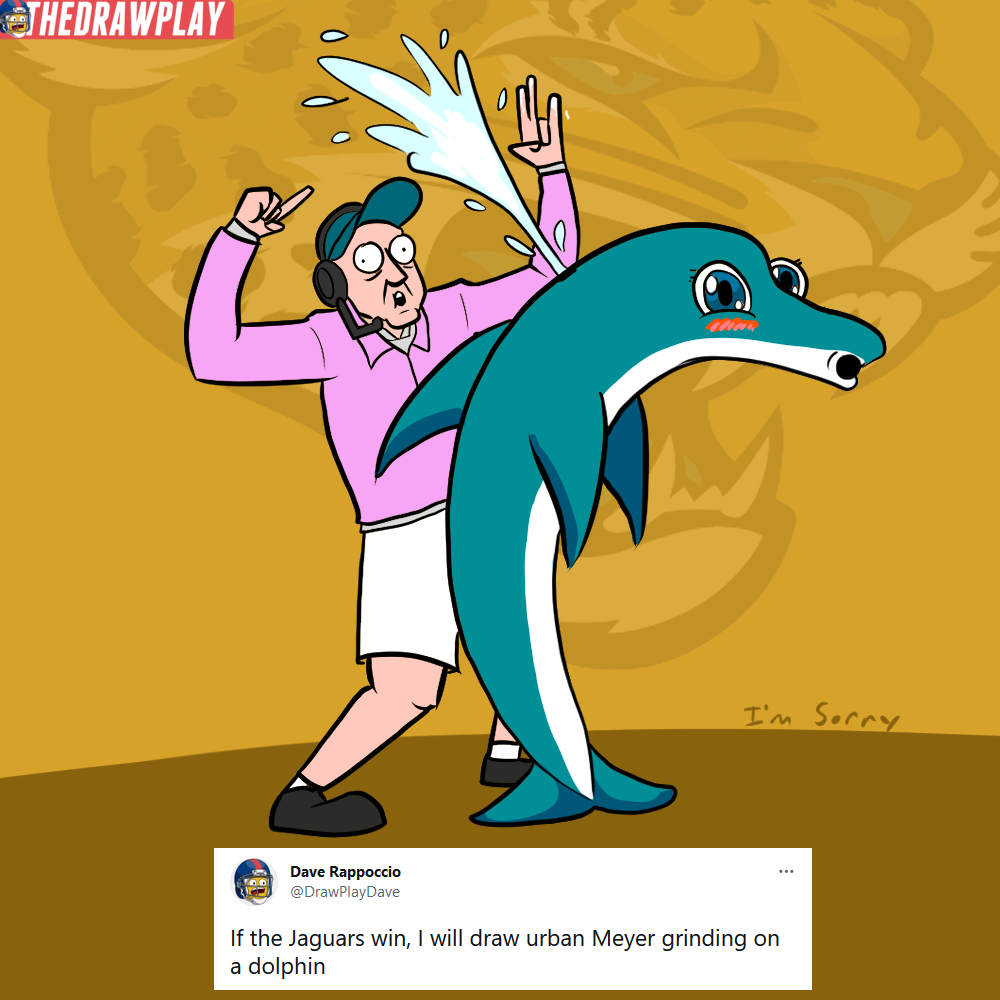 I'm…sorry for the Jags one. I didn't want to do that.
My streak of picking Miami right has ended, but my streak of picking the Browns/Colts/Broncos continues. My negative streak against the Saints was unaffected.
WEEK 7 TIME!
BRONCOS @ BROWNS
It's been enjoyable to see the Broncos be as bad as expected after that cupcake start. The Browns took a beating this weekend though, and I still don't quite trust them, especially with Baker re-injuring his shoulder. Maybe the Broncos are due for an upset.
If the Browns win, I will draw Baker Mayfield throwing Teddy Bridgewater off the top of the bleachers
CHIEFS @ TITANS
I don't trust the Titans. I also don't trust the Chiefs. This kinda sucks.  The Chiefs do have a very bad run defense to play Derrick Henry…this could go badly. Still going Chiefs.
If the Titans win, I will draw Derrick Henry throwing the Walrus like Mario throwing Bowser
TEAM @ PACKERS
The Packers are good and I don't want to pay them any attention because they are now the kind of good the Patriots with Brady used to be. Too good to be interesting. Just a solid team executing well and boring the absolute shit out of me. Hope they fuck up the Snyders though.
If the TEAM wins, I will draw Chase Young packing Rodgers into a box

BENGALS @ RAVENS
The Ravens keep finding ways to win. Pretty amazing team to watch this year. I think we can officially call the Bengals good, but not great. Battle for the top of the division is not going to go Cincy's way.
If the Bengals win, I will draw Joe Burrow hurling some Cincy Chili into Lamar's face

PANTHERS @ GIANTS
Well, the Panthers are a paper tiger of a team that maybe some of us took too seriously. Sam Darnold isn't that much better without Gase. The defense has choked away leads in the second half of games several times now. The Giants however are a great bounce-back game punching bag. They are also injured to hell. This might have been a contest with a healthy Giants squad but this won't go well.
If the Giants win, I will draw Joe Judge making Hey Darnold run laps

FALCONS @ DOLPHINS
The Falcons have been gifted with an absolute cupcake schedule this year but somehow they are still the worst. But they might finally get another W against this absolutely floundering Dolphins team.
If the Dolphins win, I will draw merman Tua jumping through a flaming hoop.

JETS @ PATRIOTS
The Patriots beat up the Jets earlier this year and I can't see this one being much different. It'll be closer than it needs to be though, because the Pats don't win pretty.
If the Jets win, I will draw Zach Wilson as the Boss Baby

EAGLES @ RAIDERS
Raiders are still annoyingly difficult to predict. They handled the Broncos pretty well though and the Eagles aren't great, so maybe they can keep the streak going.
If the Eagles win, I will draw the Raiders stadium crushed by a giant Liberty Bell

LIONS @ RAMS
JARED GOFF REVENGE GAME? hahahahaha no
If the Lions win, I will draw Jared Goff Khali-Ma'ing Matthew Stafford

BEARS @ BUCS
The Bears actually won this matchup last year. I have no idea how.
If the Bears win, I will draw Justin Fields Johnny Cage Nut-Punching Tom Brady

TEXANS @ CARDINALS
Oh god
If the Texans win, I will draw Jack Easterby as satan

49ERS @ COLTS
I feel like the 49ers really need this if they want to give themselves a chance in the same division as the Rams and Cards.
If the Colts win, I will draw Carson Wentz rubbing his ass on Kyle Shanahan

SAINTS @ SEAHAWKS
Hard to pick the Hawks without Russ but Saints I swear to god
If the Hawks win, I will draw Geno Smith punting Jameis Winston and Taysom Hill into puget sound
BYE WEEKS – Bills, Chargers, Cowboys, Jaguars, Steelers and Vikings