CARTOON PICKS WEEK 8 – Fuck the Raiders
on
November 2, 2020
at
12:01 am
EDIT: Do not expect a comic Wednesday, and possibly not Friday either. All my American readers understand these next few days are going to be hell, even if we get the result we want. 
Another week, another incorrectly picked Raiders game. It's basically guaranteed that I get them wrong again.
Week 8 has come and gone. The Chargers are the most underrated choke artists of the year. Other teams get the spotlight. The Chargers have kept that choking grind going for years. No lead is safe for Spanos. Justin Herbert can look like the best QB in the league for a half of football, then he turtles and the team never succeeds again. I want to put my faith in this team but fate has kept me at bay. They are better than their record, but they will not do anything of note this season.
The Bills might not be worth giving much attention to either. This was the week for them to stamp it down. The Patriots are reeling, they were in Buffalo, this was it. Everything was in Buffalo's favor. They legitimately came close to losing. The Patriots were in short field goal range to at minimum tie it up before the late fumble which saved the Bills. The Patriots didn't even look good during the game, this wasn't an incredible effort by New England. The Bills just…barely squeaked by. The early season showings may have simply been a paper tiger. The Dolphins might be the best team in the division right now. Tua's first game was a great start, outside his first play where he got strip sacked by Aaron Donald. I wouldn't be surprised if the Bills hang onto the division from here out, but I have less and less faith that they'll win any meaningful games in January.
The Titans took a huge L, and the Bengals managed to finish off a game. The Bengals are bad, but Burrow is willing this garbage heap to an actual competition. You know, this take might cancel me, but I don't think Skyline Chili is that bad. I had it once, after meeting my friend in Cincy one night driving cross country, and he took me there for dinner. I had never heard of it. Was it good? Not particularly. But it wasn't inedible garbage. It was about what I expected out of fast food noodles with meat and cheese on top. Honestly I think the biggest problem is one of branding. It isn't really chili. It's pasta with meat sauce topped with cheese. If you think about it as a bowl of chili, it's going to let you down. Chili is incredible and can be so much better than Skyline's weird sweet soup. But pasta? Buttery pasta doesn't have a high ceiling or low floor on taste. If you approach Skyline Chili as a low-cost noodles with meat sauce (something I ate a ton of in college), it's honestly just fine. I won't begrudge Cincinnati their goofy local chain. I went to school in Rochester, home of the garbage plate. Skyline is fine.
The Packers also took a huge L, embarrassing themselves against the Vikings. The Packers look mortal now too. The Vikings should be beating nobody.
At least the Jets still Jets'd to keep us in a sense of normalcy as we Americans enter what will likely be the most stressful and awful week of the year. Thanks, Jets.
I did terrible this week. Good news for you!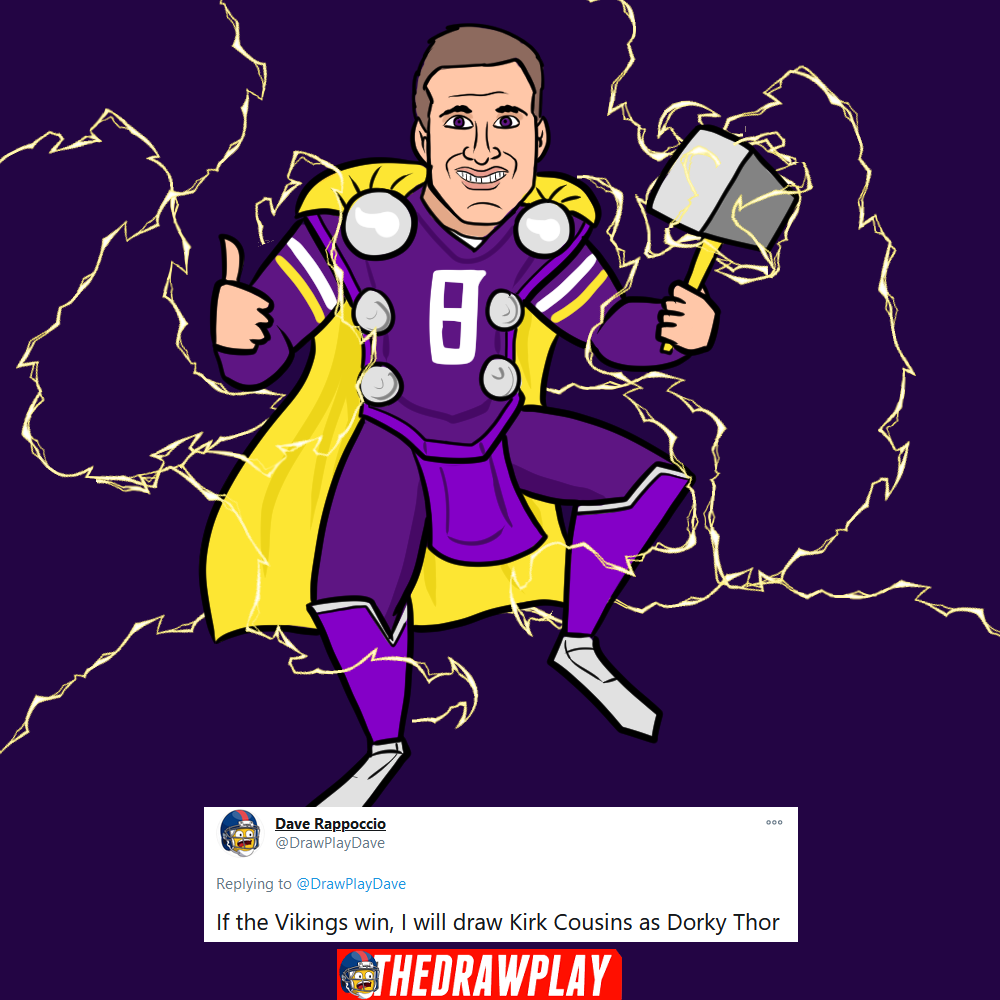 WEEK 9 BABY
PACKERS @ 49ERS
The Packers have taken a couple L's recently. The 49ers are still a good team despite the injuries. I think this game is probably closer than it should be, but the 49ers are probably just injured enough.
If the 49ers win, I will draw prospector Jimmy carving a big middle finger out of a block of cheese with his pic axe
TEXANS @ JAGS
The Jags have entered the Lawrence/Fields sweepstakes as the Minshew experiment just isn't working. The Texans managed to rip off the front office firing band-aid already, while the Jags are likely just waiting till the season ends. I feel bad for Minshew. He tries, but he just isn't there, and he has no help outside Chark.
If the Jags win, I will draw Minshew Jaguar eating JJ Watt
GIANTS @ TEAM
Daniel Jones has won 4 NFL games as a starter. 3 of them have come against the TEAM. The TEAM are still a mess, and the Giants need to win something to keep the NFCE as even as possible. In these dark times in New York, we've always been able to rely on one thing: Washington will suck worse. Please note this will likely be the only time I pick the Giants all year.
If the TEAM wins, I will draw Dwayne Haskins cheering from the bench
RAVENS @ COLTS
The Ravens just aren't as good as last year. The Colts are the quietest decent team in the league. I'm not sure I've seen a team get less attention so far than Indianapolis. Maybe Philip Rivers is a media attention vacuum because even the Chargers are getting some looks with Herbert around.
If the Ravens win, I will draw Lamar Jackson spray painting the words "The Baltimore" over Colts
LIONS @ VIKINGS
The Lions are gonna go 8-8, somehow sneak into the playoffs as the 7th seed, and keep Matt Patricia. It is known.
If the Vikings win, I will draw Prince kicking Henry Ford in the balls
BEARS @ TITANS
The Bears are annoying and probably my second most incorrect pick. The Titans are good, but they looked terrible against Cincy and the Bears have an annoying tendency to just stay in games.
If the Titans win, I will draw Derrick Henry eating a bear
PANTHERS @ CHIEFS
The Panthers are meh. The Chiefs are good! Go Chiefs.
If the Panthers win, I will draw Teddy Bridgewater dunking on Kermit the frog
SEAHAWKS @ BILLS
I have lost faith in the Bills. The Seahawks will have to fight the dreaded east coast flight, but I think they can do it. This would be a hell of a statement win for the Bills if they pull it off.
If the Bills win, I will draw doofy Josh Allen throwing Russ in the trash
BRONCOS @ FALCONS
The Broncos are a perfect 3rd Bridesmaid team this year. A 3rd Bridesmaid is the forgettable bridesmaid. They aren't the Bride, so they aren't good. They aren't the maid of honor, who is also good. They aren't the disaster last bridesmaid, the one that you only included in the bridal party due to family politics. They are the quiet, meaningless bridesmaid. Never even considered for maid of honor, put in the party to round out the numbers, usually a family member, like a sibling to the groom. The Broncos are not bad enough to be hilarious and fight for a top 5 pick, but they aren't good enough to reach the playoffs. A perfect 3rd bridesmaid. The Falcons are the disaster who gets trashed the night before and throws up during the vows, then hits on the groom.
If the Falcons win, I will draw a Falcon pooping on John Elway
RAIDERS @ CHARGERS
Fuck the Raiders. Fuck the Chargers. I hate everything.
If the Chargers win, I will draw Justin Herbert as Electro
DOLPHINS @ CARDINALS
If the Dolphins can win this game, I'm fully onboard the Fish bandwagon. I'm reluctant to truly trust them because this season started off as a sort of rebuild season, with them letting Tua get his feet wet. I didn't expect much because I didn't even think they expected much. But hey, the Cardinals are pretty good and are in an absolute dogfight in the west. If the Dolphins can win this…I'll believe.
If the Dolphins win, I will draw a dolphin shooting Kyler Murray into the stratosphere with his blowhole blast
STEELERS @ COWBOYS
The Steelers are going to go 8-0 and I hate it. The NFL is more fun when the Steelers are mediocre. The last thing we need are the yinzers being louder.
If the Cowboys win, I will draw Andy Dalton as the human torch, scorching Ben's fat ass
SAINTS @ BUCS
The Saints are winning, but they feel like they shouldn't be. Drew Brees is old and washed. Brady is going to win the second matchup and I hate it. I thought I'd like Tom Brady more once he was no longer a Patriot, but nope, I still hate him.
If the Saints win, I will draw Old Brees pushing over geriatric Brady
PATRIOTS @ JETS
The Patriots need a pity win I guess. If the Jets win this, we can pack the Patriots in a box and kick them off a cliff.
If the Jets win, I will draw Adam Gase watching contently as all of Massachusetts burns