CARTOON BETS WEEK 5 – The Chargers Are Real And It Scares Me
on
October 11, 2021
at
12:01 am
When I was in high school I broke my ankle in gym class. I went up to hit the ball, came down on a classmate's foot, and my foot went sideways. Within minutes my ankle had practically doubled in size. I went to the doctor and they couldn't get a clear X-Ray thanks to the extreme swelling so they misdiagnosed it as a sprain. They gave me crutches and for a week I occasionally just had my weight on a broken ankle. After the swelling went down my foot still hurt quite a bit and it had turned purple. My mom took me to another doctor and I had broken my ankle in two places.
I bring this up because when I watched the Saquon Barkley injury I basically had a flashback. Almost the same twist and fall, and when they showed his ankle on the sideline, it looked roughly as bad as mine did. Saquon is gone for at least a month, IMO, and I don't even know what has been diagnosed as of this writing. Somehow what happened to Danny felt even worse. Dude looked to have had pretty much the textbook horrific concussion, stumbling, face vacant, getting carted off. Just to top everything off, Golladay also left the game hurt. Toney pretty much went from a guy the Giants didn't even use to the entire offense in one game. A game he was ejected from after throwing a punch. So hey! The Giants finally replaced Odell with a new hot-tempered emotional stud at WR. Can't wait to see what he does under a better coaching staff.
WHAT ELSE HAPPENED?
-The Panthers are repeating what they did last year. They started off strong, looking like a team that might actually have what it takes to compete despite a weaker roster. Then not too long after they were losing games it felt like this tough squad should win. This loss against the mediocre at best Eagles is embarrassing. They should have put the game away and instead let them just walk right back in. At least the Darnold rejuvenation chatter can die down a bit now.
-The Bengals might actually be a good team, but if they have a future this year we have to hope Burrow is okay.
-Russ is finally going to miss some time. The Seahawks actually gave themselves a chance with Geno under center, but it's hard to feel optimistic in Seattle after this news. Also, could Fox try NOT constantly zooming in on gross injuries for like 10 minutes?
-I straight up missed the Falcons/Jets game as I forgot it was in London and I slept through it. Seems like it went about as expected.
-The curse against the Lions is apparently stronger than the curse against Vikings kickers. I thought for sure the Lions had finally stolen one when the Vikings lined up for the gamewinner.
-I absolutely hate the Saints. I've tried to be optimistic and they let me down. I tried to be pessimistic and they surprise me. I try to reverse-jinx myself and they still beat me. I found this years nemesis.
-Man, we got really close to the Patriots proving themselves completely irrelevant. They escaped with a win that never should have been a nailbiter. Mac Jones seems really good at throwing 5 yards downfield.
-The Dolphins are not good.
-The Broncos might be bigger frauds than anticipated.
-I take back everything I said about thinking the Jags were heading in the right direction. This team is going nowhere under Meyer and the video scandal got really funny really fast and now seems like it'll be the highlight of his short tenure.
-The Raiders still know how to shit the bed and now Jon Gruden might be getting canceled after a racist comment in an email surfaced this weekend
-Holy shit, Cleveland vs Chargers is a top 5 game of the season. No defense, absolute offense, a complete joy to watch. The coaching on the Chargers just feels good. They finally have someone competent at the helm and it has made so much difference.
-The Chiefs are not themselves. They aren't as bad as their record I don't think…but they aren't the mighty fearsome destructor they used to be before the SB loss.
-The Bills are terrifying
CARTOONS! I did pretty solid this week. I also changed my Hawks/Rams pick, if you get confused why that one is missing.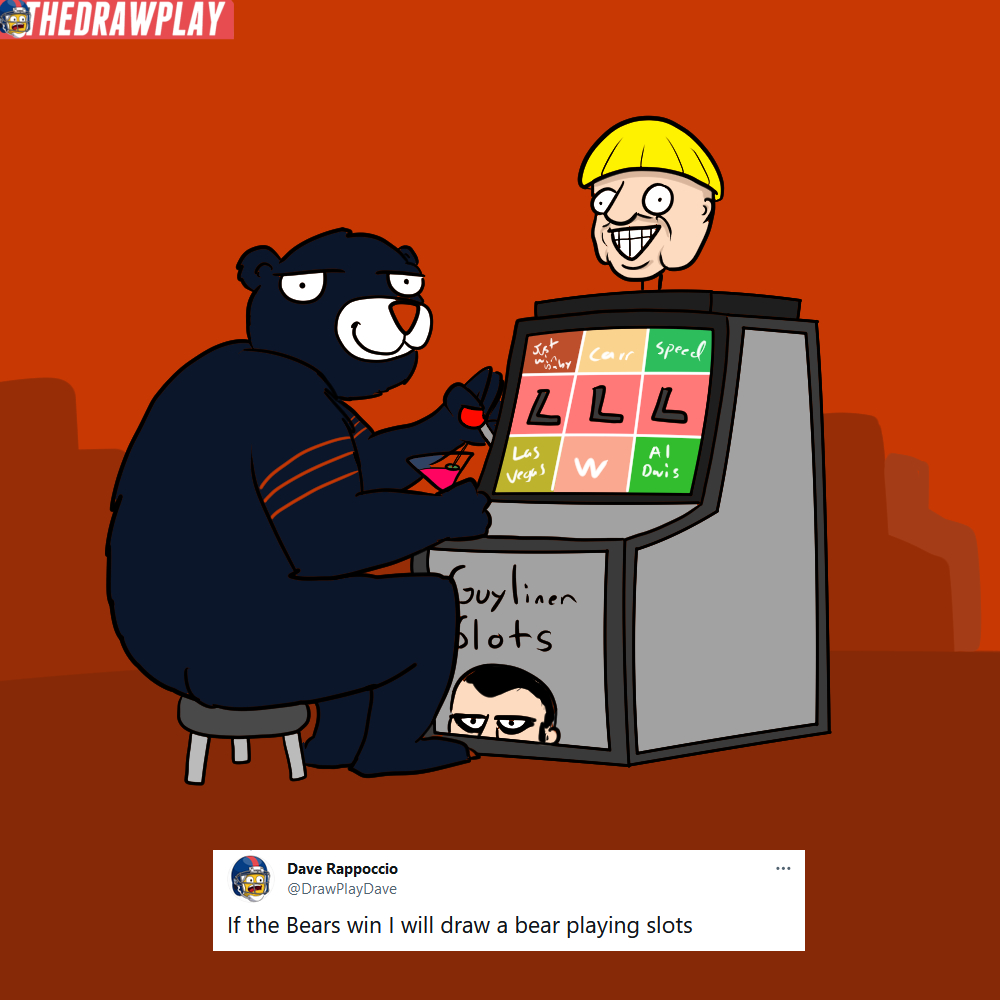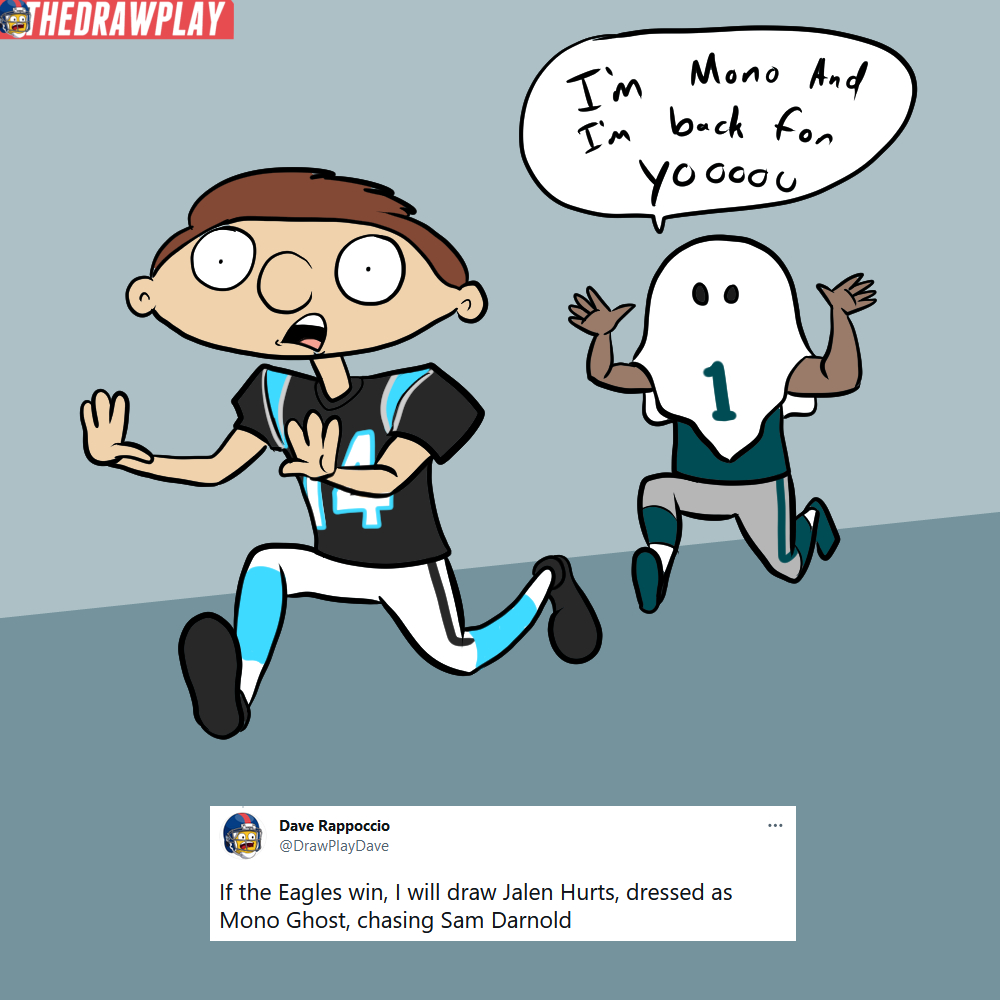 PIX FOR WEEK SIX
BUCS @ EAGLES
The Eagles have a little bit of fight in them and the Bucs are kinda banged up but it's hard to pick against the stacked Brady offense.
If the Eagles win, I will draw Brady having a PTSD flashback to dropping the pass in the Eagles/Pats SB
DOLPHINS @ JAGUARS
The Dolphins aren't very far from being 0-5. The team is in rough shape and looks lost. If they can't beat the absolute joke that is the Jacksonville Jaguars, they are in massive trouble.
If the Jaguars win, I will draw Urban Meyer grinding on a dolphin

VIKINGS @ PANTHERS
The Vikings aren't the worst team and the Panthers aren't the best. I gotta go with the home squad even after they just dropped a deuce against the Eagles.
If the Vikings win, I will draw Kirk Cousins kicking Hey Darnold off his boat

CHARGERS @ RAVENS
The Chargers have my axe until they betray me
If the Ravens win, I will draw Edgar Allen Poe flipping off a thunderstorm

RAMS @ GIANTS
The Giants weren't going to win this game at full strength, they certainly aren't going to win it starting Mike Glennon and Devonte Booker.
If the Giants win, I will draw Kadarious Toney as the Joker

TEXANS @ COLTS
Colts are probably happy to start having some gimme games
If the Texans win, I will draw Carson Wentz hurt, emotionally

CHIEFS @ TEAM
Weird to have Washington no longer be the most offensive team in this matchup. Chiefs are still hard to bet against.
If the TEAM wins, I will draw Chase Young throttling Kermit

PACKERS @ BEARS
The Bears are at the very least competent now, and the Packers feel vulnerable but keep winning. Still, Packers.
If the Bears win, I will draw Aaron Rodgers drowning in a deep dish casserole

BENGALS @ LIONS
The Lions have to win one of these games eventually but I just can't commit to picking which one.
If the Lions win, I will draw a Lion eating a Tiger's kneecaps

CARDINALS @ BROWNS
Browns are good but they have no defense. Cardinals are good and they do have a defense. This might be the game that finally puts a tick in the loss column though.
If the Browns win, I will draw Myles Garrett feasting on Kyler flesh

COWBOYS @ PATRIOTS
The Cowboys are a good team with a frightening level of offensive potential. I don't trust the defense as much, but they are still good. This is a scary Dallas team. The Patriots are mediocre at best.
If the Patriots win, I will draw Cowboy Mac Jones

RAIDERS @ BRONCOS
The Raiders looked good so far until the Bears game, when they laid an egg and now are down 2 in a row. The Broncos are frauds, but to what extent remains unseen. This is a tough call, going Raiders. NEVERMIND, GRUDEN GOT FIRED, LMAO
If the Raiders win, I will draw Derek Carr taking a Bronco behind the shed

SEAHAWKS @ STEELERS
The Seahawks are the better team! If Russ was involved. Now they have to trot Geno Smith into an east coast game against the Steelers defense and the seahawks woeful defense might actually make Ben look passable. I hate that the Steelers caught this lucky break.
If the Seahawks win, I will draw Geno wiping his ass with a terrible towel

BILLS @ TITANS
The Titans defense is woeful and nobody in their right mind would pick against the Bills right now
If the Titans win, I will draw Derrick Henry eating a card table
BYE WEEKS – FALCONS, SAINTS, JETS, 49ERS. Hooray I can't pick the Saints wrong this week!