CARTOON PICS WEEK 14 – No Kaiju For You
on
December 13, 2021
at
12:01 am
Sorry folks, I had a pretty damn good week this week. Sad news for anyone hype about Kaiju week.
For how chaotic the playoff races are, I don't know if we learned anything notable this week. I would have said the Bills are sure-fire frauds at this point but then they went and almost managed an amazing comeback against the Bucs. So the Bills are probably fraudulent, but maybe not huge frauds. Might win a playoff game depending on who they go up against.
The Chiefs are for sure back to being THE CHIEFS. The Steelers are mediocre as hell. The Vikings are mediocre as hell. The 49ers are mediocre as hell. The Browns and Ravens are blown up by injuries and will likely go nowhere (Baltimore especially now that Lamar is hurt). The Jags, Jets, Giants, and Texans are a disgrace. The Cowboys control the East. The Panthers are a hilarious mess, cycling QBs in and out as if they have any idea what is working.
I haven't actually seen too many kaiju movies. Out of all of them I have seen I think Shin Godzilla is my favorite. Fully recommended if you can find a place to watch it. I'm a fan of the monsters actually being scary rather than goofy. I think Godzilla 2014 is the best movie of the WB Godzilla-verse.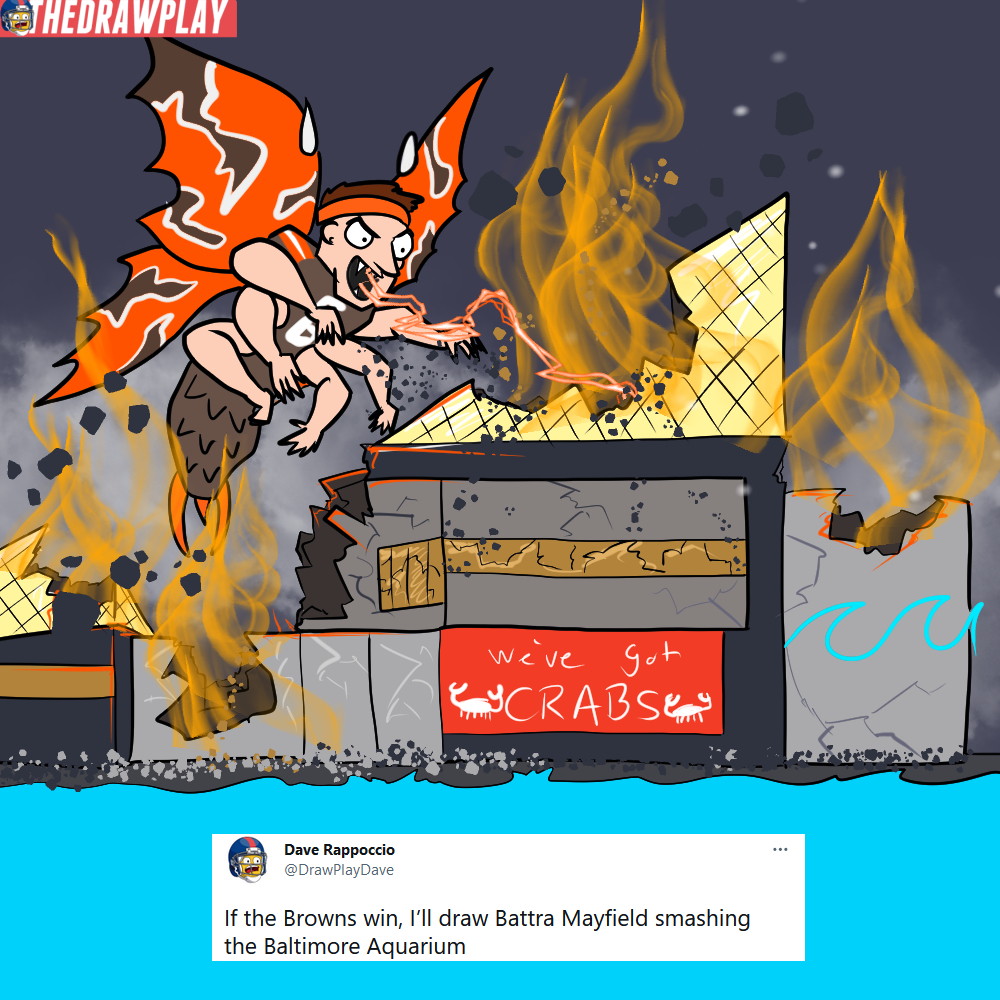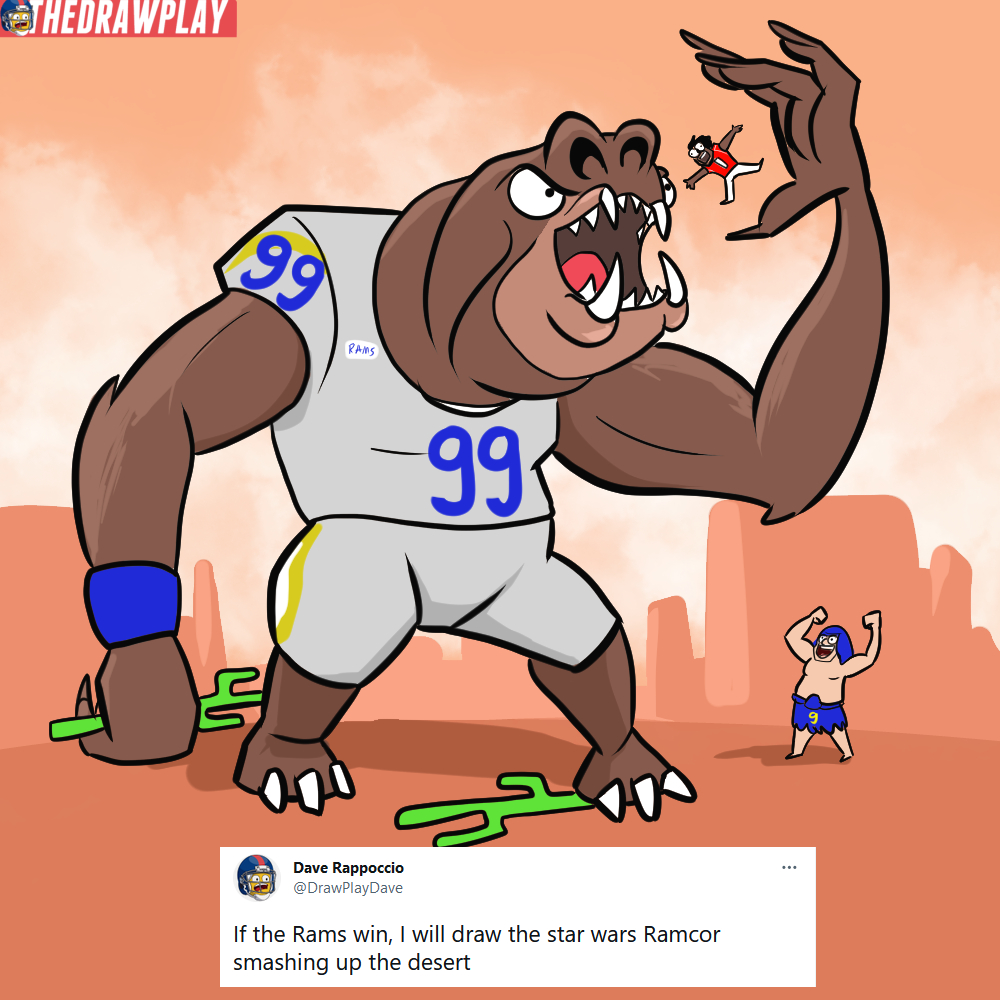 WEEK 15! This week's theme? Players as their logo! Also, this might have to be very re-worked, as half the league is going into COVID protocol right now so this week is ripe for supreme chaos. The NFL should probably postpone this week or do 16 games instead, but lol at losing money, let's trot Nick Mullens out there because we care.
CHIEFS @ CHARGERS
The Chargers are slightly above mediocre and seemingly turn on a dime into good or bad. The Chiefs are blazing hot. If the Chargers can win this, it gives them a divisional chance, but if not, they are likely the top wildcard or damn close.
If the Chargers win, I will draw Justin Herbert as a lighting bolt
RAIDERS @ BROWNS
The Raiders shit the bed and the Browns are In The Hunt ™. I liked how the Browns fought this week. Keep it up, Brownies. Nick Mullens is the starter for Cleveland right now thanks to astounding levels of COVID cases, so the Raiders should gain an advantage now.
If the Browns win, I will draw Nick Mullens as a brown crayon

PATRIOTS @ COLTS
The Chiefs might currently be the best team in the AFC but it took them a while to put it together. If the Patriots keep it up, they'll keep the drivers seat. The Colts are what I would consider the worst good team in football. Maybe they can steal one, but I doubt it.
If the Colts win, I will draw Centaur Wentz

TITANS @ STEELERS
The Titans are 9-4 and technically the 2nd seed right now, but it doesn't feel like they are that good, right? The team has seemed messy since Henry went down. I think the Titans are ripe for playoff disappointment and would be struggling if they existed in a better division. Picking the Steelers at home.
If the Titans win, I will draw Ryan Tannehill as a mighty warrior

PANTHERS @ BILLS
Bills you fucks if you lose this game you don't deserve the playoffs.
If the Panthers win, I will draw Cam as a panther

TEAM @ EAGLES
The Cowboys blew the fuck out of Washington for most of the game and then Washington came back. I don't know if the Eagles have that level of resilience. The TEAM is Covid-decimated
If the TEAM wins, I will draw TEAM QB as the I in Team

TEXANS @ JAGUARS
Oh my god this is disgusting what the fuck call the FCC this shouldn't be on TV. Go…Texans? I feel like the Texans have more fight in them right now than the Jags do. URBAN HAS BEEN FIRED. THERE WILL BE NO MORE GRINDING PICTURES. CHANGING MY BET TO THE JAGS.
If the TEXANS win, I will draw Davis Mills as the state of Texas

COWBOYS @ GIANTS
just four more games, Dave, just get through 4 more games and I can fool myself into having hope for the future again
If the Giants win, I will draw the Giants QB (who knows who we start yet) as a very, very large man

JETS @ DOLPHINS
The Dolphins continue their redemption tour
If the Jets win, I will draw Zach Wilson as an f-22 raptor

CARDINALS @ LIONS
Sometimes the best team in the league gets a freebie. Watch this game be weirdly close.
If the Lions win, I will draw Jared Goff as mufasa

BRONCOS @ BENGALS
The Bengals are technically out of the playoffs right now. Both of these teams are fighting for a spot. I feel like the Broncos are playing halfway decent ball right now, but I just love letting the Bengals fuck me up.
If the Broncos win, I will draw Teddy Bridgewater as Blucifer

FALCONS @ 49ERS
I feel like the 49ers have 6th seed written all over them.
If the Falcons win, I will draw Matt Ryan as a falcon

SEAHAWKS @ RAMS
The Hawks are bad, but the Rams eat them for lunch even when being disappointing.
If the Seahawks win, I will draw Russ as a tiny osprey

PACKERS @ RAVENS
Man why did Lamar have to get hurt, this game looks a lot less fun now.
If the Ravens win, I will draw whoever the Ravens QB is as a raven

SAINTS @ BUCCANEERS
The Saints are so busted up and Taysom Hill is not very good. They beat the Bucs already this year, but I doubt Brady lets that happen at home.
If the Saints win, I will draw Taysom Hill as a saint

VIKINGS @ BEARS
Bears actually put up points against Green Bay but I can't count on them to do that two weeks in a row. The Vikings have 7th seed and a blowout to the Packers in the wildcard written all over them
If the Bears win, I will draw Justin Fields with bear arms