CARTOON PICS WEEK 7 – My Brain Cannot Accept The Bengals Being This Good
on
October 25, 2021
at
12:01 am
It doesn't make sense, right? Some improvement was to be expected, sure. They got Burrow back, they drafted his favorite weapon, things were supposed to get a little better. But they still had no o-line, they were still coached by Zac Taylor, and they were still stuck in a meatgrinder division with Lamar Jackson, the upstart Browns, and the defensive Steelers. Yet now, in week 7, almost halfway through the season, the Bengals sit in first place after a commanding win over the Ravens, in Baltimore. It doesn't feel right. They shouldn't have turned it around this fast. It doesn't make sense. But make no mistake: we are living in a Bengals are actually good world.  What a time to be alive. As a fan of a team stuck rebuilding for like the 7th year in a row, I am very upset.
Speaking of the Giants, they won! Good for them. Despite a missing and very shuffled offensive line, no Shep, Toney, Golladay, or Barkley, the Giants handled the Panthers. Jones had the catch of the day and if this season has given me any hope, it's in Jones. He's doing his best as the team crumbles around him and with no great QB prospects this year I'm fine giving him one more season under new management.
The Panthers though…woof. I didn't fall for the Broncos false start, but I fell for the Panthers. I was devastated when the Giants missed out on Matt Rhule but as time goes on I wonder if Matt Rhule knows what he's doing. They shelled out a big contract for Teddy Bridgewater and they sucked. They then shelled out even more for Sam fucking Darnold and they straight benched him in a winnable game for PJ Walker. This team has no identity on offense without CMC, and designing your entire offense around a shifty RB who can't stay healthy is a poor decision. Even the Giants were smart enough to pick up WRs. Sam Darnold wasn't the answer and all those early-season articles praising him are really funny now.
The Falcons greatest rival is not the Saints. It's leads in the 4th quarter. I've never seen a team with the consistent ability to do this. And yet, despite being the Falcons, the Dolphins still ended up losing. The Dolphins are so bad.
I have no idea what is so wrong with Kansas City. They just look wrong and it doesn't make sense even more than the Bengals being good doesn't make sense. I never thought the Giants would actually have a chance next week, but now they kinda do? The Titans pummeled the hapless Chiefs and Derrick Henry is so damn cool.
It feels like it's illegal to talk out loud that Kyle Shanahan might be overrated as a coach. That Superbowl run bought him a lot of credit that I'm not sure he deserves. John Fox reached a Super Bowl, it shouldn't give you this much leeway. He actually has a losing record as a coach and the injury excuse only goes so far. Injuries strike every team, some worse than others, but it's a sign of good coaching when the replacements still perform okay. At what point are people going to entertain the idea that Shanahan might not be that smart or great?
Packers are the Packers. Bucs are the Bucs. Cardinals are the Cardinals. Rams are the Rams. Lions are the Lions. Bears are the Bears. Raiders might be better without Jon Gruden.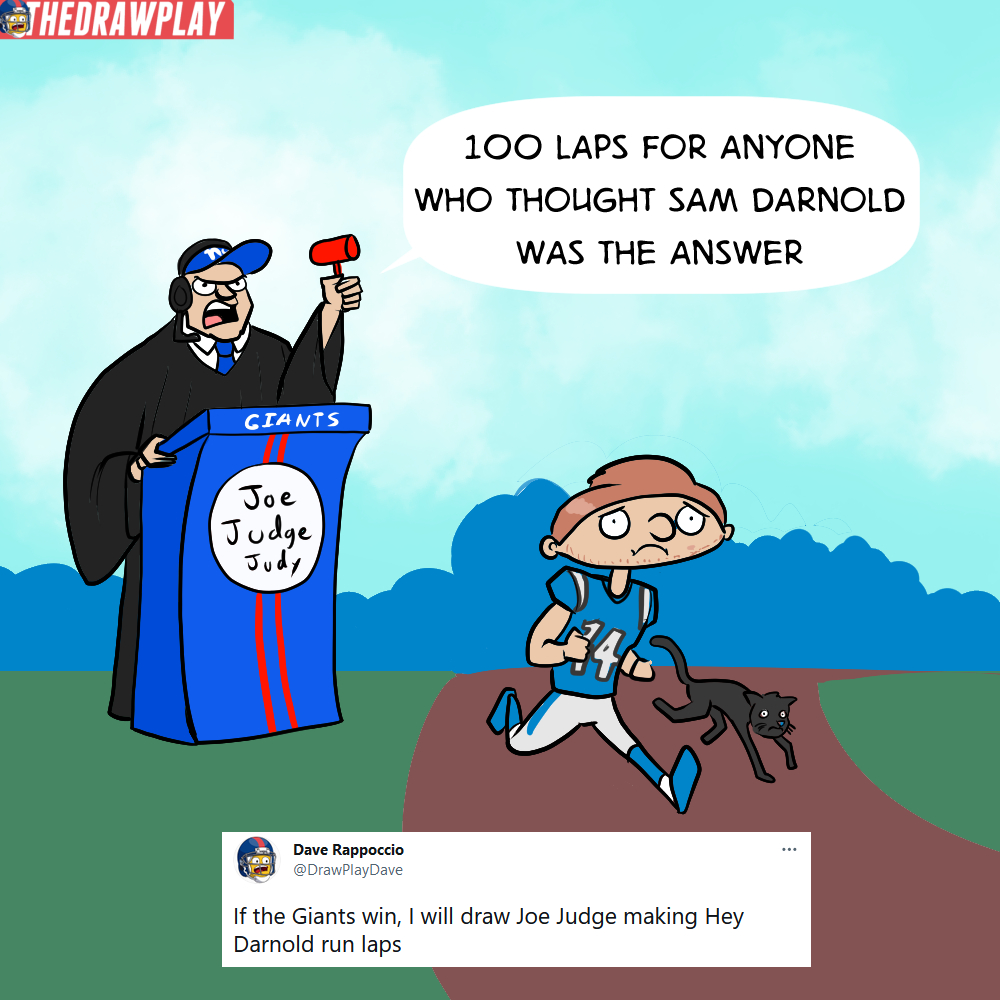 PREDICTIONS FOR HALLOWEEK 8 – We are going with the SPOOKY THEMING
PACKERS @ CARDINALS
Oh…oh man…this is a really good-looking Thursday game. The Packers had a fluke loss in week 1 and the Cardinals haven't lost at all. I'm gonna do it. I'm gonna call the Packers Cardinals. Davante Adams just got put on the covid list and they are more injured overall than I thought and the Cards seem healthy so I'm changing my pick to the Cards. But if the Packers win, remember my gut instincts were right and I played myself.
If the Packers win, I will draw Aaron Rodgers as Samara from the Ring
PANTHERS @ FALCONS
The Panthers keep giving me chances to believe in them, but after this past week I am officially off the Panthers train, even against these stupid Falcons.
If the Panthers win, I will draw an evil black cat bewitching Matt Ryan

TITANS @ COLTS
Titans are better than the Colts, but the Colts are at home and aren't that bad. Still, gotta give my boy Henry some love, picked against him two weeks in a row now.
If the Colts win, I will draw Carson Wentz as a C.H.U.D.

DOLPHINS @ BILLS
The Dolphins, going into Buffalo, fresh off a bye. This feels bad, man.
If the Dolphins win, I will draw Josh Allen being eaten off a boat by a dolphin like Shaw in Jaws


BENGALS @ JETS
The Jets were bad and now Zach Wilson is hurt. The Jets should honestly just pack it in.
If the Jets win, I will draw Robert Saleh as Freddy Krueger


STEELERS @ BROWNS
The Browns showed remarkable resilience on Thursday night despite the injuries, but I'm not sure the craftiness is going to be strong enough against a much better defense.
If the Browns win, I will draw the Browns Bulldog as The Thing


EAGLES @ LIONS
The Lions have too much fight in them to keep losing forever. They have to win one of these games. Maybe it'll be this one against a bad Philly team.
If the Eagles win, I will draw Jalen Hurts as pinhead

RAMS @ TEXANS
Oh Texans. Why bother.
If the Texans win, I will draw Jack Easterby as Leatherface

49ERS @ BEARS
Will we get Trey Lance vs Justin Fields? I'm pumped. Going 49ers.
If the Bears win, I will draw Justin Fields as The Grudge


PATRIOTS @ CHARGERS
The Chargers are good. The Patriots have beaten the Jets and the Texans and nobody else.
If the Patriots win, I will draw Bill Belichick as Michael Myers


JAGUARS @ SEAHAWKS
Lucky Seahawks get to face the terrible Jags. A good matchup to be missing Russ.
If the Jaguars win, I will draw Urban Meyer as the Humpadook


BUCS @ SAINTS
Seems like the Bucs have weathered the rough injuries and are back on track.
If the Saints win, I will draw Jameis Winston as The Crabbyman


TEAM @ BRONCOS
The TEAM feels worse than they should be. The Broncos are just regular shit. Team probably wins.
If the Broncos win, I will draw Von Miller as The Blob


COWBOYS @ VIKINGS
The Vikings aren't woeful, but the Cowboys are one of the competitors in the NFC, so this probably ends badly for Minnesota.
If the Vikings win, I will draw Kirk Cousins as a Xenomorph


GIANTS @ CHIEFS
Why would they put this in primetime? Even before the Chiefs turned out to be bad. Why is this a primetime game? Ugh.
If the Giants win, I will draw Dracula Jones