The End of an Era
on
June 25, 2015
at
12:01 am
The saddest news I've heard this offseason. Jaxson De Ville is retiring.
The man in the suit (Curtis Dvorak) has been doing his thing for 19 years. 19 years he's been in that big hairy suit in the Florida sun, doing crazy bungee jumps and whatnot. Mascots have to work more than just the games too, they do media appearances and all kinds of things. 19 years in a suit. I can't fathom it. I get hot in my apartment wearing no pants and I get annoyed.
I've actually chatted with Curtis via twitter a few times and even had a picture commissioned by him, which got shown on the Jags official feed, the only time I've managed to make the twitter feed of an actual team: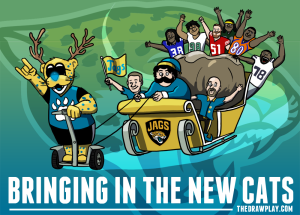 He's responded to each picture & comic I've made with him in it. He seems like a quality guy and I don't know what he's going to do now, but I wish him the best and want to say thanks for being the best goddamn mascot on planet earth.