CARTOON PICKS WEEK 13 – GO GIANTS MOTHERFUCKERS
on
December 7, 2020
at
12:01 am
WOOOO MOTHERFUCKERS That is legitimately the best win I've seen in like 4 years. I'd forgotten what it felt like to be jazzed after a win instead of just kind of pleased because we beat some bottom feeder. Great fucking win. This season is already a success after that. The only way I can't come across optimistic for the future is if we fall apart in spectacular fashion the likes of which I haven't seen before.
I won't even be mad if they miss the playoffs. I'm willing to give this squad another year. Gettleman's moves this offseason have actually turned out great, even Leonard Williams has made that terrible trade pan out. Rookies are contributing, the line has begun to gel, even Garrett's playcalling has found a rhythm. Patrick Graham has been a miracle worker at DC and no one better hire him away from us. Not yet. Let us get better first. Judge has this team buying in and if we do reach the playoffs and win a game I think he deserves coach of the year chatter. Not to win, but to hear his name in there with some respect.
Fuck Evan Engram still though.
I also finally got a Vikings game right! It was close, but I got it! Thank the heavens. We almost had both the Jaguars and Jets win at the same time but thankfully they both managed to Jets and Jags away their wins. The Jets, man, what a disaster. They had it. I saw this pointed out on twitter but we can't blame this on tanking. None of these coaches are going to be here next season. Many of the players have their jobs in jeopardy. This isn't an attempt to tank because for the people here there is no incentive to. Gase doesn't have immunity in a long-term plan like Hue did. This season is the Jets legitimately failing in all facets of the game. That makes it even worse.
It took Taysom Hill 3 starts but hey, dude finally threw a TD pass. Took 3 weeks for the future of the franchise to throw a TD on a stacked top seed team.
It started bad, but I ended up doing real good today. Sorry folks. But we still got 3 games to go as I write this, so we might have some more show up!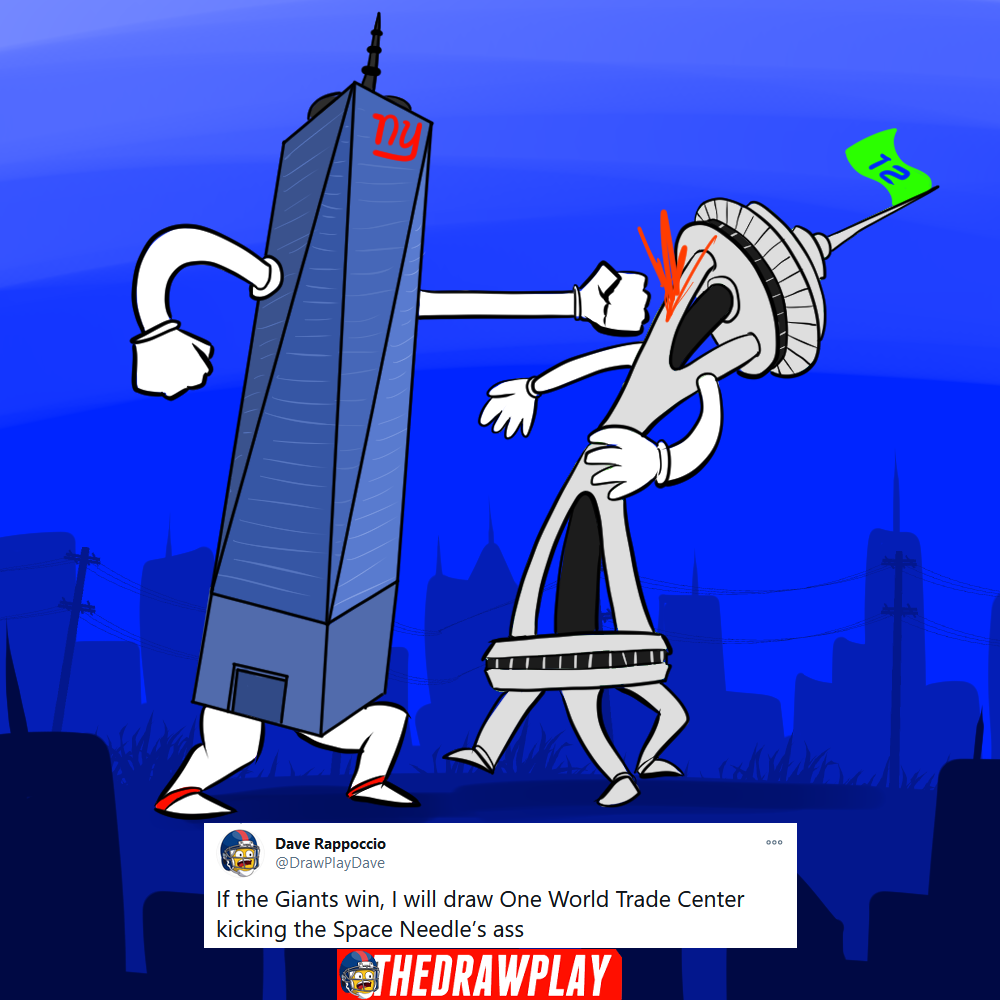 LETS LOOK TOWARDS THE NEW WEEK. These might be updated over the next few days as well, since 3 games still haven't been played as I write this Sunday night and performances may effect my judgements.
PATRIOTS @ RAMS
The Patriots delivered a vintage NE smackdown on a rookie last week and are still fringe playoff contenders, but I have to have faith. I have to. The Rams control the NFCW right now and a win over the Pats would be absolutely huge. Maybe Sean McVay can gain a little redemption.
If the Patriots win, I will draw Bill Belichick sucking the soul out of Sean McVay
TITANS @ JAGUARS
The Titans are definitely not quite as complete a team as I want them to be but my boys are still good. Another team would have given up the ghost after letting the Browns style on them that badly, but they never gave up the fight even when they didn't stand much chance. I respect these boys. I might be a Titans fan. Maybe I like teams named for Large Men. The Jaguars are shit and don't even want to win.
If the Jaguars win, I will draw Mike Glennon swallowing Derrick Henry like a snake
VIKINGS @ BUCS
Finally, I feel like I can fairly confidently call a Vikings outcome. Should they lose this? Yes. Could they win this? It's not out of the realm of possibility. But I finally feel kinda okay. Maybe I just had to break that curse.
If the Vikings win, I will draw Kirk Cousins peeing on Tom Brady, a'la the "Calvin peeing" bumper stickers

CHIEFS @ DOLPHINS
The Dolphins are winning games and for my money Brian Flores is coach of the year, but they still feel a little more mortal then they should be. They can't compete with the big boys yet, but they are getting there next season at this rate.
If the Dolphins win, I will draw Grand Theft Win, Vice City

BRONCOS @ PANTHERS
The Broncos continue to be a void of charisma and lack any real identity. I thought Fangio would be a great coach but so far he seems like the classic "brilliant coordinator but it doesn't translate into being a good HC" stereotype. Panthers refuse to be an easy out, but they aren't good.
If the Panthers win, I will draw a large Bronco scared by a small black cat

TEXANS @ BEARS
The Bears are in free fall and are struggling to win literally anything. The Texans are bad, but they sure do try, and DeShaun deserves better.
If the Bears win, I will draw Mitch Trubisky flouting his draft position

CARDINALS @ GIANTS
I still don't have enough faith that Colt McCoy is good enough to keep things up, even if the defense absolutely can. The Cardinals are mortal though, and a Giants win here doesn't feel as crazy as it might have a couple weeks ago.
If the Giants win, I will draw Terminator 2: Joe Judgement Day

COWBOYS @ BENGALS
I hate to say it but I just feel like Dalton is going to put on a show to spite Cincy even though there was no real bad blood by the end there.
If the Bengals win, I will draw Andy Dalton being sad that he always loses in Cincy

COLTS @ RAIDERS
Raiders deserve no benefit of the doubt after almost blowing it to the Jets. THE JETS.
If the Raiders win, I will draw the Raiders Roomba sucking up the Lucas Oil Barn

JETS @ SEAHAWKS
If the Seahawks lose this game they should be immediately banned from playoff contention
If the Jets win, I will draw Russ sitting in a bathtub, about to drop the toaster in

PACKERS @ LIONS
Good for the Lions. They got that amazing first win in the post-Patty era. Shame they will still be irrelevant the rest of the year.
If the Lions win, I will draw the state of Michigan bludgeoning the state of Wisconsin with it's own upper peninsula

FALCONS @ CHARGERS
What happens when two teams who are dedicated to shooting themselves in their own feet meet? We get to find out!
If the Falcons win, I will draw Anthony Lynn shooting himself in the foot

TEAM @ 49ERS
The 49ers refuse to just give up the ghost of this lost season and pack it in. The Team still hasn't been good against teams that aren't the Cowboys, Eagles, or Bengals.
If the Team wins, I will draw Alex Smith flipping the 49ers logo the bird

SAINTS @ EAGLES
Even with Taysom Tebow at QB the Saints are just too stacked to lose this. They might not lose until their scheduled embarrassment in the playoffs. EDIT: JALEN HURTS IS GONNA PLAY! I do not expect this to change the outcome.
If the Eagles win, I will draw Sean Peyton pooped on by an Eagle

STEELERS @ BILLS
Please Bills, just don't let the damn Yinzers go 16-0. I can't pick you, but I want you. EDIT: YOU WONT! HAHAHAHAHAHA!
If the Bills win, I will draw Josh Allen turning Ben into a snowman

RAVENS @ BROWNS
Okay Browns. This is it. The Ravens have been reeling and aren't the same team you met week 1. You win this, you probably solidify your playoff bid. I believe in you. I do. Make us proud, Browns.
If the Ravens win, I will draw Lamar Crab pinching the brownie elf in half