CARTOON BETS WEEK 9 – LETS CLASS IT UP
on
November 7, 2022
at
12:01 am
Hello friends, and welcome to another week in football hell. Oh, sorry, I was speaking specifically to the Packers fans here. For the rest of us, things were mostly fun!
This entire Packers season has been game after game of me going "okay, they can't actually lose this one, right?" A loss to the Vikings in week 1? Wild how lopsided it was, but they did the same thing last year to the Saints. Beating the Bears? Expected. Beating the Bucs, a tough championship competitor, on the road? Good win. Getting taken to the wire by the Patriots backup? Okay, everyone has off weeks, and Bailey Zappe outperformed expectations. A loss to the Giants? Wow, that's pretty bad, but hey, it was in London and the Giants are feisty, surely they won't lose to the Jets too. Oh. They did. Well, maybe the Jets are also feisty. Surely they won't lose to the Commanders. Oh. Um…oh. Huh. Okay, this team has some clear problems and I'm not sure when they will figure it out, but it has to be coming. They won't beat the Bills (and they didn't), but surely they can beat The Lions. A team with 1 win, no defense, and a now struggling offense? Even a flawed team can pull that off.
Oh. They lost. The Packers are 3-6 going into week 10. My expectations that Rodgers will figure it out like usual are actually in jeopardy. THIS IS GREAT FUCK THE PACKERS
So what else? Well, Brady gave us one more last-second game-winning drive against the Rams. The Rams sold their souls to win it all last year and the reaper came calling this season. I'd be mad, but a championship is pretty much always worth it (unless you cheat like the Astros, fuck you Astros, nobody respects you anymore). The Panthers got the shit kicked out of them by Joe Mixon. The Bills! The Bills have spent the past couple of weeks fucking around and playing with their food and they found out. Josh Allen looked terrible. The defense is injured. What everyone thinks is still the most powerful team in the league has looked mighty mortal.
No other big surprises though. The Eagles are annoying in that they are clearly a top-level team but they have yet to face any genuine competition outside the one Cowboys game. You can only play who is on your schedule but they might literally go 17-0 and get blown out in the divisional by an actual opponent. The Chargers and Falcons spent their game both trying to give up their chance to win, as usual. The Patriots stuffed a bad QB and struggled offensively, as usual. The Raiders flashed a slight amount of hope and then fell apart, as usual. The Dolphins were good, as usual. The Seahawks were good, as usual. The Cardinals seem lost, as usual. At least the Bears seem to have finally figured out their offense! Justin Fields has now looked like a top prospect for 3 weeks straight. Maybe the Bears are getting it.
Oh and the Vikings also dug themselves out of a pit they themselves dug and jumped in, as usual.
I did fairly well. It's nice when the teams do what I want. Makes my life easier. Sucks for you.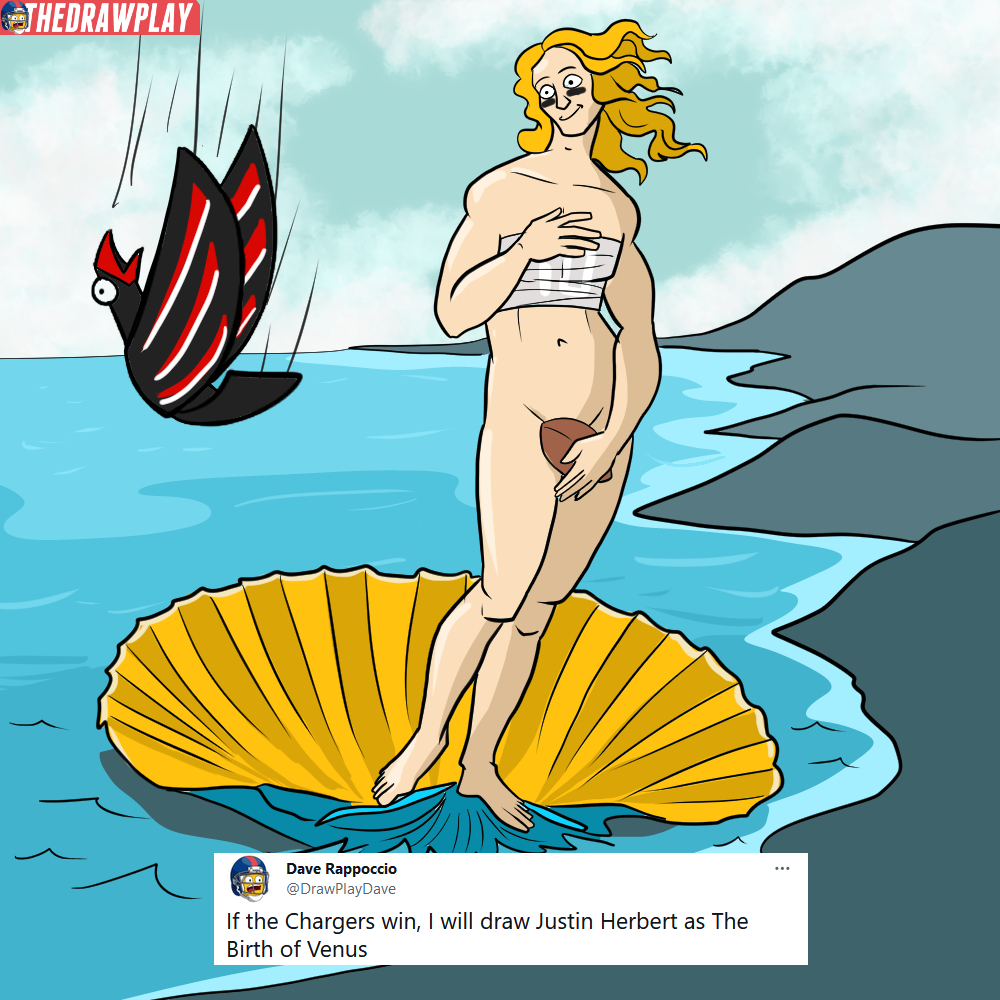 WEEK 10…IS PHAT DUMPER WEEK
I'm going to be hanging out in Seattle with a friend this coming weekend and I needed something easy and stupid I can do, so this will be this year's VERY DUMB GROSS WEEK. Do you like when I draw Kirk Cousins having a huge butt? Well, friends, that's what Phat Dumper Week shall be.
FALCONS @ PANTHERS
Didn't these two dumbasses just play each other a week ago? It'll probably end the same way.
If the Panthers win, I will draw PJ/Baker (whoever starts), with a big phat dumpy
SEAHAWKS @ BUCS
I can't believe I'm picking the Seahawks, try telling this to Dave in August and he would have slapped me
If the Bucs win, I will draw the GOAT…with the GOAT of asses

LIONS @ BEARS
The Lions might have had a chance here if the Bears were still the weeks 1-6 Bears. The Bears are kinda decent now. Lions fucked.
If the Lions win, I will draw Jared Goff with an awe-inspiring backside

BROWNS @ DOLPHINS
Enjoy this game by the Browns. We only have a few weeks left before they get even more unlikeable. We have to appreciate Jacoby Brissett while we can, he did nothing wrong.
If the Browns win, I will draw Jacoby Brissett with a monumental rear

VIKINGS @ BILLS
Bills look mortal but this is probably going to be a bump in the Vikings miracle ride
If the Vikings win, I will draw Kirk Cousins with the phattest dumpy you ever did see

TEXANS @ GIANTS
I'm worried the Giants might actually drop this and finally lose all credibility, but I have to pick them anyway
If the Texans win, I will draw Davis Mills admiring his own luscious plumper

JAGUARS @ CHIEFS
Nice work by the Jags stopping the 5-game skid with a nice comeback win to prevent it from being a 7-game loss streak.
If the Jaguars win, I will draw Trevor Lawrence with a heroic tuchus

SAINTS @ STEELERS
The Saints have quietly been a huge bee in my bonnet this year. They look awful, so I pick against them, and then they go out and win. There's always one. So now I'm just going to start picking based on what drawing I want to make. I pick the Steelers.
If the Saints win, I will draw Andy Dalton with a mega mass
BRONCOS @ TITANS
The Titans are good again because our lord and savior tractorcito is back
If the Broncos win, I will draw tiny Russ with a normal sized ass
COLTS @ RAIDERS
WELL THIS ONE JUST GOT MORE INTERESTING. Raiders
If the Colts win, I will draw whoever starts with he biggest centaur ass yet

CARDINALS @ RAMS
The Rams look awful. The Cards aren't great, but they have more life since Nuk came back.
If the Rams win, I will draw Matthew Stafford with a real power peach

COWBOYS @ PACKERS
Packers cant win this one, can they? I would actually appreciate it if they did. Be a pal, Packers
If the Packers win, I will draw Aaron Rodgers, high on ayahuasca, unleashing his pompous pooper

CHARGERS @ 49ERS
Chargers lame, Shanahan game
If the Chargers win, I will draw Justin Herbert as Justin Hugebutt

COMMIES @ EAGLES
Eagles get to eat another bad QB for dinner
If the Commies win, I will draw Taylor Heinie
A TIE
Both QBs with big butts, you get it by now